December 2001 - Tutto (Italy) (Translation below)*
No, I Don't Melt!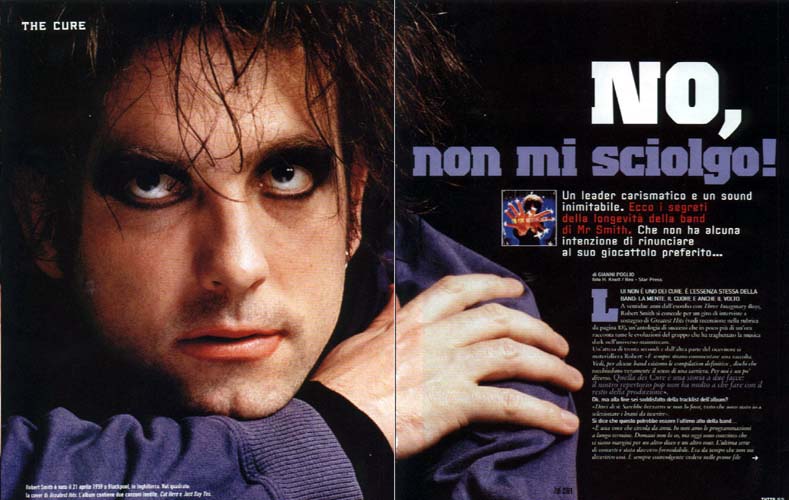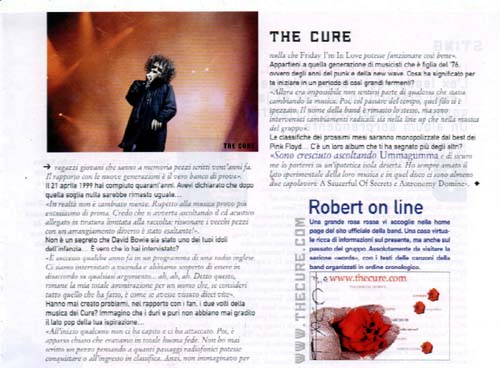 Scan sbmitted by Pietro


NO, I DONíT MELT!

One charismatic leader, a sound you canít imitate. Thatís the secret of Mr. Smithís band longevity. Who has no intentions of giving up his favorite toy...

He ainít just one of The Cures, he is the essence of the band: the mind, the heart and also the face.
Twenty two years after the beginning with Three Imaginary Boys, Robert Smith concedes a round of interviews to promote Greatest Hits (read our review on page 83), an anthology of the groupís bigger hits, describing in a little more than an hour the evolution of the band, that led dark music onto mainstream universe.
A thirty second wait and on the other side of the room, materializes Robert: ďItís always strange to comment a selection. Look, for some bands exists the definitive collection, records that gather a whole career direction. For us, itís a bit different. The Cure story has two faces: our pop repertoire has little to do with the rest of our musical production.Ē
Ok, but in the end, are you satisfied with the albumís tracklist?
Might say yes. It would be bizarre if I wasnít, being myself the one who picked the pieces to include there.
Itís been said, this could be the bandís last act...
Thatís a voice going round for years. Iím not fond of long term programming. I donít know if tomorrow, but today Iím convinced that there still space for one last album and one last tour. The last series of concerts were really formidable. For a long time I didnít had so much fun. And itís always moving to watch young kids in first row who know by heart songs written twenty years ago. Our relation with the new generations are a true test-bed.
On April 21, 1999 you were forty years old. Youíve said that after that date, nothing had been the same...
Really nothing had changed a bit. Iíve proved I have enthusiastically more respect to music than before. I think you can notice this by listening to the acoustic CD which came along on limited edition with the selection: to listen the old songs with a different arrangement is always exciting!
Itís not a secret that David Bowie is one of your childhood idols... is it true that you have interviewed him?
It happened some years ago on an English radio program. We were interviewing ourselves mutually and we discovered we had opposite points of view in whatsoever argument... ah, ah, ah. Said this, my total admiration remains for a man that, considering everything heís done, itís like he had lived ten lives.
Have you ever had problems in your relation with the fans, related to the two sides in The Cureís music? I imagine that hardcore purists never enjoyed the pop side of your inspiration.
In the beginning, some people didnít like it and attacked us. Then it became clear that we were doing it totally bona fide. Iíve never wrote a song thinking how many new radio listeners I would conquer or if it will enter the charts. In fact, Iíve never imagined that Friday Iím In Love could work so well.
You belong to that generation of musicians from í76, that is the year of punk and new wave. What had it meant to you to start your career in a period of such turmoil?
Then it was impossible not to feel that you were part of something that was changing music. As time went on, that train of though had dissolved. The name of the band remains the same but many radical changes had been done, in our line up and our music.
Next months chartsí will be monopolized by The Best of Pink Floyd... is there any album from them that had marked you more that the others?
Iíve grown up listening to Ummagumma and I surely would take it with me to a hypothetical desert island. Iíve always loved the experimental side of their music and in that record there are at least two masterpieces: A Saucerful of Secrets and Astronomy Domine.
ROBERT ON LINE (www.thecure.com)
A big red rose hosts you to the bandís official home site. A virtual home full of actual information but also from the groupís past. A must-see is the section Ďwordsí, with the bandís lyrics in chronological order.
THANKS: Ernesto [Cheshire Cat (MFC)] for the TRANSLATION.