June 2003 - Tutto (Italy)* (Translation below)
Interview;
"Robert Smith talks about the curse of his life"
and Review (Trilogy)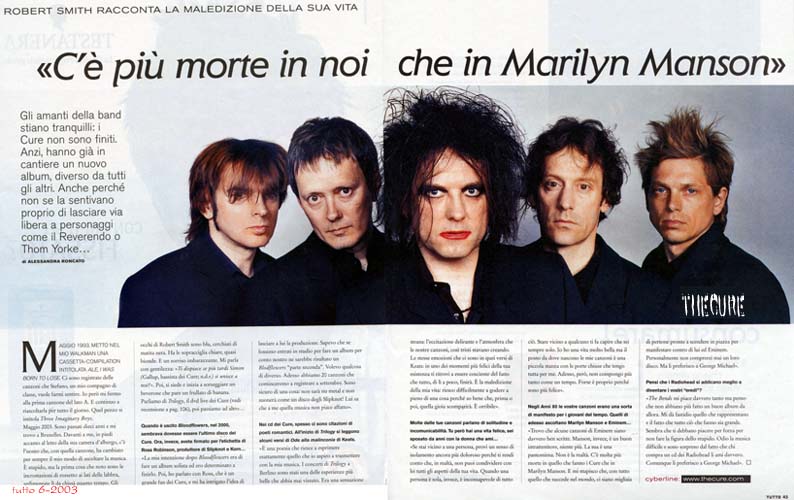 Robert Smith talks about the curse of his life.
"There's more death in us than in Marilyn Manson"
BE QUIET, BAND'S FANS: THE CURE ARE NOT FINISHED. ON THE CONTRARY, THEY ARE PREPARING A NEW ALBUM, DIFFERENT FROM ALL THE OTHERS. ALSO BECAUSE THEY DON'T REALLY FEEL UP TO GIVING FREE REIN TO PEOPLE LIKE THE REVEREND OR THOM YORKE...
By Alessandra Roncato.
May 1993. I put into my Walkman a cassette-compilation called Ale, I was born to lose. There are recorded some songs which Stefano, my schoolmate, wants me to listen to. But I stop at the first song of the A side. And I go on listening to it again and again, for all the day. That song is Three Imaginary Boys.
May 2003. Ten years have already passed and I'm in Brussels, Belgium. In front of me, standing near the bed of his room, there's the man who changed forever my way of listening to the music with that song. It's stupid, but the first things I notice are the lipstick crusting at the sides of his lips, goodness knows how long they were here. Robert Smith's eyes are blue, circled with black eyeliner. He has fair eyebrows, almost blond. And he has an embarrassing smile. He talk with me kindly : "Do you mind if Simon (Gallup, Cure's bass player, n.d.r.) will join with us later?". Then, he sits down and starts to sip a drink which seems a banana shake. We talks about Trilogy, the Cure DVD live (see the review at page 106), then we change subject...
When Bloodflowers came out in 2000, it seemed it had to be the last Cure album. Instead, now you have signed for Ross Robinson's label, Slipknot and Korn producer...
"After Bloodflowers I intended to do a solo album and I was determinated to complete it. Then, I talked with Ross, who is a great Cure fan, and the idea of letting him the production made me enthusiastic. I knew, if we had been going into the studio to do an album as for us, it would have come out a "Bloodflowers – second part". I wanted something different. Now we have 20 songs we're beginning to record in September. I'm sure of a thing: it won't be nu metal and it won't play like a Slipknot disc! He knows I don't like that music at all".
In The Cure CDs, there are often Romantic poets's quotes. At the beginning of Trilogy some verses from "Ode to the melancholy" by Keats can be read.
It's a poetry which can express exactly what I aspire to convey with my music. The Trilogy concerts in Berlin have been one of the best experiences I've ever had. It was a strange feeling: the delirious excitement and the atmosphere of our sad songs were causing the same emotions which are in that Keats' verses: in one of the happiest moments of your life you find yourself being aware that everything will come to an end. It's the curse of my life: improbably I can enjoy completely a thing, because I know well that, sooner or later, that happiness will disappear. It's horrible."
A lot of your songs talks about the solitude and the incommunicability. But you have a happy life, you have been married for years with the woman you love...
"If you stay near a person, you feel a sense of even more painful isolation, because you realize you can't really share all the aspects of your life with her. When a person is alone, instead, he is unaware of all of this. Being near somebody makes you aware that you are always alone. I've a very happy life but the place where my songs are born is a little room with closed doors I have only for me. But now I don't write much as once. Perhaps just because I'm happier".
In the 80s your songs were a sort of manifesto for the youths of that time. The youths of today listen to Marilyn Manson and Eminem...
"I think some Eminem songs are really written well. Instead, Manson are a good entertainer, nothing better. It isn't the reality. There's more death in us that in Marilyn Manson. And I'm astonished that, in spite of everything which happens in the world, there are a thousand people, ready to demonstrate against him and Eminem. Personally I wouldn't never buy their albums. But I like them more than George Michael".
Do you think Radiohead will become the best your "heirs"?
"I like very much The Bends, but I think they haven't done a good album anymore from then on. What they represent and the point that everything they do is great annoy me. It seems you must adore them if you don't want to make a fool of yourself. I hate the difficult music and I'm surprised to see that the people who buy a Radiohead CD love them really. However I like them more than George Michael".
CYBERLINE: www.thecure.com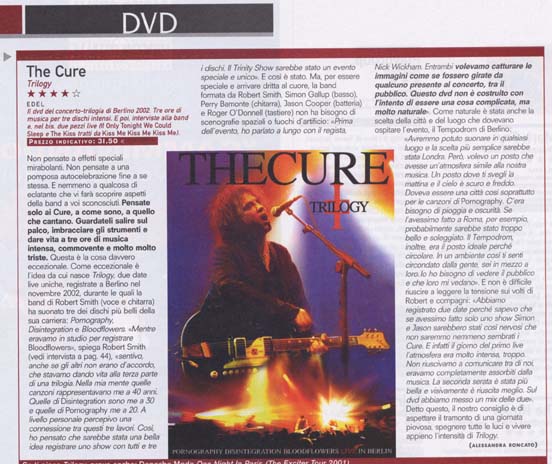 The Cure TrilogyEDEL
The Berlin 2002 concert – trilogy DVD. Three hours of music for three intense albums. Then, interviews to the band and, in the encore, two live songs (If Only Tonight We Could Sleep and The Kiss from the album Kiss me Kiss me Kiss me)
PRICE : 31,50 €
Don't think about extraordinary special effects. Don't think about a pompous self-celebration which is an end in itself. And don't even think about something sensational which will let you know new and unknown aspects of the band. Think only about The Cure, how they are, what they play. Look at them while they step onto the stage, take the instruments and start three hours of intense, touching and very sad music. This is the very extraordinary thing. As extraordinary is the idea Trilogy is born from; two memorable live dates, recorded at Berlin in November 2002, where the Robert Smith (voice and guitar) 's band played the greatest three albums of his career: Pornography, Disintegration and Bloodflowers. "While we were in studio to record Bloodflowers" explains Robert Smith (see the interview at page 44) " I feel, even though the others weren't agree with me, we were creating the third part of a trilogy. In my mind that songs represent me at 40 years old. The Disintegration songs are me at 30 and the Pornography songs at 20. Personally I feel a connection among these three works. So, I thought it would have been a fantastic idea recording a show with all the three albums. The Trinity Show would have been a special and memorable event." And so it happened. But, to be special and to touch our heart, the band, composed of Robert Smith, Simon Gallup (bass), Perry Bamonte (guitars), Jason Cooper (drums) and Roger O'Donnell (keyboards), don't need space stages design or fireworks: "Before the concert, I talked a lot with the director, Nick Wickham. We both wanted to catch the images as if have been shot by somebody who is at the concert, among the public. This DVD isn't made to be a complicated thing, but very natural". As natural has also been the choice of the city and of the place which had to host the event, the Tempodrom of Berlin: "We'd had been able to play everywhere and the easiest choice would had been London. But I wanted a place where there was an atmosphere like our music. A place where you wake up in the morning and the sky is dark and cold. The city had to be in this way, especially for the Pornography songs. It needed rain and darkness. If we had played in Rome, for example, maybe it would has been too nice and too sunny. Besides, the Tempodrom was the ideal place because it's circular. In this kind of ambience you feel enclosed by the people, you are among them. I need to see the public and they need to see me". And it isn't difficult being able to read the tension on Robert and friends' faces: "We have recorded two dates because I knew that, if we had done only a show, Simon and Jason would have been so nervous that we wouldn't have even seemed The Cure. In fact the day of the first live the atmosphere was very intense, too intense. We couldn't communicate, we were absorbed in the music completely. Te second day was better and more successful. On the DVD we put a mix of the two live dates.".
After saying that, our advice is waiting the sunset of a raining day, turning off all the lights and living completely the intensity of Trilogy.
(Alessandra Roncato)
Thanks so much FRANCY for TRANSLATING!!!