July 2004 - Play (Russia) (Translation below)
Article "What eats Robert Smith?" & "the Cure" Review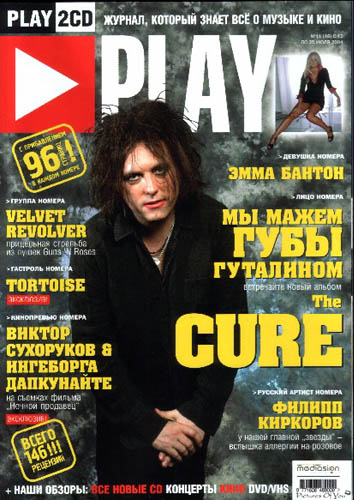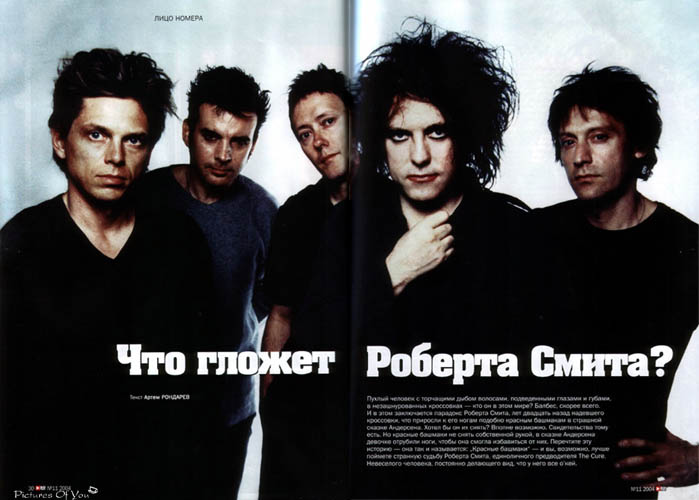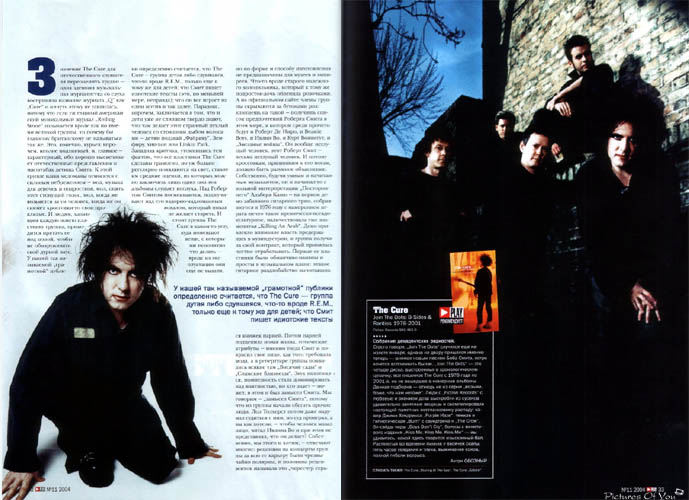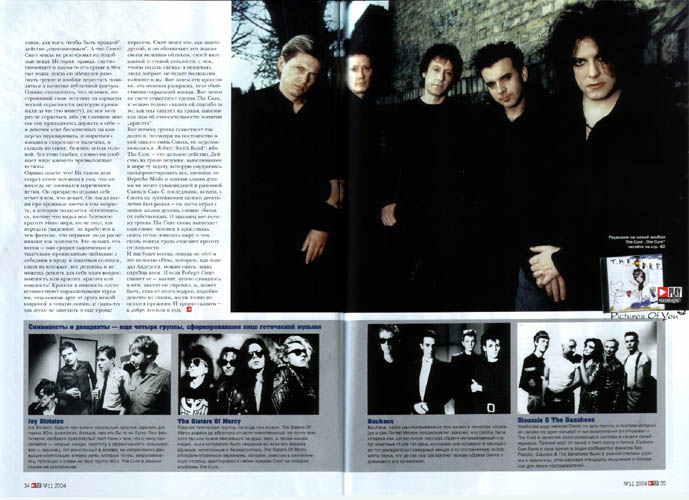 "What eats Robert Smith?"
A plump man with upright hair, eye-and-lip lined wearing an unlaced trainers – who is he in this world? Perhaps he is a clown. This is a paradox of Robert Smith, who 20 years ago wore the trainers which adhered to his feet like the red shoes in Andersen's frightful tale. Did he ever want to take them off? Maybe… There are some evidences. But the red shoes can't be taken off by oneself - in Andersen's tale a girl was able to deliver herself from them only when her feet were cut off. Read this story over again – it's called "Red shoes" – and you might better understand a strange destiny of Robert Smith, the only leader of The Cure, the sad man always pretending he is OK.
It's very hard to overvalue an importance of The Cure for our audience – when one local music journalist heard the name of "Q" magazine she thought it meant "The Cure" and wasn't even amazed, because if the main American music magazine "Rolling Stone" is called like the name of the great band why couldn't the main British one be called in the same way. It's, of course, a curiosity although quite an authentic and typical, because it indicates our representations about the measure of Smith's creature.
Our melomaniacs don't take this group seriously – really it's music for girls and teens, here is this groaning voice again, when does he became reasonable, when does he take his stupid trainers off. So people catching every new Cure record have to hide them from anybody's looks to avoid revealing their bad taste. Our so called "knowing" public definitely suppose that The Cure is the band earlier being acclaimed too much, that they are northing today like R.E.M. but only for children, that Smith writes the idiot lyrics (that's at least untruth), that he plays all songs on the same tune etc. It's however a paradox because now children don't really know what this odd plump man with upright hair is doing – children want "Star Academy", hip-hop or Linkin Park.
Western critique tired with a fact that every Cure record is well-made but released too regularly gives them low rate, so it's easy to suppose that the critics don't listen to these records at all. Some laugh at Robert Smith, at his broken vocal that isn't going to get older. So The Cure is put in some corner like a strange thing you don't know what to do with. It's something like an old reliable refrigerator with the roses stuck on by your teenage daughter.
And on official web-site the members of the group are hidden behind the rosebuds – click one and you will get a list of Robert Smith's preferences in this world which includes, among other things, Robert De Niro, Beastie Boys, Evelyn Waugh, Curt Vonnegut and "Star Wars". Actually he is a clever man. So an explanation of these trainers stuck to his feet must be found.
Properly speaking, he being a clever and well-read musician started with free interpretation of Albert Camus's "L'Etranger" – a famous song "Killing an Arab" had appeared on the first demo of funny guitar trio formed in 1976 with intention to play something ironically-pseudo-cultural. Record company bosses took interest in the demo and the band got a contract. The first records were illusory-naive and musically plain, it was such a guitar carelessness of well-read guys. Then the new wave and gothic attributes took them. In that time Smith has colored his face according to fashion and band's repertoire has got "The Hanging Garden" and "Siamese Twins". The sound has become more compact, pomposity has become dominate over distinctness – but who knows, may be it was Smith's purpose. We say "Smith's purpose" because other people started leaving the group. Lol Tolhurst had even took Smith to court then but lost his case. And it should be so – if one paints his face and reads Evelyn Waugh he might knows what he is doing.
The reviews of band's concerts during the whole their carrier were extremely contrary, a half of authors called this "too seriously to be truth" acting "ridiculous". And what's about Smith? Smith didn't react at it at all. There is, truth to say, a mention about some his break in the 90-s when he promised to disband The Cure and retire. However, you should admit that the man created his aesthetic on sarcastic seriousness (which was taken for granted) could break down once because he had to keep so much inside – to suffer from a loads of girls on the concerts, to humble himself with a getting-old-boy image, to stand on stage with no shadow of smile like he tells extraordinary verity.
Actually his secret is that he never spoke verity. He always knew what he was doing very well. He wrote the songs about blood flowers being in age when people should grow staid for he saw how beautiful the world is but didn't know how to express it without such things which nervous people call banality. His music, his songs are just like a musing landscape with swans and sunset which you looking at can't solve a question: what is it – beauty or banality, banality or beauty? They often go side by side divided only by a thin line from each other and it's so easy to miss and cross this border. Smith knows that like nobody else and expresses this knowledge by his absurd image like he wants to give us a sign: Hey, people, I know, don't be stupid just comprehend it too.
This is why there is The Cure and we should thank them for their dancing on the edge mentioning us about the relativity of beauty. This is why the band exists for so long and despite of the only Smith's constancy in the line-up didn't become the "Robert Smith Band" because The Cure is an entire action. It's the action on the edge of insanity solving the problem that was compromised by everybody starting with Depeche Mode and ending with the evil spirits of Siouxsie Sioux. By the way, Robert had a long time romance with Siouxsie and The Banshees - he often used to play with this evil spirits trying to run away from his own ones. And at last this is why the new Cure record is released again: the man in trainers is ready to tell the world about the thin border between beauty and banality.
And it will be always until he is wearing these absurd shoes, which, as Andersen had related, can be taken off only by cutting the feet. If Robert Smith take them off it will mean something has broken, he has got limp and then might has become wiser, like the girl from the tale, but hasn't stayed the same for sure. It's hard to say: is it right or wrong. - Artem Rondarev

Translated by Lusie (Russia)
PLAY recommends
The Cure>>>> (4 from 5)
Glitter and poverty of The Cure.
Perhaps if you ever meet Robert Smith on the street you might want to point your finger at him and laugh loudly – look, here comes the dusty legend, odd with smeared lipstick living his life with a formula "no jokes". All this of course are the vain words – Smith, ever fallen pop-star, is a living evidence that "быть можно дельным человеком и думать о красе ногтей" ( *a quotation from Pushkin's "Eugene Onegin" means you can look provocative and at the same time be a man of business).
Beginning to acquaint with a new Cure record you feel some tension inside: childish scrawls grin from the cover, the opening track "Lost", to be honest, is good-for-nothing and moreover the producer's personality promises wrong - it seems like Ross Robinson, the sound maker of Korn and Slipknot, is going to loose self-control and go on the spree.
Breathe freely again, simply The Cure has recorded the album which you should go deep in. You should patiently absorb metaphorical nonsense, don't let yourself dry up while listening to this black, hard, hermetical songs (from time to time Smith of course adds a positive which is as usual with a noose around a neck). Perhaps, this gluey post punk swamp is emotionally close to the ancient album "Pornography" which recording was combined with hard drug therapy according to Smith.
A novelty is extremely old-fashioned – you won't hear that music of obscure shadows which The Cure makes in 2004 from anybody else, this thing belongs to the 80s. Bobby Smith, crumpled face clown, heroin hero, raillery object, will never grow up. He is the man bitten by an angel. Anton Obozny
Also listen to: The Cure "Pornography", Bauhaus "Gotham"
* My commentary
Translated by Lusie (Russia)
Thanks so much Lusie for the scans and the translation.