Documentary To Celebrate The Cure's 30th
by Jonathan Cohen, N.Y. - Interview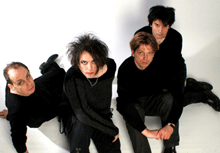 It's still two years away, but the Cure frontman Robert Smith is well underway on a DVD documentary about the band that will be released in 2009, to commemorate the 30th anniversary of its debut album, "Three Imaginary Boys."

"This will include interviews with everybody who has ever been in the band, and everybody who has been an important part of the Cure," Smith reveals to Billboard.com, adding that the interview process will begin shortly.

Smith is hoping to secure the services of longtime Cure video director Tim Pope to assist with the as-yet-untitled project. "Tim has been there from 1982 onward into the mid '90s," he says. "We've kept in touch and he's done some things with us since. People will react to him very well in an interview scenario."

Due to time constraints, the documentary will take on a new life on the band's Web site, which will feature additional archival footage. "We're planning on an hour per decade, but there's at least 20 hours per decade on videotape and other weird formats," Smith notes.

Also in the pipeline for 2008 are expanded reissues of the vintage Cure albums "Disintegration" and "Wish," which Smith had to put on hold while finishing the band's upcoming double-disc set for Suretone/Geffen. He says "Disintegration" will feature a bonus disc of new remixes, and that he's pushing for "Wish" to include a new 5.1 audio mix.

"People seem to want to kill that off, which is a shame," he says of that format. "It's far and away the most fantastic way of listening to music."

As previously reported, the Cure will tour North America this fall, beginning Sept. 13 in Tampa, Fla.