November 1980 - Music Express (Germany) (Translation below)
The Cure "If sounds were pictures"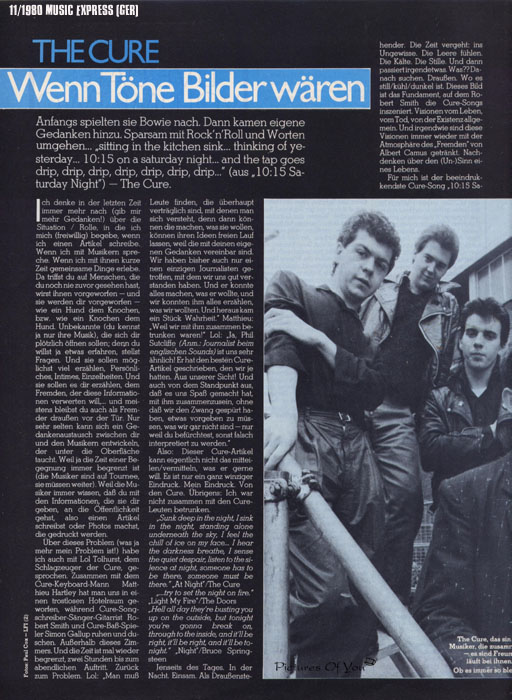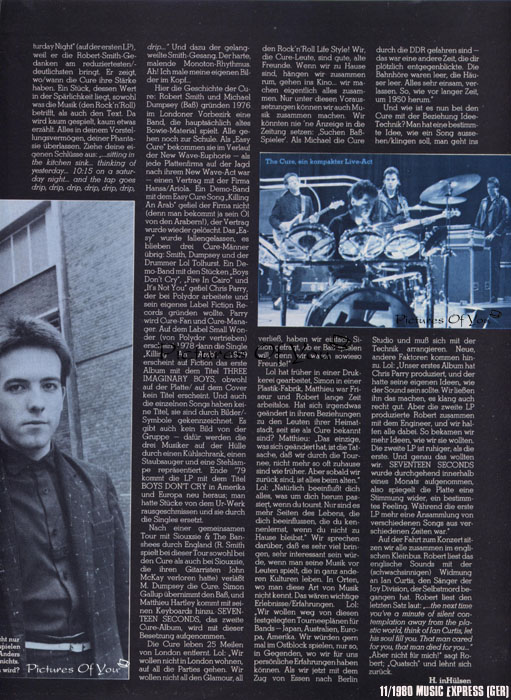 The Cure "If sounds were pictures"

First they covered Bowie-songs. Then they added their own thoughts. Use Rock'n' Roll and words sparingly. "…sitting in the kitchen sink…thinking of yesterday 10:15 on a Saturday night and the tap goes drip drip drip drip drip drip drip (aus 10:15 Saturday night) – The Cure

For a while now I've been thinking (give me more thoughts!) about the situation/ role I voluntarily put myself into when writing articles. When I talk to musicians. When for a short period of time, I experience things together with them. You meet people you've never seen before. You are thrown in front of them – and they in front of you – like a dog in front of a bone or a bone in front of a dog. Strangers (you only know their music) who suddenly are supposed to open up to you; because you want to gather information, ask questions. And they are supposed to reveal a lot, personal and intimate things, details. And they are supposed to tell it to you, the stranger who wants to use all this information, and most of the times you remain in front of the closed door as a stranger. Rarely does an exchange of thoughts that goes below the surface develop between you and the musicians. Because the time of encounter is always limited (the bands are on tour, they have to move on). Because the musicians are always aware of the fact that you will go public with the information they give you by writing articles or taking pictures that will be published.
I talked about this problem (that is my problem) with Lol Tolhurst, the drummer of The Cure. Together with Cure-keyboarder Matthieu Hartley, we got thrown into a miserable hotel room, while Cure-songwriter and guitarist Robert Smith and Cure-bass player Simon Gallup relax and take a shower. Outside of this room. And again, time is limited. 2 hours left until the evening concert. Back to the problem. Lol: "You have to find people who are easy to ger on with, with who you get along, because then they can do anything they want, they are given free hand with their ideas, because they conform with your own ideas. We've only met 1 journalist so far with whom we got along great. And could do anything he wanted and we could tell him anything we wanted. And what came out was a piece of truth." Matthieu: "case we got wasted together!! Lol: "Yeah, Phil Sutcliffe (note: journalist for the British Sounds) is pretty much like we are! He wrote the best Cure-article we ever had. From our point of view! And also from the viewpoint that we had fun hanging out with him, without us having the pressure to pretend being someone we are not – only because you are afraid of being misinterpreted."
So: this Cure-article can not really convey what it would like to. It is merely a tiny impression. My impression. of the Cure. By the way: I did not get wasted with the Cure-guys. "Sunk deep in the night, I sink in the night, standing alone underneath the sky, I feel the chill of ice on my face… I hear the darkness breathe, I sense the quiet despair, listen to the silence at night, someone has to be there, someone must be there." "At night" /The Cure. "..try to se the night on fire." "Light my fire" /The Doors. "Hell all day they are busting you up on the outside, but tonight you're gonna break on, through to the inside, and it'll be right, and it'll be tonight." "Night" /Bruce Springsteen
Beyond the day. At night. Lonesome. As an outsider. Time goes by: into the unknown. Feeling the emptiness. The cold. The silence. And then something happens. What?? Looking for it. Outside. Where it is silent/ cold/ dark. This picture is the basis on which Robert Smith creates the Cure-songs. Visions of life, of death, of existence in general. And somehow these visions are again and again drenched with the atmosphere of Albert Camus' "Stranger". Pondering over the (non)sense of life.

For me the most impressive Cure-song is "10:15 Saturday Night" (on their first album) cause it shows Robert Smith's thoughts in the most reduces/ plain way. It shows where/ when the Cure has their strengths. A song whose value lies in sparseness regarding the music (the Rock'n Roll) as well as the lyrics. Barely anything is played or told. Everything is in your imagination, left to your fantasy. Draw your own conclusions from "…sitting in the kitchen sink…thinking of yesterday… 10:15 on a Saturday night… and the tap goes drip drip drip drip drip drip drip…" and in addition the bored singing of Smith. The hard grinding monotone rhythm. Ah! I paint my own pictures in my mind…
Here is the history of The Cure: Robert Smith and Michael Dempsey (bass) set up a band in the suburbia of London which mainly plays old Bowie-material. All of them still going to school. As "Easy Cure" they closed a deal with the label Hansa/ Ariola during the time of the new-wave euphoria when every record label was on the hunt for their own new-wave act. The label did not like the demo tape with the Easy Cure song "Killing an Arab" (after all, one gets the oil from the Arabs!), the deal ended. The "Easy" got dropped and three Cure guys were left over: Smith, Dempsey and the drummer Lol Tolhurst. Chris Parry, who worked for Polydor and who wanted to build up his own label Fiction Records, liked the demo tape with the songs "Boys Don't Cry", "Fire in Cairo" and "It's Not You". Parry becomes Cure-fan and Cure manager. In 1978 the single "Killing an Arab" gets released on the label Small Wonder (distributed by Polydor). In 1979 the first album with the title "Three Imaginary Boys", although there actually is no title on the cover, is released by Fiction Records. The songs don't have titles as well – they are marked by pictures/symbols. There isn't a picture of the band either – instead the three musicians are represented on the cover by a fridge, a vacuum cleaner and a floor lamp. At the end of '79 the LP gets re-released in the US and Europe under the title "Boys Don't Cry". Songs from the original version were thrown out and replaced by the singles.

M. Dempsey leaves the band after a joint tour with the Siouxsie& the Banshees across GB (on this tour Robert Smith plays with the Cure as well as with Siouxsie who had lost their guitarist John Mackay). Simon Gallup takes over the bass and Matthieu Hartley adds his keyboards. 17 Seconds, the 2. Cure album is recorded with this formation.
The Cure are living 25 miles away from London. Lol: "We don't want to live in London and go to all these parties. We don't want all the glamour and Rock'n Roll life style. We, the Cure –people, are good old friends. If we are at home we hang out together, go to the movies…. Basically we do everything together. Only under these conditions can we make music together. We could never place an ad: looking for bass-player. When Michael left the Cure we just asked Simon if he wanted to play the bass because we were already friends anyway.
In the past Lol worked in a printing plant, Simon in a plastic-factory, Matthieu as a hairdresser and Robert was unemployed for a while. Has anything changed in their relationship to the people in there hometown since they are known as the Cure? Matthieu: "The only thing that has changes is that we are not at home as much as we have been before. But as soon as we are back everything is back to usual." Lol: "Of course when you are on tour everything around you influences you. But there are different parts of life that influence you, that you get to know when you don't stay at home." Now we are talking about how interesting it would be and how much it gives you, to play your music in front of people from different cultures. In places where people don't know that kind of music. That would be an important experience. Lol: "We want to get away from the usual tour plan for bands – Japan, Australia, Europe, and America. We would like to perform in the East Bloc, just like that, in areas where we can have personal experiences. When we were taking the train form Essen to Berlin through the GDR – that was another time that looked at us. The train stations were empty, the houses empty. All pretty lonely, abandoned. Like long ago in the 1950's.
And what is going on with the relation idea-technology? You have a certain idea what a song should sound/look like, you go into the studio and you have to compromise with the technology. New factors are added. Lol: "Chris Parry produced out 1. Album and he had his own idea what the sound should be like, we let him do it and it was somewhat good. But the 2.album was produced be Robert together with the engineers and we all were involved. That is how we got more ideas, what we wanted the LP to be. The 2.LP is quieter than the 1.one, and that's exactly what we wanted. 17 Seconds was recorded without a break in one month, so the album reflects a certain feeling. The 1. LP was merely a collection of different songs from different times."
On the ride to the concert we are all sitting in the mini-van. Robert is reading the British "Sounds" with a feeble-minded dedication to Ian Curtis, lead singer of Joy Division who committed suicide. Robert is reading the last sentence out loud: "The next time you've a minute of silent contemplation away from the plastic world, thin of Ian Curtis, let his soul fill you. That man cared for you, that man died for you". "Not for me!" says Robert; "Bullshit", and he leans back.
a very BIG THANKS to: Punam and Sara for the TRANSLATION.
article by

Phil Sutcliff

e

|

12-79 - Record Mirror
"Boys Keep Swinging"

article by

Phil Sutcliff

e

|

5-80 Sounds (UK)


"Manhatten Interiors"

Misc...

the Cure and Phil Sutcliffe.
After a lengthy first half, I saw an old friend, Porl Thompson, approaching. He had played with The Cure at school. With Mick Dempsey we'd all jammed blues after a previous Edwardians show. Porl had again come with his girlfriend (Robert Smith's sister) to see her parents performing. 'How's the world of Rock and Roll?' he asked with irony. In the circumstances, I could think of no suitable reply (I was delighted when Porl rejoined The Cure and last time I saw him, he was shaved bald and playing with Jimmy Page and Robert Plant). LINK