JANUARY 1981 ~ Muziekexpress (Holland) (Translation below)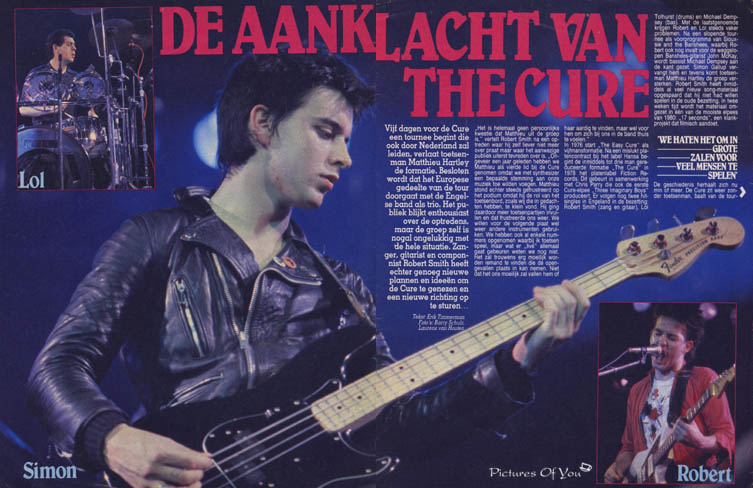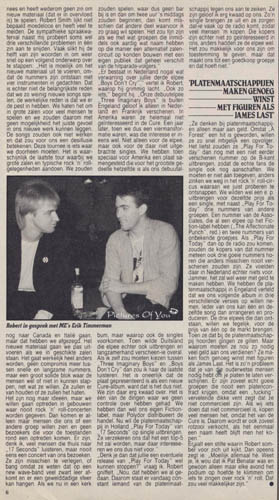 Five days before the Cure starts its tour which also will be in Holland, Matthieu Hartley, the keyboard-player leaves the band. The decision has been made, that the European part of the tour will continue with the English band as a trio. The audience seems to be enthusiastic about the performances, but the band itself is rather unhappy about the whole situation. Singer, guitarist and composer Robert Smith has enough plans and ideas to cure the Cure and to turn the Cure in a new direction.
"It's totally no personal question that Matthieu is out of the band," says Robert Smith after a performance he'd rather not talk about again but where the audience was extremely satisfied with. "About half a year ago we took Matthieu as a 4th member of the Cure because we would give a particular mood to our music with a synthesizer. However, Matthieu was always frustrated on stage because he thought the role of the keyboard which we had in mind was too little. So he did more keyboard-parts. And that was what frustrated us again. We want to use other instruments again for the next album. We have also recorded some songs in which I play keyboard, but we don't already know what is going to happen "live". Besides it will be very difficult to find someone who can fill up the now-empty place. It's not that it's very difficult for us to like or dislike him or her, but it will be difficult for them to feel in place with us in the band."
In 1976 "The Easy Cure" starts as a formation of four. After a failed record-contract at the label Hansa, the meanwhile reduced to three-formation "The Cure" starts in 1978 at the record-label Fiction Records. This is in conjunction with Chris Parry who also produces the first Cure-album "Three Imaginary Boys". Two hit-singles follow in England with the following musicians: Robert Smith (vocals and guitar), Lol Tolhurst (drums) and Michael Dempsey (bass). Robert and Lol have more and more problems with Michael Dempsey. After a backbreaking tour as a first part of the programme of Siouxsie and the Banshees, in which Robert also substitutes the run-away Banshees-guitarist John McKay, bassist Michael Dempsey is placed aside. Simon Gallup replaces him and also Matthieu Harley comes to reinforce the band. Robert Smith has already saved up new song-material that he would not play in the old group of people. In two weeks time the material is transposed in one of the most beautiful albums of 1980: "17 Seconds", a sound-project that offends film-ish.

"WE HATE TO PLAY IN BIG HALLS FOR MANY PEOPLE"

The history repeats itself more or less. The Cure is without a keyboard-player again,
.. And doesn't feel like playing new material again (which is plenty of). Robert Smith doesn't exactly seem to be dejected and has got many things to tell. The likeable, congenial talkative person next to me sometimes tries to tell about 3 problems in one sentence. He often swallows the half of the words to jump to another subject: "It's difficult to perform the new material, because the songs are with 4 instruments in mind. However that's not the most important reason for playing so little new songs, the true reason is that we hate it. We hate to play in big halls for many people and that's why when never could put the right feeling in our new work. The songs wouldn't also work and that would mean a disillusion for us. This tour is something we have to win through. It's probably the last tour at which typically rock 'n' roll… …. We should also go to Canada and Italy, but we cancelled it. We will perform the new material when we are in the capable halls. It will become really different, no more compromise between fast and slow songs, but a big solid block in which the people can step or not, it's just what they want. The will love it or hate it.

It is just ideas, but we want to perform in buildings where rock 'n'roll-concerts are never then only the people come who want see us or another band, and no visitors who will come for the happening around a performance. There are, I think, many people who listen to "17 Seconds" at home, but never come to a concert of us. Maybe they are too shy or scared because they know there are many 'black-leather-people' who come to a new wave-band and there could be a violent …. If we played in a church now, where no bar is and which will start at 2 o'clock in the afternoon, then maybe the other part comes to us which I really want to play for. It would be nice if we could build with some bands which meanwhile have a great reputation. An alternative hall-circuit with an own audience that totally differs from the hit parade-followers."

"In Holland there is rather some confusion about your 3rd album "Boys don't cry"," I tell Robert, on which he laughs grim. "Our debut album "Three Imaginary Boys" has - except for England - just appeared in Holland and France. In America they were totally not interested in the Cure. Half a year later, when we were a formation of 4, suddenly the interest was there. Not only for the album, but also for the there not released singles. We composed an album especially for America which is for the greater part the same as our debut album, but where the singles also occur on. Then Germany wanted to release that album too and slowly the album appeared everywhere. If I had to choose between "Three Imaginary Boys" and "Boys Don't Cry", I would listen to the second one. It's unfair that the album is presented as a new Cure-album, because it is not. We are very mad about that. It's one of the things we couldn't control. We have our own Fiction-label, but Polydor distributes the business. Now the record-company in Holland wants to release "Play For Today" of "17 Seconds" on single and they ensured to us it would be a top5-hit, but we were not interested thus."

"Do you think you could stop a possible release of "Play For Today"?" I ask. Robert chuckles. "Well, we already did that. That's why there is constantly someone of the record-company around to us. I think they are really mad at us. Such single; they release it and they make it that it's on the radio very often, so that many people buy it. Those buyers are however not so interested in us, otherwise they would have our album. It would be easy to consent, but that makes us a cheap band and that's not what we want."

"RECORD COMPANY'S MAKE ENOUGH PROFIT WITH PERSONS LIKE JAMES LAST"

"The only thing they think about at the record-company is money. And because "A Forest" became a hit, they want a successor as soon as possible. They would rather release "Play for Today" with a not sooner appeared song on the B-side, so that the real fans would also buy the single. We must not give in, otherwise we will sink down in the rock 'n'roll-circus and that's just what we try to escape from. What we did want to release was an e.p. for the same price as a single, with besides "Play for today" 3 songs of other bands. A song of the Associates, who already have an album on the Fiction-label ("The Affectionate Puch") and 2 songs of unknown bands. If then "Play For Today" will be on the radio, the buyers of that song would hear also 3 good songs at the same time, which otherwise maybe would never have been appeared. However, Holland didn't want that. It's a pity; it probably will be the case with money again. We have told the record-company in England that we want to record our next album in 3 different versions. Each of us can arrange and produce one and the same song. The 3 albums which will then arise, we want to sell together for the price of one. When they heard that at the record-company they screamed. But why do they really need to earn so much money with us? They make enough profit with persons like James Last. It's such a problem that you need such old-fashioned people to let you albums appear. There are so many really great bands who never get a record-contract, because a fucking annoying fat fellow says they are not commercial. When we do something that is not commercial, many people buy it, because it's from the Cure. That's why there is bought so much crap, If it has a great reputation (name?) People keep on buying it."
There is a silence in which Robert stares glum in front of him. Then suddenly he says: "It's all so difficult, isn't it. You know, I wish I was Pat Benatar and only just climb up the stage every night to sing something about rock 'n' roll. That would be so much easier."
---------------------
Picture: Robert in conversation with ME's Erik Timmerman.
Erik Timmerman did the interview.
ME is MuziekExpress, it was a Dutch magazine about music.

THANKS to: NINA for the TRANSLATION.