September 1981 - BEST (France)* (Translation below)
"Cure: Spokesmen Of The Atmosphere"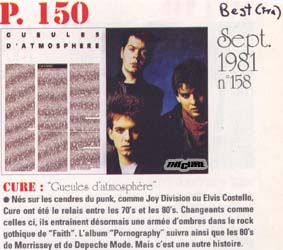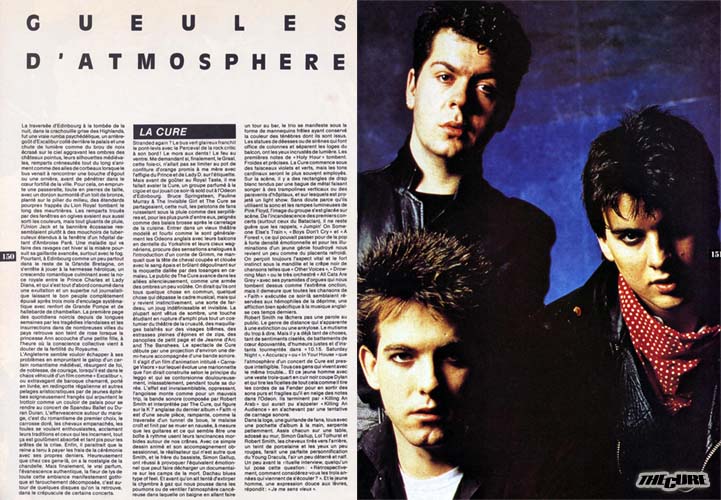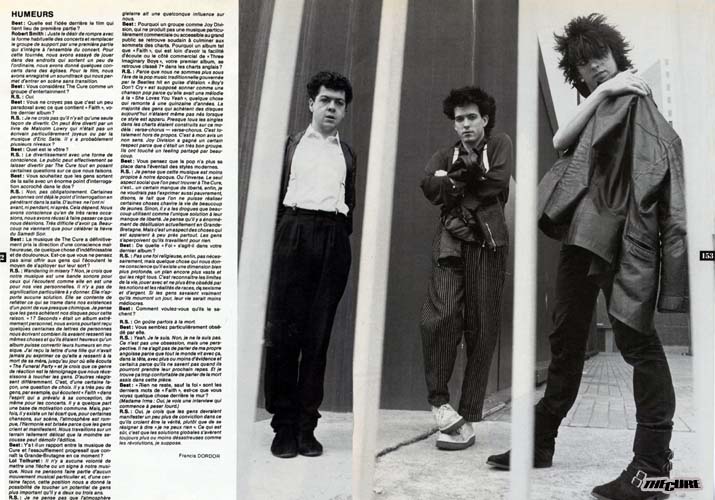 "CURE: SPOKESMEN OF THE ATMOSPHERE"
Born from the ashes of punk, like Joy division or Elvis Costello, The Cure has been the relief between the 70s and the 80s. Changeable as themselves, they will train from now on an army of men in 'Faith's' gothic rock. 'Pornography' follows the Morrissey's and Depeche Mode's 80s. But that's another story.
THE CURE
A group with poison perfume is playing this afternoon with sold out tickets at Odeon, Edinburgh. Bruce Springsteen, Pauline Murray & The Invisible Girl and The Cure will participate tonight.
The Cure's public advances silently, like an army of slumped men. We can tell they have lots in common besides the limits of music that comes out instinctively, some kind of sorrow, an indefinable and invisible yoke. The majority are dressed up like shadow, customs of cruelty theatre, pale faces with make up.
The Cure's show started with a half an hour projection with a soundtrack. They took part in an animated film called "Carnage Visors" where a puppet writhes painfully during the whole film. The effect is crushing, the anguish takes you in a sinister trip, the soundtrack is composed by Robert Smith and performed by The Cure, which appears in the 7th position of the British charts with their last album 'Faith'.
HUMOURS
Best: Which is the idea behind the first film?
R.S.: Precisely the desire of breaking with the habitual shape of concerts and replace the support group with a first part that is integrated at the same time with the concert. We will try to play in places that differ from the ordinaries we will also donate some concerts to churches. We will record a soundtrack for the film that will allow us to enter in scene without transition.
B: Do you consider The Cure as an entertainment group?
RS: Yes.
B: Don't you think that's a bit paradoxical regarding the contents of Faith, your last album?
RS: I don't think there's a single way to entertain. Some can find entertaining a Malcolm Lowry book who's not a particularly humorous writer or by the music of Eric Satie. Are there probably more levels?
B: Which is yours?
RS: The amusement as a form of conscience. The public can doubtlessly have fun with what The Cure does.
B: Do you think people leave the place with a huge question mark on their backs?
RS: No, not really. Certain people leave their interrogation marks when they enter the place. Others not before, nor during, neither afterwards. It depends. We are conscious that in rare occasions we get to achieve what we want. It's too difficult. Most of them don't come to celebrate the Saturday night fever.
B: The Cure's music has definitely gained a bad-tempered, indefinable and painful conscience. Don't you think that this way you're offering people the mediocrity of taking pity on their destiny?
RS: Wandering in misery? No, I think our music is meant to be interpreted for each person that listens to it. It doesn't have a particular meaning, it doesn't give any solutions. It pretends to reflect what is being hatched in our existence from an almost chemical point of view. I think people buy our records for this reason. '17 Seconds' is an extremely personal album, we had however received thousands of letters from people telling us how much they had felt the same things and that they were happy that an album could turn their feelings in music. I received a letter from a girl who had never been able to express what she felt with the death of her mother till the day she heard 'The Funeral Party' and I think that that kind of reaction is the testimony that we get to people. Others react different. It's in a certain way a question of choice. There are few people, for example, that listen to 'Faith' with the spirit that prevailed during its conception, the same happens with the concerts. There is in a way a common motivation but, sometimes, there's some kind of gap in certain songs. In the scene, the harmony of the atmosphere breaks because people shout and protest. We work in such a delicate field that the minor shock can pull down the building.
B: (question not shown)
RS: (answer not shown)
B: Why does a group such as Joy Division, which doesn't produce a particularly commercial music nor accessible to the great public makes it to the top of the charts while an album like 'Faith, which is by far easer to be listened or the commercial cut "Three Imaginary Boys", your first album, reaches the 7th position in the British charts?
RS: Because we are not quite under the traditional pop music era ruled for example by The Beatles's hits. 'Boys Don't Cry' is supposed to sound as a pop song because there's a 'She Loves You Yeah' melody in it, thing that remounts to 15 years. The majority of people that buy records today are the same born at the time of this style. Almost every single in the charts are built up over this model: verse-chorus – verse-chorus. It's absurd. Nonsense in my opinion. Joy Division has gained a certain respect because it is a very good group.
B: Do you think pop has no longer its place among the modern styles?
RS: I don't think that that kind of music is proper at our time. On the contrary, the only social aspect that can be found in The Cure is… a certain freedom frustration, anyways, I don't want to express also poverty but the fact that young people can't accomplish certain things change their lives. Otherwise many use drugs as their only solution for their lack of freedom. I think there's a great sense of disappointment in Great Britain nowadays. But it's an aspect that appears a bit everywhere. People are afraid to work for nothing.
B: Which 'Faith' motivated you to do your last album?
RS: Not necessarily a religious faith but that profound dimension that we know that exist, an even vaster plan that applies to everyone. There are recognizable limits in life, play with them and don't get obsessed by the notions and realities of race, sex or money. If people truly knew that they're going to die someday their lives would be less mediocre.
B: You seem particularly obsessed with death.
RS: It's not an obsession. It's more a perspective. It's not motivated by my own anguish because everybody lives with it, in their minds, showing it more or less and some suffering it because they don't know when they will be able to eat their next meal. And I find it very comfortable to talk about death from this point.
B: "Nothing is left, but faith" are the last words of "Faith". Do you have an optimistic view of things?
RS: Yes, I think people should manifest more conviction in what they believe, that's the truth. A lot resign and say "I can't". I know it's bitter but the global solutions will always be more or less disastrous as the revolutions. I suppose.
Thanks so much SABRINA for TRANSLATING!!!