October 1981 - Rock & Folk (France)* (Translation below)
Article - "Sculptors Of Shadows" (6 pages)
Interview / By: Francois Gorin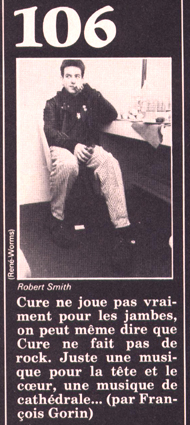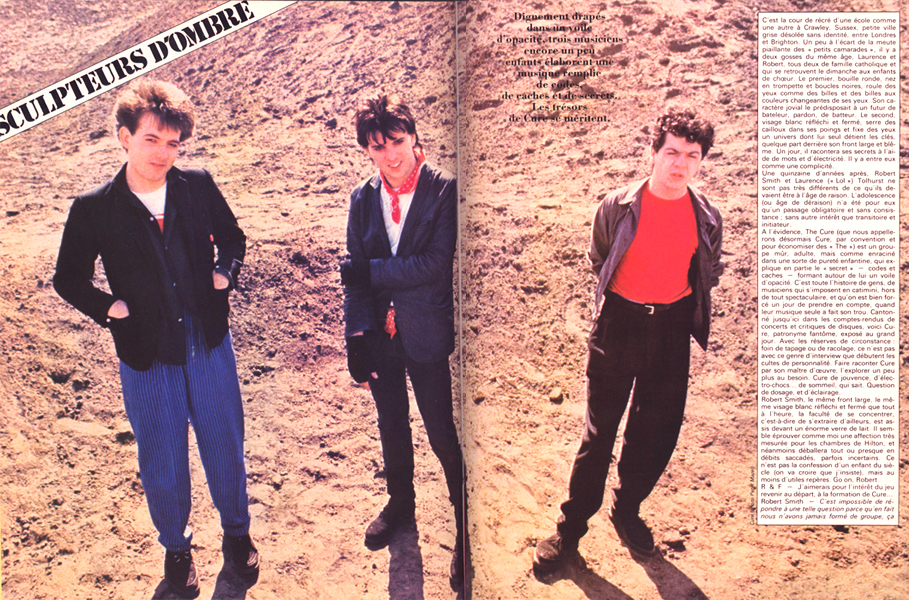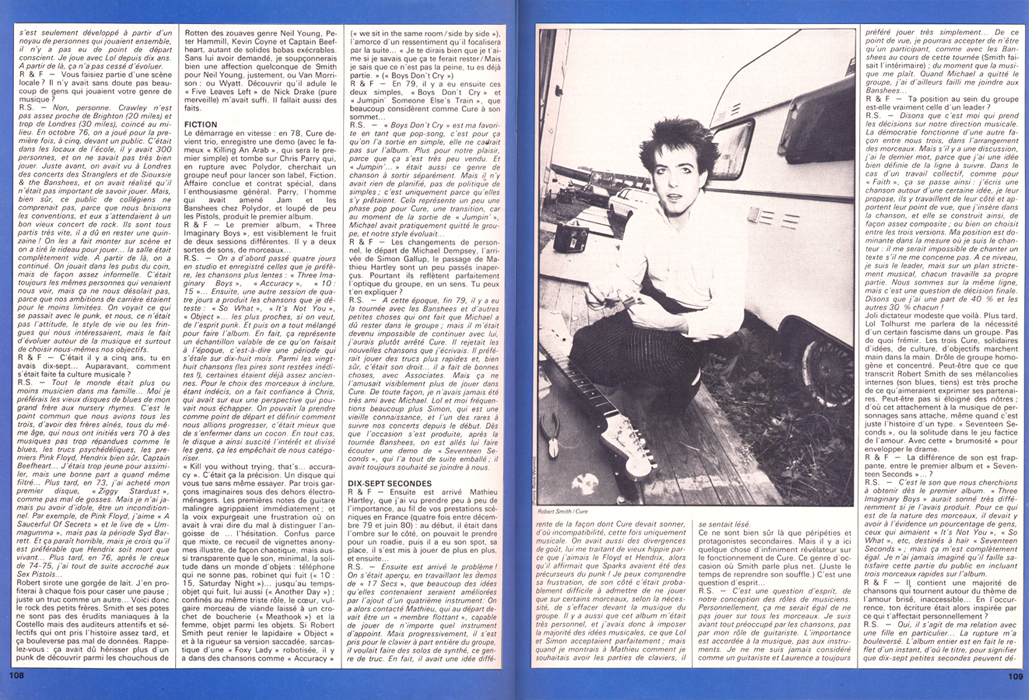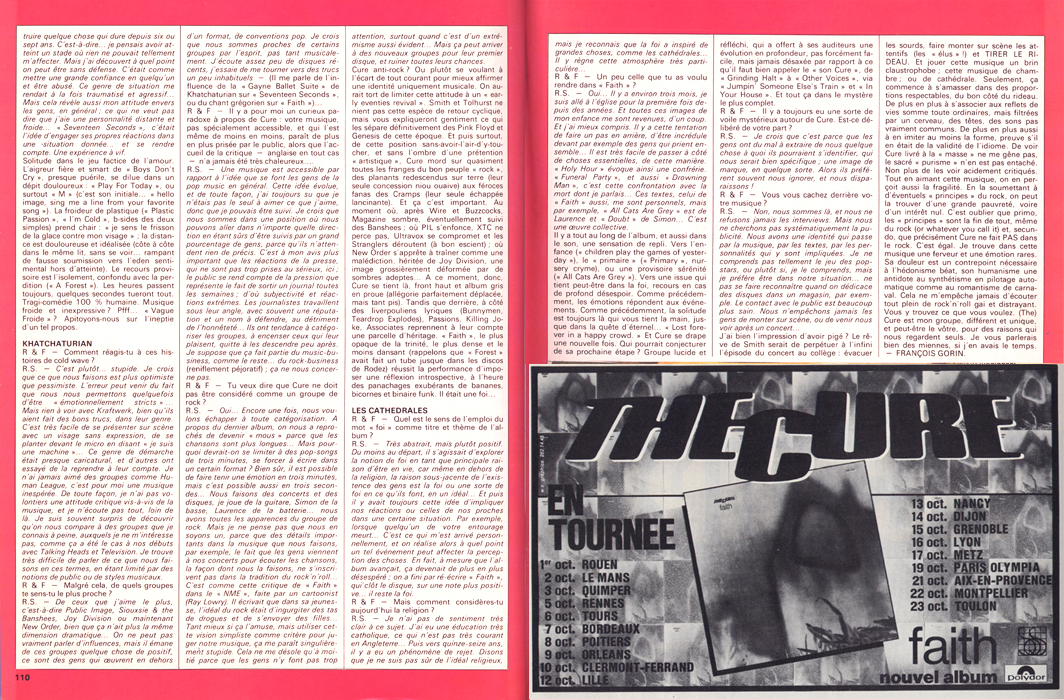 The Cure don't play for your feet. You can even say that Cure don't perform Rock music. Just a music for your head and heart, a cathedral music…(by Francois Gorin).
Draped in a vale of opacity, three musicians, still a bit childlike, develop a music filled with codes, hidden meanings and secrets. The treasures of Cure must be deserved.
It's recess at a school in Crawley, Sussex, small town, grey, desolate, without identity, between London and Brighton. A bit apart from the group of little school pals, there's two kids of the same age, Laurence and Robert, both Catholic and who meet on Sunday at choir practice. The first, rounded head, trumpet nose and black curls, rolls his eyes like marbles and has marbles of changing colors like his eyes. His cheerful character predisposed him for a future of juggler, sorry, drummer. The second, white face reflective and closed, tightly holds his marbles in his fists and fixes with his eyes a universe which he only holds the keys to, somewhere behind his wide and pale forehead. One day, he'll tell his secrets with the help of words and electricity. There's a sort of complicity between them. Some fifteen years later, Robert Smith and Laurence (Lol) Tolhurst aren't very different from what they'd be at the age of reason. Adolescence (or the age of no reason) was for them nothing but an obligatory passage and of no consistence; with no other interest but transition and initiation. As a matter of fact, The Cure (which we will call Cure from now on, by convention and to economize some "the") is a mature adult group, but rooted in a sort of infantile purity that explains part of their "secret"- codes and hide-outs- forming around them a cloudy veil.
It's all the story of people, musicians who impose themselves stealthily, outside of all theatricals, and that we're forced to acknowledge one day, when their music alone has caused a gap. Confined hitherto to concert reviews and disc critics, here is The Cure, ghost patronymic exposed in broad daylight.
Along with circumstantial reserves, hay of scandal or soliciting, it's not with this kind of interview that cult heroes are born. To have Cure told by its master mind, exploring it a bit more when needed. Cure of youth, of electro-shocks…of sleep, who knows. It's a question of dosage and lighting.
Robert Smith, same wide forehead, same white face reflective and closed as a while ago, the power to concentrate i.e. project himself elsewhere, is sitting like a huge glass of milk.
He seems to have, like me, a special affection for the rooms of the Hilton, but nonetheless will unveil everything, or almost, with an uneasy and sometimes uncertain manner.
It's not the confession of a century's child (you'd think I was insisting) but at least some useful references. Go on, Robert.
R&F- I'd like to go back to the beginning, when The Cure was formed…
RS- it's impossible to answer such a question because actually we never formed a group, it only developed from a core of people who played together. There's no conscious starting point. I've played with Lol for 10 years. Starting from there, it never stopped developing.
R&F- were you part of the local scene? There certainly weren't a lot of people playing your type of music?
RS- No, no one. Crawley isn't very close to Brighton (20 miles) and far from London (30 miles), stuck in the middle. In October 1976 we played our first gig, with 5 members, in front of an audience. It was at school, there were 300 people and we couldn't play very well. Just before, we had seen in London concerts by the Stranglers and Siouxsie and the Banshees, and realized that it didn't matter if we didn't know how to play. But, for sure our high school audience didn't understand because we were breaking conventions and they were expecting a good old Rock concert. They all left very quickly, there must have been about 15 remaining! We let them come on stage and we closed the curtain to perform…the room was completely empty. From there on, we continued. We played at local pubs but in a very casual way…it was always the same people who came to see us, but it didn't bother us because our career ambitions were limited. We saw what was happening to punk, and with us, it wasn't the attitude, the lifestyle or the clothes that interested us, but the fact of evolving around the music and especially of choosing our objectives by ourselves.
R&F- That was 5 years ago, you were 17…previously, how had your musical taste developed?
RS- Everyone was more or less a musician in my family. I preferred my older brother's blues discs to the nursery rhymes. It's the one thing all three of us had in common, to have older brothers all of the same age, who initiated us around the year 70 to music that wasn't widespread like blues, psychedelic stuff, the early Pink Floyd, Hendrix of course, Captain Beefheart…I was too young to process it yet a good deal got through…later in 73, I bought my first record "Ziggy Stardust" like a lot of kids. But I never could have an idol, be an unconditional fan. For example, Pink Floyd, I like "A sourcefull of secrets" and the live of "Ummagumma", but not the Syd Barrett. And it might sound horrible but it's better that Hendrix is dead rather than alive…later in 76, after the gap of 74-75, I immediately hung to the Sex Pistols.
Robert has a sip of milk. I'll take advantage of it each time to have a break, just something like another…here is then the young brother's rock. Smith and his friends are not crazed scholars like Costello but careful and selective listeners who took to the story rather late, and that changes many facts. Remember that if must have pissed many a punk to discover among Rotten's pets some fools like Neil Young, Peter Hammil, Kevin Cayne and Captain Beefheart, as many as tough flabbergasted types.
Without asking him, I can doubt a certain affection of Smith for Neil Young, or even Van Morrisson or Wyatt. Discovering that he worships Nick Cave's "Five leaves left" was enough for me. But proof was also needed.
FICTION
The fast take-off: in 78, The Cure becomes a trio, records a demo (the famous "Killing an Arab" that will be the first single) and lands on Chris Parry who, in conflict with Polydor, was looking for a new band to launch his label Fiction. Done deal and special contract, in an overall excitement. Parry, the man who'd led The Jam and the Banshees to Polydor, and just missed the Pistols, produces the first album.
R&F- The first album "Three Imaginary Boys" is visibly the fruit of two different sessions. There are two kinds of sounds, of pieces…
RS- We first spent four days in the studio and recorded the ones I prefer, the slower songs
"Three imaginary boys", "Accuracy", "10:15"…then another session of four days produced the songs that I hate: "So What", "It's Not You", "Object"…the closest to the punk spirit. Then we mixed everything to make the album. Actually, it represents a valid sample of what were doing at the time, meaning a period over 18 months. Among the 28 songs (the worst were left unreleased) some were already old enough. For the choice of the songs to include, being undecided, we trusted Chris, who had a perspective of them that could have escaped us. We could take it as a starting point and define the way to progress, it was better than getting closed up inside a cocoon. Anyway, the record has raised interest and divided people, it kept them from categorizing us.
"Kill you without trying, that's…accuracy". That was it in a nutshell. A record that kills you without even trying. By three imaginary boys under a cover of household appliances. The first sounds of evasive guitar get a hold immediately, and the voice suppresses a frustration where you have a hard time distinguishing the anxiety from the hesitation. Confused because it's mixed, this collection of anonymous covers illustrates in a way that's chaotic but as transparent as the sound, the solitude in a world of objects: phone that doesn't ring, tap that drips (10:15)…to time, an object that drips as well (Another day); confined to the same old role, the heart, vulgar piece of meat left on a butcher's hook (Meathook) and the woman, object among objects. If Robert Smith can deny the lapidary object and eventually his stacked sarcastic version of a robotic "Foxy Lady", there is in songs like "Accuracy" (we sit in the same room/ side by side) the start of a feeling that he will concentrate later "I would tell you that I love you if I thought that you would stay/ but I know that it's no use and you've already gone away" (Boys don't cry)
R&F- In 79, there was the two singles "Boys Don't Cry" and "Jumping Someone Else's Train" that many consider as The Cure at the top of their game.
RS- "Boys Don't Cry" is my favorite, as a pop song, that's why we released it as a single, it didn't fit the album, for our own pleasure because it didn't sell much. And "Jumping…" was also this kind of song to release separately. But nothing was planned, no politic of singles: it's only because we could with them. This represents a bit of a pop phase for The Cure, a transition because at the time of releasing "Jumping…" Michael had practically left the group and our style was evolving…
R&F- The staff changes, the departure of Michael Dempsey, the arrival of Simon Gallup, the passing-by of Mathieu Hartley, were a bit unnoticed. However they perfectly reflect the group's vision, in a sense. Can you explain?
RS- At that time in 79, there was the Banshees tour and other small things that kept Michael in the group: but it became impossible for me to continue with him I would have rather stopped The Cure. He rejected the new songs I wrote. He preferred playing faster things and of course it was his right…he did some good things with The Associates. But it obviously didn't amuse him anymore to play with The Cure. Anyway, I was never good friends with Michael. Lol and I hung-out with Simon a lot more, who's an old acquaintance, and one of the rare people to attend our concerts since the beginning. As soon as the opportunity presented itself, after the Banshees tour we made him listen to a demo of "Seventeen Seconds" which excited him right away, he's always wanted to join us.
SEVENTEEN SECONDS
R&F- Then came Mathieu Hartley whom I saw gain more and more importance during your performances in France (4 times between Dec 79 and June 80): in the beginning he was in the shadow on the side, we could mistake him for a roadie, then he got a spot, his place, got to play more and more, and then…
RS- Then came the problem! We had realized while working on the demos of "Seventeen Seconds" that many of the ideas it contained would become better by adding a fourth instrument: we then contacted Mathieu who at the start was going to be a "floating" member capable of playing any supporting instrument. But progressively, he thought he was the group's keyboardist, he wanted to have key solos, that kind of stuff. Actually, he had a different idea of how The Cure should sound, hence the incompatibility, this time uniquely musical. We also had different tastes, with him calling me an old hippie because I liked Floyd and Hendrix, while he assured that Sparks had been punk's predecessors. I can understand his frustration, from his side it was probably hard to admit that he could only play certain songs, according to the necessity to lose himself in the group. There's also that this album was very personal for me, and I therefore had to impose most of the musical ideas, which Lol and Simon perfectly accepted; but when I showed Mathieu how I wanted the keyboard parts, he would feel hurt.
Certainly these are only secondary trouble and protagonists. But there's something infinitely revealing of The Cure's functioning. The type of occasion where Smith speaks more clearly (just enough to catch his breath) it's a question of spirit…
RS- it's a question of spirit, of our conception of the musician's roles. Personally, I wouldn't mind not playing all the songs. I'm busy with the songs first of all, not by my role as a guitarist. The importance is placed on the music, not the instruments. I've never considered myself as a guitarist and Laurence has always preferred to play very simply…from this point of view, I could accept being just a participant member, like with the Banshees during this tour (Smith played the temporary intern), as longs as I liked the music. When Michael left the group, I actually almost joined the Banshees.
R&F- Your position at the heart of the group is it really that of a leader?
RS- Let's say that I'm the one who decides our musical direction. Democracy works another way between the three of us, in the composition of the songs. But if there's a discussion, I have the last word because I have a very clear idea of where we're headed. In the case of a collective work like "Faith" this is how it goes: I write a song around a certain idea, I run it by them, they work on it from their side and come up with propositions, which I incorporate into the song. And so on, the song is constructed in a very composite way: otherwise we choose between the three versions. My position is dominant because I'm the singer: it wouldn't be possible for me to sing a text that didn't concern me. At this level I'm the leader, but on a strictly musical level each one does his won part. We're on the same line but it's a question of final decision. Let's say I've a share of 40% and the others 30% each!
What a nice modest dictator. Later, Lol Tolhurst will tell me of the necessity of a certain fascism in a group. Nothing to be scared of. The three Cure, united in ideas, cultures and objectives walk hand in hand. It's a funny homogenous and concentrated group. Maybe what Robert Smith transmits in his inner melancholy (well, his blues) is very close to what his partners would like to express. Maybe it's not far from our own, hence this binding attachment to the music of people without bounds, even when it's just the story of some guy. "Seventeen Seconds" or solitude in the fake game of love. With a fogginess to surround the drama.
R&F- The difference of sound is very striking between the first album and "Seventeen Seconds"?
RS- it's the sound we were looking for since the first album. "Three imaginary boys" would have sounded very different if I'd produced it. As to the songs, there was evidently a certain percentage of people who liked "It's not you" "So what" etc. who were destined to hate "Seventeen Seconds", but I didn't care about it. I never thought that you had to satisfy that part of the public by including three fast paced songs on the album.
R&F- It was a majority of songs that revolve around the theme of broken inaccessible love…by chance was your writing inspired by what personally affected you?
RS- Yes, it was about my relationship with a certain girl…the break-up distressed me. The whole album is actually the reflection of a moment, hence the title, to show that 17 little seconds can destroy something that lasts 6 or 7 years. I mean…I thought I'd reached a stage where nothing could really affect me. But I found out how helpless you can be. It was like putting all your trust in someone and getting betrayed. This kind of situation left me traumatized and aggressive at the same time. But this also reveals my attitude towards people, in general; which doesn't mean that I've got a distant and cold personality…"Seventeen Seconds", it was the idea of engaging your own reactions in a given situation and to realize it. A live experience.
Solitude in the game of fake love. The smart and proud bitterness of "Boys don't cry" almost childish, dissolves into a hurtful sorrow in "Play For Today" or "M" (it's the initial…"Hello image, sing me a line from your favorite song"), b-sides of the two singles) inhabits the flesh, "I feel the chill of ice on my face" the distance is painful and idyllic (side by side in the same bed, without seeing each other)…crawling from fake submission to out-of-reach sentimental Eden. The temporary recourse is isolation, mistaken for perdition ("A Forest"). The hours always go by, a few seconds will kill everything.100% human melodrama. Cold and inexpressive music? Pff…cold wave? Let us take pity on such an inept statement.
KHATCHATURIAN
R&F- how do you react to the stories of cold-wave?
RS- it's rather stupid: I think that what we do is more optimistic than pessimistic. The error might come from the fact that we sometimes allow ourselves to be "emotionally strict"…but we've got nothing to do with Kraftwerk, although they've done some good things in their genre. It's very easy to perform on stage with a face void of expression, just standing in front of the mic and saying "I'm a machine"… this kind of behavior was almost caricatured and others have tried to adopt it as their own. I never liked groups like Human league, for me it's a hopeless music. Anyway, I don't voluntarily criticize the music and I don't listen to everything, far from it. I'm often surprised to see us being compared to groups I barely know, who don't interest me, like when we first started with Talking Heads and Television. I find it very hard to talk about what we do in such terms, being limited by public notions or musical genres.
R&F- In spite of this, to which groups do you feel closest?
RS- to those I like the most, meaning Public Image, Siouxsie and the Banshees, Joy Division, or now New Order, even if they don't have the same dramatic dimension anymore. You can't really talk of influence, but something positive radiates from these groups, they are people who live outside of a format, of pop conventions. I think that we're close in spirit to certain groups, not so much in the music. I don't listen to a lot of recent music. I try to stay focused on stuff a bit out of the ordinary (he tells me of the influence of the "Gayne Ballet Suite" of Khatchaturian on "Seventeen Seconds" or Gregorian chanting on "Faith").
R&F- for me there's a curious paradox regarding Cure: your music, not easily accessible, and which is getting less and less so, appears to be more and more understood by the public, while the critical reception – English in any case- has never been very warm…
RS- A music is accessible if it fits the general idea of Pop music that people have. With this idea gone, and anyway, I always knew that I wasn't the only one to like what I like, therefore that I could be followed. I think we're in apposition where we could go in any direction while being sure that a large percentage of people will follow us, because they don't have a specific expectation. In my opinion it's more important than press reviews, which are not taken very seriously here, the public realizes the pressure it takes to have a magazine released every week; hence the subjectivity and extreme reactions. The journalists work from their own point of view, with often a name and a reputation to defend, at the price of their honesty…they tend to categorize bands, to hail those they like, only to bring them down soon later. I suppose it's part of the music business like everything else…of rock-business (sniffs pejoratively) it doesn't concern us.
R&F- Do you mean that The Cure shouldn't be considered as a Rock band?
RS- Yes…again, we want to escape any categorization. Regarding our last album, we were accused of becoming "soft" because the songs are longer…but why should we limit ourselves to 3 minute pop-songs, forcing ourselves to write in a certain format? Of course it's possible to validate an emotion in 3 minutes but it's also possible in 3 seconds…we make concerts and records, I play the guitar, Simon base and Lol the drums…we have all the appearances of a rock band. But I don't think we are one, because of important details in our music, like the fact that people come to our concerts to listen to the songs, the way that we perform them, which is not registered in the rock'n'roll tradition…it's like this review of "Faith" in "NME" made by a cartoonist (Ray Lowry). He wrote that in his youth, the ideal of rock was to do lots of drugs and do lots of girls…it's fine if it works for him, but to use that simplistic vision to judge our music seems quite stupid. It only half bothers me because people don't really pay attention, especially when it's such an obvious extreme. But it could happen to a new band and ruin all their chances.
Anti-rock Cure? Or rather, wanting to set themselves apart from any stream to best affirm their uniquely musical identity. We'd be wrong to limit this attitude to an "early seventies revival". Smith and Tolhurst don't deny this kind of cyclic come-back but would kindly explain to you what separates them from the Pink Floyd and Genesis of that time. And then especially, from a position of seemingly-not-touching- on the subject, and without the shadow of an artistic pretense, Cure bite into all the fronts of the good "rock" people, from the floating ones who came back down to earth (their only new wave concession) to the ferocious Cramps fanatics (their only monotonous escape). And that, is important. At the moment where, after Wire and Buzzocks, Magazine plummet, eventually followed by Banshees, when Pil are down, XTC doesn't come through, Ultravox compromise themselves, and the Stranglers are derailed, when New Order get ready to drag like a malediction inherited from Joy Division, an image vulgarly deformed by dark fans…at that moment, then stands Cure, head high and grey album at the lead, while behind them next to the lyricist Liverpoolians (Bunnymen, Teardrop explodes), Passions, Killing Joke, Associates are redeeming themselves part of the heritage. "Faith" the darkest of the trinity, the most dense and least dancing (reminder that "Forest" was a hit even in the Rodez discos) manages to impose an introspective reflection, at the hour of exuberant banana cocktails and binary bicorn funk.
There once was a time…
THE CATHEDRALS
R&F- What did you intend by using the name "Faith" as a title and theme for the album?
RS- Very abstract, but rather positive. At least in the beginning it was about exploring the notion of faith as a principal reason for being alive, because even outside of religion, the underlying reason of people's existence is faith, or a sort of belief in what they do, in an ideal…and then there always was this idea of involving our reactions or our family's reactions in a certain situation. For example, when someone from your surrounding dies…it's what happened to me personally, and then you realize how much such an event can affect your perception of things. Actually as the album progressed, things became more and more desperate. We ended-up rewriting "Faith" which ends the album, on a more positive note…there's always faith.
R&F- But how do you perceive religion nowadays?
RS- I don't have a very clear feeling regarding this subject. I had a very catholic education, which is not that common in England. Then around fifteen, there was a phenomenon of rejection. Let's say that I'm not sure of the religious ideal, but I admit that faith has inspired many great things, like cathedrals…where you feel a very particular atmosphere.
R&F- A bit like the one wanted for "Faith"?
RS- Yes…around 3 months ago I went to church for the first time in ages. And all these images from my childhood flooded back suddenly. And I could understand better. There's this temptation to step back, to be a non-believer in front of for example a congregation who pray together…it's very easy to go by the essential things in that manner. "Holy hour" evokes a brotherhood in that sense. "Funeral Party" and also "The Drowning Man" is the confrontation with death that I was just talking about. These texts and also that of "Faith" belong to me, but for example "All Cats Are Grey" was written by Laurence and "Doubt" by Simon…it's a collective work.
There's all along the album, and also in the sounds, a feeling of withdrawal. To childhood ("children play the games of yesterday"), to the primary ("Primary", nursery rhyme) or a temporary serenity ("All Cats Are Grey"). Towards an ending that's maybe in Faith, refuge in case of deep desperation. Like before, emotions answer to events. Like before, solitude is always here holding your hand, even in the quest for the eternal…"lost forever in a happy crowd". And The Cure drapes itself another time. Who could guess of their next step? A lucid and reflective band, who has offered its listeners a deep evolution, not necessarily easy, but never far from what we should call the "Cure sound"; from "Grinding halt" to "Other Voices", through "Jumping Someone Else's Train" and "In Your House". And all of it within a complete mystery.
R&F- there always was a sort of mysterious vale surrounding The Cure. Is it deliberately your intention to do so?
RS- No, we're here and we never refuse interviews. But we're not systematically looking for advertisement. We have an identity that gets through with the music, song words, the personalities involved in them. I don't really understand the game of Pop stars or rather yes I do understand it, but I'd rather be in our situation…not to be recognized when you're signing records at a store, for example, the contact with the public is much healthier. We never stop people from coming up on stage or coming to see us after a concert…
I get the impression that I dig it? Smith's dream would be to perpetuate the episode of the college concert: evacuate the deaf, bring on stage the listeners (the chosen ones) and draw the curtains. And play this chamber claustrophobic music. However, it's starting to get packed in respectable proportions on the right side of the curtain. More and more to get associated with reflections of ordinary lives, but filtered by a brain, some heads and sounds not that common. More and more also imitating at least the shape of lives, proving if anything, the validity of the idiom. To see Cure delivered to the "masses" does not bother me, sacred "purism" is not stained by it. Neither is seeing them sourly criticized. While loving this music, you also perceive its fragility. While submitting it to eventual rock "guidelines" you could find it very poor and even of no value. It would be forgetting that first of all, "guidelines" are the end of everything, even of rock (or whatever you call it) and second of all, that precisely Cure are not a rock band. It's all the same. I find in this music an eagerness and rare emotion. Its pain is a necessary counterpoint to sanctified hedonism, its humanity an antidote to synthesizing in auto-pilot mode like a carnival romance. This doesn't stop me from listening to lots of gay and distracting rock'n'roll. You get what you want from it. (The) Cure is my band, different and unique, and maybe yours, for reasons that remain ours alone. I would tell you of mine, if I had the time.

THANKS: so much Caroline (WhyCan'tIbeMary?) for translating