July 1981 - OOR - (holland) (Translation below)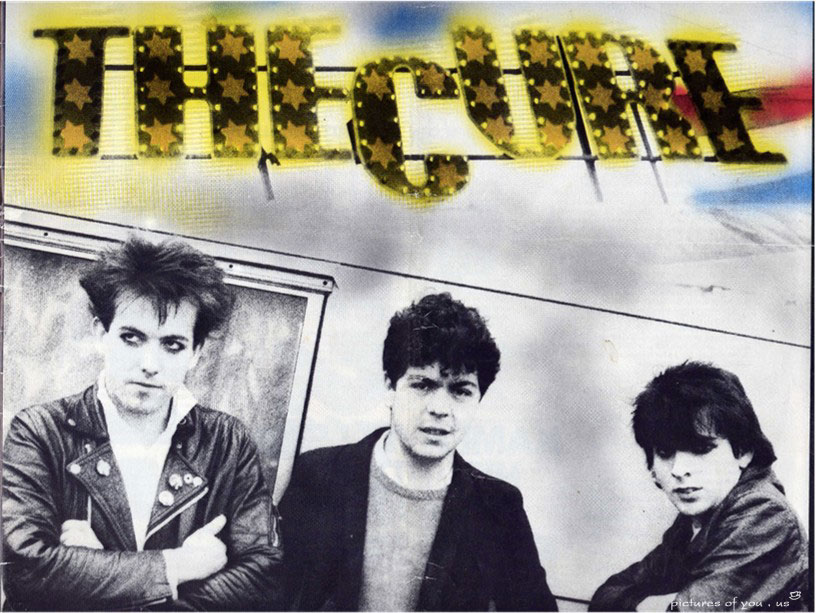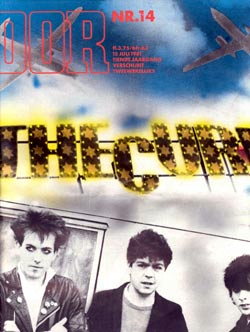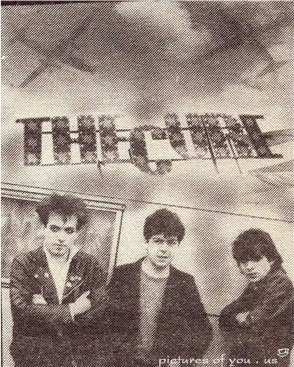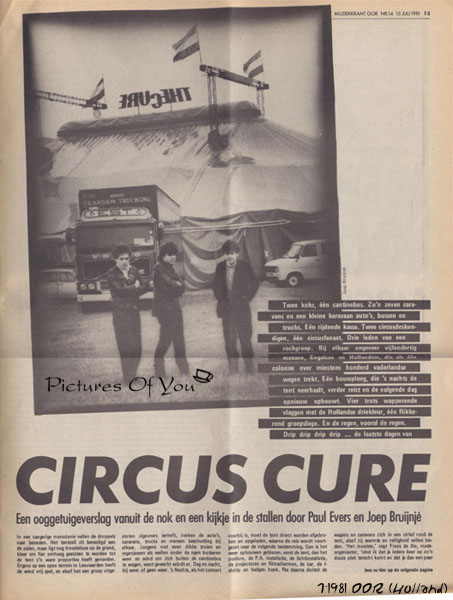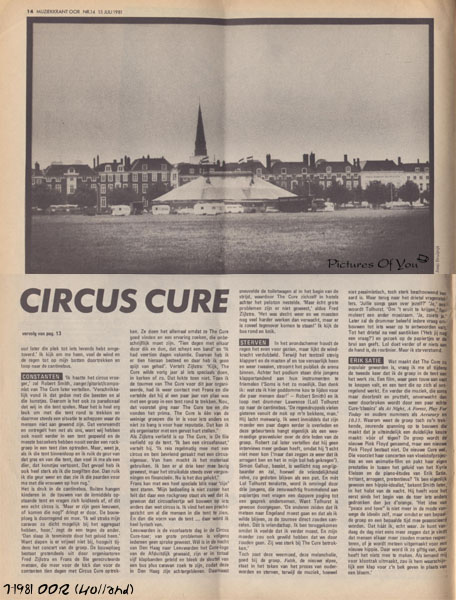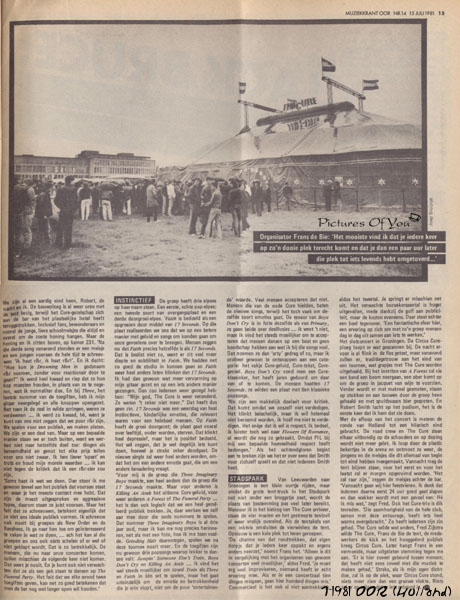 The Cure, photograph by Joep Bruijnjé. Two cooks, one canteen bus. Seven trailers, one small caravan of cars, busses and trucks. A driving till. Two circus experts, one circus fanatic. Three members of a rock band. The English-Dutch Circus Cure travels on national roads. Paul Evers looked in the stables and interviewed equerry and former circus hater Robert Smith.
Two cooks, one canteen bus. Seven trailers, one small caravan of cars, busses and trucks. A driving till. Two circus experts, one circus fanatic. Three members of a rock band. Almost 35
People, English and Dutch, who travel as one column on more than hundred national roads.
One construction team who take down the tent at night, travels and builds it up again the next day. Four banners with the three colours of Holland blow proudly, one bright group logo. And the rain, especially the rain.
Drip, drip, drip ….
The last day of circus Cure.
A live report from ridge and a look in the stables by Paul Evers and Joep Bruijnjé.
Drops of rain fall down in a melodious monotone. The canvas is attached to the stakes, but it still lies on the ground. It's ready to be lifted up until the tent has got it's full proportions. Somewhere on an open space in Leeuwarden the wind has free play. Like a bunch of outcasted gypsies the cars, trailers, trucks and people huddle together. Boys with sweaters and jackets come out of the canteen bus into the rain and wind to work. Day and night, bad or good weather. At night, when the concert is over, the tent has to be pulled down immediately. It's loaded up and the journey continues to yet an other location. Then construction starts again: first the tent, then the stage, P.A., lights, projectors, screens, bar, t-shirt and the badges shop. Only after that the cars and trailers form a circle around the tent. It's like they offer warmth and security. Frans de Bie, co-organiser, likes it that they arrive on an empty spot and that a couple of hours later it's turned into something living. I look around and feel the wind and rain. My bones are getting soaked, so I walk to the canteen bus.
Constant qualities
'I used to hate the circus', Robert Smith singer/guitarist/composer from The Cure would tell me later on. 'I hated the fuss with the animals and all the tricks. That's why us playing in a tent is a paradox. But it's very nice to travel with a tent. We create situations which are unfamiliar to people. It alienates and dislocates them, just like us, because we have never played in a tent and most people have never seen a rock band play in a tent. But when I walk into the tent and I smell the scent of the grass and the tent, then I feel like an animal doing tricks. It's the same feeling I get when we do encores. I smell the scent again and I see horses with women on their back.'
It's crowded in the canteen bus. Outside there are children climbing in the ropes of the tent. They scream loudly wondering whether this is a real circus. One of them says: 'but there are no lions, or do they still have to come?' The construction team is tired and soaked. One of them says to his friend: ' I want my trailer as close to the center of the trailers as possible, then at least I won't hear the noise and be able to sleep. The only time when they manage to get some sleep is during the concert. The construction team consists mostly of people that the organisers Fred Zijlstra en Frans de Bie recruited. They travel with circus Cure for ten days, more for the kick than for the money. They all do it because they like the Cure and because they want to have an indescribable experience. 'Ten days together, it creates ties of friendship.' 'I've had two weeks holiday and ten of them I spent travelling with the circus. I never regretted it'. Zijlstra says: 'Last year The Cure wanted to do something special, in churches or something like that. But it didn't work out. This year, when I started organising the tour, I saw Frans again and he told me he had this plan to tour with a group in a tent. So we proposed this to the Cure en they liked it. The Cure is one of the only band who's not afraid to do something different. They don't care about their reputation, I can tell you that as organiser'. Zijlstra is in love with The Cure, De Bie is in love with the tent. 'I'm a circus fan', he says. 'I travel a lot with a circus and I'm friends with the owner. He lets me use the material. I've been trying to do this three times, but each time financial problems and permits forbade it. This time it worked.' Frans stares at 'his' tent with a very special look. ' I didn't want it to be like a rock band that wants to create a circus atmosphere for once, but I want to create a circus atmosphere with something that's different from the circus. I like the view of seeing all the people in the tent. And the shape of the tent…. I become very lyrical.'
Leeuwarden is de last but one day from the tour. There never have been big problems. The only thing that happened was that during the night when we were travelling from Den Haag naar Leeuwarden the Cure-logo blew of the dike. We've had five flat tires and we've lost the key to a bus and a trailer, so we had to leave them in De Haag. And the toilet trailer broke down early, so The Cure stayed in hotels. But we didn't have big problems', says Zijlstra. 'The weather was bad and the word was heavier than expected, but we've got a lot in return'. I look around the bus and nod.
Dying
When the twilight arrives, the rain stops, but the wind seems to double in strength. The audience enters the arena while the canvas is flapping in the wind and the poles sway to and fro. Behind the stage there are three boys, their teeth are chattering while they fiddle with their instruments. ("Sometimes it's so hard and then I think: what am I doing here, standing here getting cold just for those few people out there" – Robert Smith). I walk with drummer Lawrence (Lol) Tolhurst to the canteen bus. 'Yesterday the raindrops were falling from the ridge on my cymbals'. He laughs pitying. I know that his mother died a few days ago. This events is like a melancholy haze covering the band members. Later on Robert says that he stopped doing interviews because he really couldn't do it anymore. ('But then people will say that I'm arrogant and that I've got big ideas'). Simon Gallup, bassist, is even more elusive, and although he's very friendly, he's tight-lipped. Together with Lol Tolhurst, I am surrounded by three boys. They nervously fiddle with the papers with questions and make a brave attempt at starting a conversation. Lol has continued the tour. 'The others told me that I should return to England and that they would cancel the tour if I asked them to. That's real friendship. I came back because I felt that I had to go on. My mother would have wanted us to continue. She was very much involved with the Cure'.
And yet this melancholy fits the group well. The new album Faith is about the process of getting older and dying. The music is not depressing, but more reflective. But let's get back to the questions. 'Are the songs about yourself?' 'Yes', Tolhurst says. 'Just to get it out' someone says with difficulty. 'Something like that'. Later, the drummer, will change every question until it can be answered. After a lot of tapping ('Do you still have a question?') and searching the papers with questions, they chuck it. Lol acts like nothing is happening, but I'm amazed.
Erik Satie
The second time I see the Cure in the tent, I wonder what made the Cure become so popular. A movie without sense and a tent which is a disturbance. And then there's the music which continues only to be interrupted by a few Cure-classics such as At Night, A Forest, Play for Today and some older songs like Accuracy and 10.15. How come this group manages to build up a certain tension that makes you choose: in favour or against the group? The group is sometimes called the new Pink Floyd, but a new Pink Floyd doesn't exist. The new Cure does exist. The new show incorporates projections and a movie and places their music between Kyrie Eleison and the études from Erik Satie. Irritating, arrogant, pretentious? In the middle of the night Smith admits that he's a 'hippie-idealist'. For the first time since the start of the tour he drank something else besides orange juice. 'The idea of peace and love is no longer fashionable, not because of the ideas, but because it's associated with a certain period and a certain group of people. I really hate that you know. Today, you can't even say that you think people should respect each other more or you are called a new hippie. It pisses me of, cause it has nothing to do with it. If someone calls me an asshole I would hit him in the face instead of giving him a flower'.
Robert, me and the night are far gone. The construction team has been working on the tent for hours, while the Cure-company has gone to the pub of the local hotel. Including fans, admirers and the young schoolgirls who are always attracted by the honey. But the 'honey' and me are upstairs in hotel room 231. 'After the third night there were a girl and a boy who constantly kept yelling:' I hate r&r, I hate r&r!'. I thought: how can you call Drowning Man r&r without being called a reactionary. Instead of ignoring them (what I usually do), I got very angry and told them to shut up. During the last song, Three, I put down my guitar and turned the volume up. Just when I was about to jump into the crowd, they disappeared… I got so angry cause you can't say we are pure r&r. We play for an audience, we make records so we are part of it. But at the same time we're always on the outside because we don't have the same purpose. Things like fame and pleasure are not very important to us. I'd rather be upset and proud and keep my moral values… I don't like being criticised as being a r&r star.'
'Sometimes I hate what we're doing and the audience in front of us, the people with whom we have the most contact, disturb me. Those are the more aggressive types, that's why they are in the front rows. But they are not are ideal audience, because they yell. I never yell when I see New Order or the Banshees. I go to their concerts because I'm interested in what they're doing… oh, well, all those bands, including us, don't care whether they get an applause or not. It's all so relative. The people that are here this time, might not be here next time. You don't know and you can't expect them to dance on a song like the Funeral Party. We do two encores every night, it can also mean that the bar should be open a bit longer.
Instinctive
The band has made three L.P.'s. The first is a real pop-album, the second is a transition and the third is meant to make the band grow. Faith should cause growth by means of 17 Seconds. When we made that album, we realised that we could deal with music and the songs in a better way to get our emotions trough. People say that Faith sounds like 17 Seconds. That's not true, because there's more depth and subtleties in Faith. We could have gone into the studio and Faith could have sounded completely different from 17 Seconds. I would have put more distortion on my guitar and would have sung things in a different way. Everybody would have said: 'my god, the Cure has changed again, they must have lost it'. It doesn't make any sense. 17 Seconds talks about instinctive, childish emotions. For a lot of people this made sense. With Faith we continue our growth, it talks about age, getting older and dying. It sounds depressing, but it's not meant to be that way. It means that you can do something in this life, even though you'll die. The new single is about yet an other emotion and so it's a different approach'.
'I think that the group who made Boys don't cry is very different from the group who made 17 Seconds. Some people consider Killing an Arab to be the ultimate 'Cure-sound', others think it's A Forest or A Funeral Party…that's the reason why we have such a mixed audience. We bring it about ourselves, because we play old songs. A song like Three Imaginary Boys is three years old, but it's like a picture was taken: I can still remember how I felt back then. Grinding Halt on the other hand we'll never play again after this tour. The encores are three songs you can dance to: Jumping someone else's train, Boy's don't cry and Killing an Arab… It get's more difficult to play both Train, Three and Faith in the same set. It's all about the emotion you put in the songs, not about the 'entertainement value'. A lot of people can't accept that. People who loved the old Cure, hate the new songs, even though they're about the same emotions. The tenor of Boys don't Cry is the same as Primary. Both songs talk about disillusions… It gets harder to accept that people dance to a beat, but don't care about how I feel in these songs. They think it's some sort of 'arty' behaviour. I just try to avoid being placed in a certain category: the Cure-sound, the Cure-lyrics, the Cure-feeling… It's taken us years to get rid of the idea that Boys don't Cry is a Cure-classic. People hated 17 Seconds, because they wanted an album with ten classis pop songs'.
'We're an easy target for critics because we don't defend ourselves. It sounds ridiculous, but I don't want to be famous and I don't have to defend myself. The only thing I want is respect. I mean I listen to Flowers of Romance, even though it's being slagged because PIL has earned a certain respect'. At first light we agree that Smith is playing for himself and that not everyone is named Smith.
City Park
It's an hour drive from Leeuwarden to Groningen, but the large truck with the tent doesn't fit underneath the bridge in the park, so the drive takes much longer. When I arrive after the Cure the four poles and the striped canvas are already up again. The cars surround the tent like the tentacles of an octopus. Yet again a wasteland is turned into a living space. Frans says the charm of moving around is that little village that's been packed up every time, moved and been set up on a different location. 'This is much more difficult in comparison with the organisation of ordinary concerts. We have to improvise a lot and no one has any experience at this. If you have ten things that go wrong in a concert hall, you'll have a hundred things going wrong here. And this isn't very interesting on a commercial level, you might just make a little profit. Thanks to the publicity there's a bigger audience than expected, but the costs are also higher than anticipated. But the atmosphere is terrific, it's a great experience to work with this group of people every day'. The last concert is in Groningen. The construction team is a bit tensed. Already last night a lot of bottles were opened , but tonight, as tradition has it, they'll pull some jokes on the Cure. When A Forest starts a tree will be lowered on the stage and a waiter in smoking will serve them wine. There will be mackerel thrown on stage, fish being put on sticks and attached to robes so they can be pulled trough the band and spray cans will be filled with beer. And it's the first time I see Robert Smith laugh on stage. When the show ends, the tour of Holland will be completed successfully. The Road Crew and The Cure pat each other on the shoulder and no one minds about the drugs that are being used. I walk into the arena, crushing a lot of plastic cups, and meet all the boys and girls who have been here from the beginning till the end. For the first time the tent hasn't got to be pulled down tonight, and tomorrow it will be pulled down for the last time. The girls behind the bar talk about how weird it will be. Frans says: 'Tonight we'll party, then sleep 24 hours and wake up with the feeling that there's something missing'. The Cure-trio is also very satisfied. 'Everybody gets along, being with this entire crew gave a warm feeling'. And so everybody got something out of it. The Cure wanted to do something different, Fred Zijlstra wanted the Cure, Frans De Bie wanted a tent, the employees wanted a kick and the honoured public got Circus Cure. Later on Frans leans on me, looking very tired. 'So many things happened here between those people that are not even connected with the music'. Later on, the space were the tent has stood, will be a desolate area again. Nothing shows that something has happened here.
A very BIG THANKS to: ANKE for the TRANSLATION.