February 16, 1984 Bravo (Germany) (Translation below)*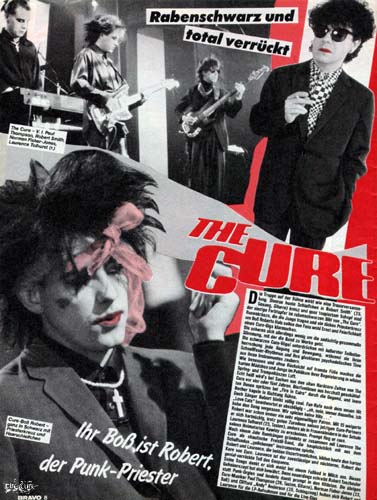 "Dark as Ravens and Totally Screwy."
the Cure
"Your leader is Robert, priest of punk."

The group on stage prepares for a dark and wonderful meeting. In colorful makeup, and a wild, teased puff of hair, Robert Smith (25, vocals/guitar) paints a perfect image of what The Cure stands for. He's wearing rosaries around his neck, and yet the fans take him quite seriously. They rarely worry themselves, however, over which songs will be played. The band's dark fans have a hard time executing self-control, following each move on stage to the fast beat and psychedelic sound. Like the possessed and without consideration for the feet of others, the boys and girls in the club dance wildly.
Things have become pretty hot over the past four or five years for The Cure. "Fire In Cairo" fills the room as empty beer glasses are hurled toward the stage.

But singer Robert remains fairly calm. Fans call out for "Lovecats", the band's new hit, but Robert shakes his head. "Oh no, We won't be playing that song. We're not here to play hits."
Robert was always a very unique person. At 15, Robert and bandmate Laurence Tolhurst (25, keyboards) once went to school in women's dresses, shocking everybody. After a year of friendship they put together the Cure, a chaotic freestyle band, playing mainly instruments they "borrowed" from the school. Robert and Laurence, two inseparable friends, formed the heart of the Cure, despite many lineups. Laurence is reliable and sober, while Robert is like an animal.

Robert says many of his songs were written in the bath. We think its worked pretty well. Recently, Robert's been writing more dance songs with punk roots that have landed the band gig on the music charts. The other Cure members- Paul Thompson (26, guitar), Norman Fischer-Jones (23, Bass), and Clifford "Andy" Anderson (25, drums) are currently working with Robert and Laurence for the new LP and live shows.
THANKS: Jo for the TRANSLATION.