2-23-1984 Bravo (Germany)*
"The Cure: from die-hard punk to witty dance band"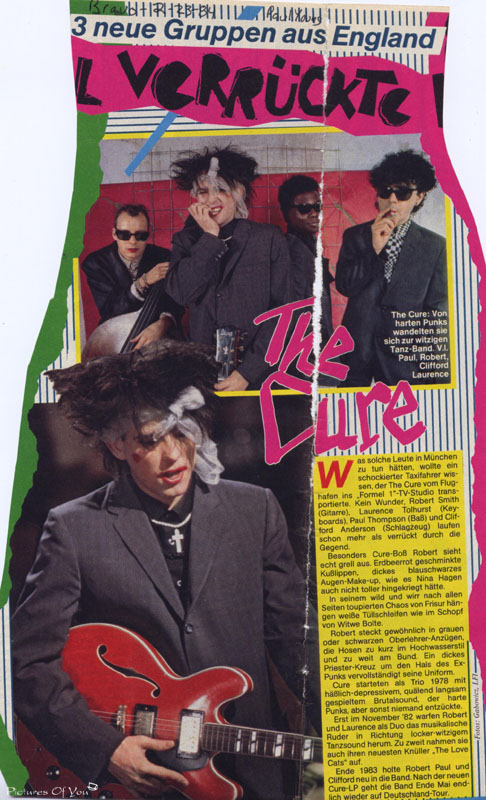 Caption: The Cure: from die-hard punk to witty dance band.

What are people like them doing in a place like Munich? That's what a shocked cab driver wondered as he drove The Cure to the "Formel Eins" TV studio. The shock's no wonder, because Robert Smith (guitar), Laurence Tolhurst (keyboard), Paul Thompson (bass) and Clifford Anderson (drums) are looking more than weird.

Especially Cure frontman Robert looks really gaudy. He's got strawberry red lips and blueish black eye make-up: even Nina Hagen wouldn't do it any better. His flicked-up chaotic hairdo, jittering in any direction, is decorated with white hairbows.

Robert usually wears either grey or black business suits that make him look like a principal. His trousers are too short as if he's trying to escape from high water, and they're too wide at the waist. A huge priest-like crucifix around this ex-punker's neck completes his uniform.

The Cure began as a trio in 1978, sounding hateful-depressive and excruciatingly slow. Punkers liked it, but others weren't interested at all.

In November 1982 Robert and Laurence were now a duo; they had altered the sound to a wittier, easier dance sound. Together they recorded their big hit "The Lovecats".

By the end of 1983, Paul and Clifford were added to the band. After the release of the new Cure album, the band will finally tour Germany again by the end of May.
THANKS to: Marinka for the TRANSLATION.
January 17, 1984 - TV Show - Geiselgasteig - Bavaria Studios (Germany) 'Formel Eins' - "The Lovecats"
Robert Smith, Porl Thompson, Laurence Tolhurst & Clifford "Andy" Anderson