April 1984 - Musik Scene (Germany) (Translation below)*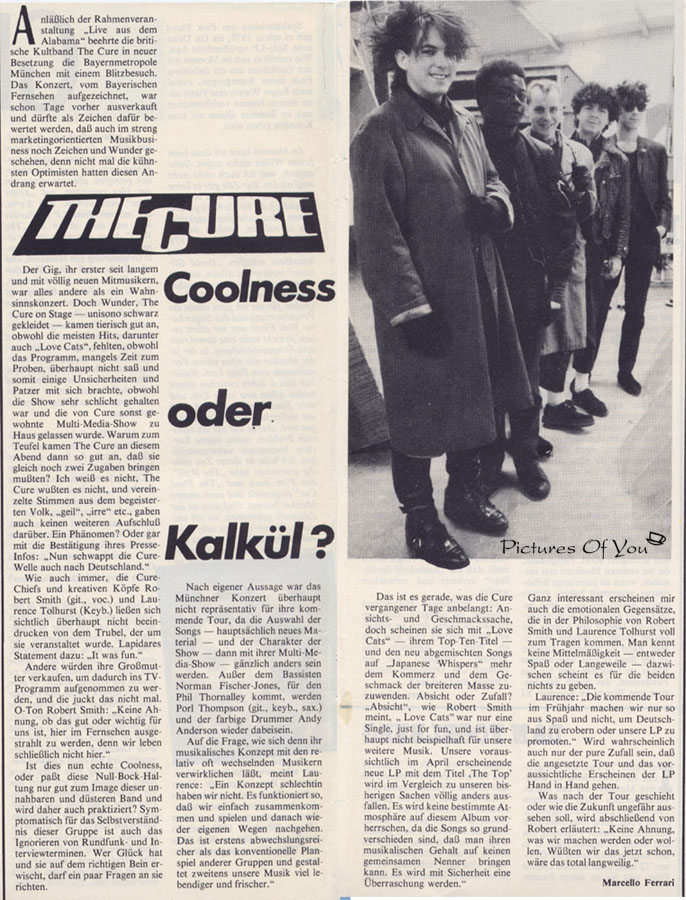 Robert, Andy, Porl, Lol & NORMAN FISHER JONES...(of the Umbrella on bass)
Porl's FIRST SHOW (January 30, 1984) Munich, Germany
First time they played as a FIVE piece!!
Click here for more pictures from that day
The Cure - Coolness or intention?
On the occasion of the event "Live aus dem Alabama" the british cult band The Cure honoured the Bavarian metropole with a quick stop-over in a new line up. The concert, recorded by Bavarian Television, was sold out days before and should be considered as proof that even in the strictly marketing-orientated music business wonders never cease, since not even the most optimistics minds would have expected such a heavy rush of people.
The gig, their first in a long time, and with completely new band members, was anything but a great show. But surprisingly, The Cure on stage - all dressed completely black - were extremely well received, although most of their hits, among them also "Love Cats", were missing, although the program, due to a lack of time for rehearsing, didn't fit at all and some insecurities and bloopers happened, although the show was kept very simple and the otherwise typical multi media show was not introduced. Why the heck then werde The Cure so well received that night, that they even had to give two encores? I don't know. The Cure didn't know neither und some people in the enthusiastic crowd, cheering "great" and "marvelous" didn't help in finding the answer neither. A phenomenon? Or the confirmation of their press release which read: "Now the wave of enthusiasm aboutTthe Cure will swap over to Germany."
However, the two Cure-bosses Robert Smith (git, voc) and Laurence Tolhurst (keyb) were absolutely not impressed by the turbulences going on around them. Their lapidary statement: "It was fun."
Other people would have sold their own grandmother to get on TV, but these guys didn't even care. Quote Robert Smith: "I have no idea whether it's good or bad for us to be on TV here, since we don't live here."
Is this real coolness or does this "don't-bother-us"-atittude matche their image of a dark and inaccessible band and is therefore acted out?
Also to ignore radio- and interview-appointments is symptomatic for the self-image of this band. If you're lucky to meet them in a good mood, you may be allowed to ask some questions.
According to their own statement the concert in Munich did absolutely not reflect what will happen on their forthcoming tour, since the selection of songs - mainly new material - and the character of the show - then using their multi media show - will be totally different. Apart from bassist Norman Fisher-Jones, who will be replaced by Phil Thornalley, Porl Thompson (git, keyb, sax) and the coloured drummer Andy Anderson will take part again as well.
When asked, how their musical concept could be realised with aconstantly changing line-up, Laurence answers: "We don't have a concept per se. It works the way, that we simply come together and play an afterwards everyone makes his own way. This brings more diversification than the conventional way that other bands deal with this and it keeps our music fresher and more vivid.
And that is what it is all about when it comes to The Cure in these days: It is mainly a matter of opinion, a matter of taste. Nevertheless they seem to open more to a commercial way and to the taste of the masses with "Love Cats" being their top-ten-title and the recently mixed song "Japanese Whispers". Intentionally or is this just a coincidence? "That was our plan", Robert Smith states, "Love Cats" was just a single just for fun, and it is absolutely not a typical example of our music. Our new album, probably published in April, with the title "The Top" will be completely different from what we have done before. There will be no specific atmosphere on this record, since the songs on it are so very different, one wouldn't be able to find common features in them. Surely there will be some surprises."
To me the emotional differences in the philosophy of Robert Smith and inthat of Laurence Tolhurst seem to be quite interesting, since they here develop their full power. There is no mediocrity - either fun or boredom - in between there seems to be nothing for the two of them.
Laurence: "The forthcoming tour in spring we'll be doing just for fun, our goal is not to conquer Germany or to promote our records." So it also will be just a coincidence, that tour and the date of the record release are quite close.
Robert then explains what will happen after the tour and what the future will look like: "We have no idea, what we will be doing or what we want to do. If we knew that by now already, that'd be totally boring."
THANKS: Frank Baade for the TRANSLATION.