June/July/August 1984 - Tympans - (Belgium) Fanzine (Translation below)
ARTICLE - The Cure (1 page)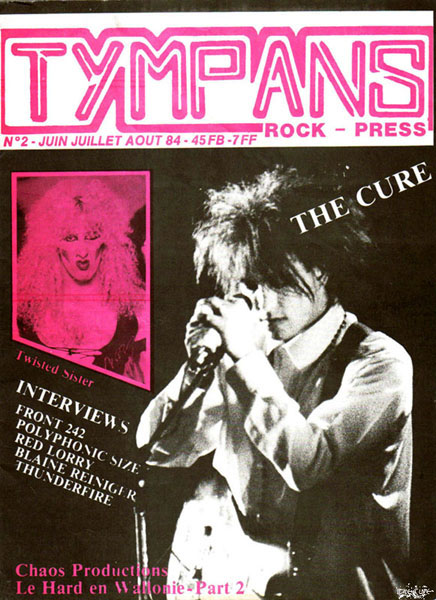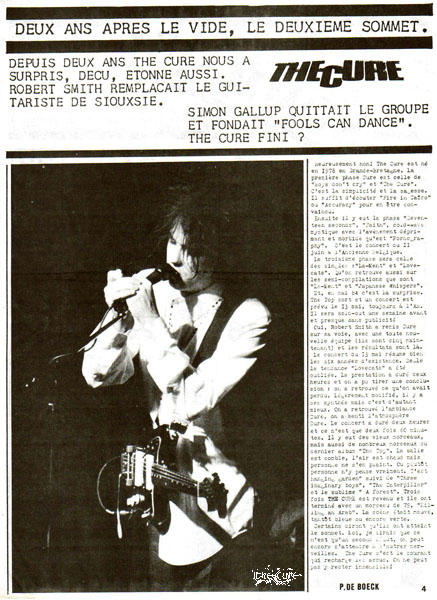 (scan submitted by: Jean C.Moglia)
2 Years after the void..here's the second top..

------------------------------------------------------------------
For the last 2 years, The Cure has in turn surprised us, disappointed us, but also astonished us. Robert Smith went on to replace Siouxie's guitarist, Simon Gallup left the band and started "Fools Can Dance". Was The Cure over ??????
Thankfully the answer is no !! The Cure started out in 1976 in the UK. The first phase was "Boys Don't Cry", and "The Cure". Simplicity and wisdom. You only have to listen to "Fire in Cairo" or " Accuracy" to be convinced of that.
Then came the " Seventeen seconds" and the "Faith" period, mystic cold wave, with the depressing and morbid advent that is " Pornography". That was the concert of June 11th at L'Ancienne Belgique.
Part three will be that of the singles: "La-Ment", and "Lovecats"..You can find those of both compilations that are "La-Ment" and "Japanese Whispers"
Then in May 1984 came the surprise. The Top is released, and a concert is set for May 13th, again at L'Ancienne Belgique. Sold out within a week with hardly any advertising.
Yes. Robert Smith has once more put The Cure on tracks, with a new band members (there are 5 of them now) and the results are here.. The May 13th concert does sum up quite well those six years of existence. Only the "Lovecats" phase has been left out. The concert lasted 2 hours and we can draw this conclusion. What was lost is definitely back. It is slightly different, with the addition of keyboards, but even better. We got back that atmosphere inherent to The Cure. The concert was 2 hours long, and that's only 2x 60 minutes! There are old songs, but also a lot of new ones from their latest album "The Top"
The room is packed, the air is warm but no-one's complaining. Or rather no-one really thinks about it. "Hanging Garden" is followed by "Three Imaginary Boys", "The Caterpillar" and the sublime " A Forest".
The Cure came back on 3 times and ended the night with the 1979 song "Killing An Arab". The stage was purple, sometimes blue or even green. Some will say they have reached the top. Personally I would say it's only a second beginning, we can expect a lot more wonderful things. The Cure is the current that recharges the battery. You cannot remain insensitive to them!

& Thanks so much - Jean C.Moglia for TRANSLATING.
SETLIST; May 13, 1984 - Ancienne Belgique - Brussels (Belgium)
shake dog shake, play for today, wailing wall, m, primary, dressing up, charlotte sometimes, the empty world, the hanging garden, piggy in the mirror, the walk, bananafishbones, one hundred years, give me it, a forest, the top
E1: happy the man, the caterpillar,
E2: bird mad girl, 10.15 saturday night,
E3: three imaginary boys, killing an arab, forever