November 1985 - Libération (France)
"Le Journal de Mister Smith"
By Robert Smith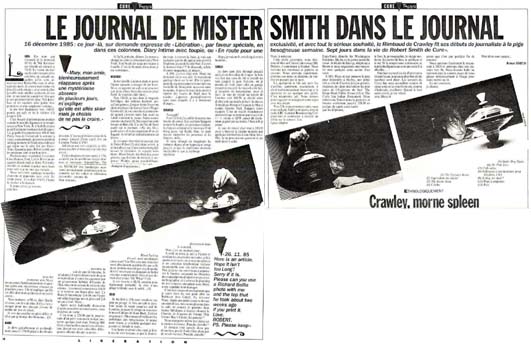 "Here is an article.
Hope it isn't too long!
Sorry if it is.
Please can you use a Richard Bellia photo with me and the top that he took about two weeks ago if you print it.
Love.
ROBERT "
-
A wall falls, and the new single of Nik Kershaw wakes me suddenly at 7:30am. The neighbour from upstairs is doing some odd jobs and the workers (social bastards that they are), like to listen to Radio 1 while destroying walls. I scream inside of me "the sooner the better" and I hold my pillow on my head as tightly as possible. I fall asleep again right away and dream I'm a serial killer: Nik Kershaw and workers are my first and bloody victims...
I finally get up around 11:30am, drink coffee and read the Teletex until 1pm. It's full of useless information like vegetable prices and the weather in New York City. I get dressed and go to Fiction (record company). There, I talk briefly with Bill (Fiction's boss) about the forthcoming week; strangely I feel the extraordinary cold from East Coast of US for a long time. When I leave, Bill informs me that leeks are at a good price.
Next stop: rehearsals. The other members have been waiting for me since 12:30. I'm only three hours late!!! They're surprised and want to touch my brow to see if I'm not sick. We skim through a few new songs and chat the whole time. It's already 7:30pm, time to go home.
As soon as I arrive, I go out, this time for a walk with Mary, happily reappearing after a mysterious absence of several days. She explains she went skiing but I choose to not believe her...
We come back and Mary has dinner. What sadness, one more time, there's nothing for me as I try to loose a bit of weight. I go to bed, delirious, and dream I eat humans.
I sleep pleasantly and deeply until 1:30pm thanks to cotton balls. It's my first mistake of the day as I was supposed to be at Camden Palace at 1pm! With a low voice, I phone the club and ask if I already arrived there.
I finally go. My entrance at 3pm is welcomed by loads of happy and smiley faces. Today, The Cure does a charity concert for MENCAP (mental handicap) supposedly to be broadcast live on national radio and television, but of course no one knows exactly how... I adapt myself to the relaxed mood of the day, answering all questions with a cryptic and typical grumble from eastern Europe, asking constantly for lemons...
The show starts at 7:30pm and finishes one hour later. It was quite surreal: I told a joke on stage and someone laughed, I discovered later that it was Mary... After our usual after-show discussion and its conclusion, we decide to go out.
It's 10:30pm when the owner of a small Italian restaurant somewhere in Notting Hill Gate delightfully raises his arms to the sky in front of these 16 lovely, hungry delinquents next to his door.
At 2:30am, I stagger outside. The weather has changed or the restaurant is in New York City. A snowball hits my ear. It's the last thing I remember.
I wake up at noon and a half and spend the next hour trying to get up. Mary brings me a coffee and announces me that we're going to do some shopping for Christmas. I wish I was dead...
Around 2:30pm, I'm at Selfridges surrounded by screaming children, I try to cross through Santa Claus' Magic Grotto. I'm bitten and bruised when I succeed, but it was worth it. Santa moves like a dog. His crazy eyes are red and fixed. He has yellow dribble on his chin. "Ho Ho Ho", he chants, looking at me distraughtly. I escape immediately, crying...
I go back home (dropping by the Video Palace) and as soon as I arrive, I settle down planning a peaceful evening in front of the television. I watch three movies. Blood Simple: very well done, quite perverse, a story of suspense and murders. Wolfen: almost psychedelic, a story of Indians changing shape. Bloodsucking Freaks: simply amazing! A movie with such an absolutely accidental situation as this psycho-dentist-neurologist devoured alive by six completely insane and naked retired ballet dancers should win an award! Or what!!!
I go to bed at 4:30am, happy but slightly disturbed. I dream about a burning beach under the sun.
I get up at 11am to bring my jeep to a garage. I drink a coffee and go. One hour of road until the south of London. I pass the time listening to the new album by Kate Bush. I arrive at the garage at 1pm and try to explain the problems to the mechanics. I think I succeeded; I buy some magazines and take a train...
One hour and a half later, I pause in my reading and through the window and the mist, I see a sign telling me I arrived in Brighton, jewel of the South Coast. I took the wrong train!!! I get out, buy other magazines and I go again.
I arrive at home at 7pm. Mary asks me where I've been. I mumble something about skiing. She gently laughs at my misfortune and offers me a bottle of Beaujolais Nouveau. I spend the rest of the evening rehearsing Christmas songs in the kitchen; I particularly like the ones where there's a lot of angels...
Aaaaaaaarrghhh! It's 7:30am and I forgot to put in my cotton balls. Workers pound walls like lightening, drills scream, bricks splinter and the new single of King is on Radio 1. I can at least bear drills and bricks, but...
I lie there imagining tortures by a red inquisitor until the suffering becomes unbearable and I mercifully go back to sleep. But it's a bad day.
At noon and a half, I'm at Fiction and during the next five hours I do four interviews, two photo sessions and a never-ending and boring phone interview with Swedish radio.
Then, I spend another hour approving the fanzine, glancing through interview transcriptions for our biography and finishing the planning of our European tour with (Malcolm) Ross, our supreme tour-manager.
It's with big relief that I jump in a taxi to go to the Barbican Arts Centre. I join Mary there... After a little talk in front of a glass of water, we slip into the venue and spend two wonderful hours listening to the Vienna Boys' Choir. Paradise!! We even eat a pizza on our way home. Paradise, paradise!! And tomorrow, it's Saturday, so no workers, no Radio 1, no early wake. Paradise, paradise!!
Satisfied, I go to bed, very tired and very happy...
I sleep without being disturbed until noon and get up full of spirit. I drink a cup of tea very quickly and take a taxi to Victoria Station, where I take a train to go to the garage to recover my jeep. The work has been done, I thank the mechanics, pay and leave. I'm back in the center of London around 2:30pm, I decide then to go to see a football (soccer) match. I choose Tottenham Hotspur (Mary's team) versus Queen Park Rangers (my team). It's clearly an average match, which ends on the 1-1 score, even if QPR could have easily won at least 3-0 I think. I'm back home at 6:30pm to find the kitchen flooded by several inches of blue and cloudy water. I don't question anything and just help Mary to clean.
This finished, we decide to go to the Chinese take-away. Outside, it's starting to drizzle. We put on our coats and run. We arrive quickly, take our meals and decide to go back home crossing the park.
There, someone is setting off fireworks, but unfortunately now it's raining a lot, and the show is somehow ruined. It's nice nevertheless. We stay to watch, eating our meals with our fingers.
Around 9pm, we arrive home, muddy. We dry ourselves. At last I sit down and put on LBC Radio and start to listen to a debate about censorship. Telephone lines are opened to listeners who want to give their opinions. I'm outraged by the ignorance and bigotry of most people. I phone right away but the show ends before I can join. I go to bed and dream I'm pregnant.
Today I get up early, I have tickets for the Wimbledon finals, opposing Boris Becker to Ivan Lendl. I'm a fan of Boris Becker since his victory over Kevin Curren, the man with the long chest from The Cap. I'm pretty confident. I'm in my seat around noon and a half and the match quickly starts. The atmosphere is difficult: noticeable malaise on the tennis court between the two men and extensive malaise as well outside the court, particulary between the person in front of me and myself. He constantly jumps in the air and screams every time Lendl wins a point. I scare him politely and he sits down. But he has the last word, as despite the agile determination of Becker, Ivan Lendl wins. Bastard.
I have a little sporting consolation anyway when I get back home, turning the television on and seeing the Dallas Cowboys (the best American team) demolishing the Washington Redskins. My faith in natural justice comes back... I decide to celebrate this and call Simon, we set up a meeting "around a glass" with some friends.
At 6pm, Mary and me take the jeep to go to Horley, a small city next to Crawley (where I grew up), where there are the two purest Institutions from the South of England: the Kings Head Public House and the Curry Inn Indian restaurant. We meet Simon in the first one, drinking greedily until 10:30pm, talking about various subjects such as hospitals, football, pornography, modern design, fairy tales, politics and skiing. Neither the American weather or vegetable prices were once tackled...
And 8 or 9 or 10 of us (at this hour, I can't be sure of the number) go to have dinner. The Curry Inn waiters welcome us like old friends and the food is, as usual, excellent. When the sweet lassi arrives, I relax with Mary and think it's a perfect ending for the week.
We finally leave the restaurant at 2:30am and arrive at my parents' at 3am. We spend a short time in the kitchen, before slipping silently upstairs to go to bed. While getting into bed I sing. My dreams are secrets.
Thanks to a old and amazing old Cure site for this great article! ;)
Thanks Charlie for the translation
and thanks so Armel (MFC) for scanning the article in for me.