July 1986 - Hit Krant (Dutch) (Translation below)*
"New Wave romance on the Orient Express"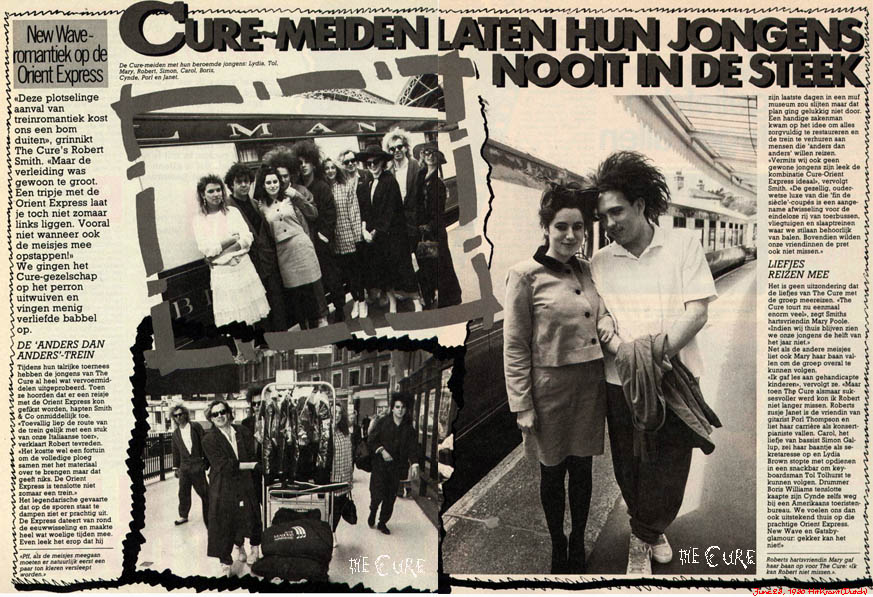 New Wave romance on the Orient Express
Above picture: Cure girls never abandon their boys
Cure girls with their famous boys: Lydia, Lol, Mary, Robert, Simon, Carol, Porl Janet , Boris & Cynde,
Bottom, next to picture: if the girls travel, we have to drag along tons of clothing.
'This sudden outburst of train-romance is costing us a lot of money', The Cure's Robert Smith grins, 'but, it was just too tempting'. You wouldn't want to miss out on a trip on the Orient Express, especially not when the girls are coming along!'. We went to the platform to wave The Cure and their company goodbye and listened to some lovers talk'.
The 'different from everything else' train.
The Cure have tried many modes of transportation during their travels. When they found out that a trip on the Orient Express could be arranged, Smith and company didn't hesitate. 'A part of the route of the Orient Express coincided with a part of our Italian tour', Robert says happily. 'It costs a lot of money to bring along the crew and all our material, but that's okay. The Orient Express isn't an ordinary train'. The legendary train is emits smoke and it looks amazing. The train dates back from the turn of the century and it has had it's ordeals. For awhile, it seemed as if it would spend its remaining days in a stale museum, but luckily it didn't come to that. A businessman had the idea of restoring the train and rent it to people who want to travel in a different manner. 'Because we're also different, the combination Cure Orient Express seemed perfect', Smith continues. 'It's got this old fashioned luxury in its fin-de-sičcle compartments. It's a nice change from all the coaches, planes and night trains. We're fed up with them. Besides, our girlfriends didn't want to miss out on all the fun'.
Girlfriends travel along.
Girlfriends travelling along with the Cure is not an exception. 'The Cure tours a lot', says Smith's girlfriend Mary Poole. 'If we stay at home, we wouldn't be seeing our boys half the year'. Just like the other girls, Mary has quit her job to follow the group. 'I used to teach disabled children', she continues, 'but when The Cure became more successful, I just couldn't miss Robert'. Robert's sister Janet is guitarist Porl Thompson's girlfriend. She gave up her career as a professional pianist. Carol, bass player Simon's girlfriend, gave up her job as a secretary while Lydia gave up her job as a waitress in a snack bar to be with keyboard player Lol Tolhurst. Drummer Boris Williams 'kidnapped' his girlfriend Cynde from an American tourist agency. We feel at home on the Orient Express: New Wave and Gatsby-glamour: It can't get any crazier.
Next to picture: Robert's sweetheart Mary gave up her job for The Cure: 'I can't miss Robert for so long'.
A very BIG THANKS to: ANKE for the TRANSLATION.