1986 - Popcorn (Germany)* (Translation below)
"Encounter with Robert and Co - THE CURE - Monsters or jelly babies?"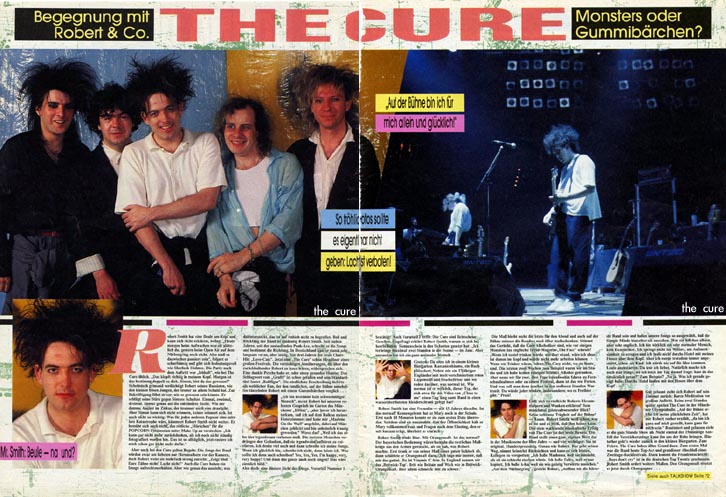 "Encounter with Robert and Co - THE CURE - Monsters or jelly babies?"
Robert Smith has a bump on his head and he doesn't know where it came from. "When I woke up this morning it was suddenly there, yesterday at the open air gig at the Nürburgring it wasn't.. So it must have happened some time inbetween," is what he assumes smartly and acts secretively like Sherlock Holmes. The aftershow party was "jaunty", just as usual with The Cure. "It's really hammering away in my head. I bet it'll be twice the size by tomorrow. Simon, did you do that?" With an impish smile Robert suspects his bass player like the little bad boy who's always guilty of something. To emphasize it he gives an explanation of what might have happened. He pushes his head against Simon's shoulder. Once, twice, three times. Always exactly on the inflamed spot. Just like a circus clown. But Simon can't remember, nobody remembers. Doesn't matter anyway: What would be a small catastrophe for any other pop star doesn't bother Robert at all. He also doesn't try to conceal the reddish "horn" with makeup for the POPCORN photo session. "I can't even remember a time when people weren't constantly taking pictures of me. It's become such an every day thing that I don't even shave for it."
But there are also rules in The Cure: The guys of the band would prefer to have fun in front of the camera but Robert reprimands them a couple of times: "Don't show your teeth! Don't laugh!" Also The Cure have to keep an image. But what's behind this image isn't easily to grasp. Boss and eye catcher of the band is obviously Robert Smith. For seven years, since the end of the punk era, he is writing the songs and gives diretions. In Germany he had slow but immense success. Three years ago, the first chart hit: "Love-Cats". Now "The Cure" are already headliner of a major festival. The cautious assumptions which could be read about the reserved Robert are contradictive. He is said to have a gloomy psyche, or a healthy humour. The keyword "goth" was already mentioned and his standard title is "cult hero". The cutest description was given by a female fan who compared the chubby, awkwardly on stage dancing Robert with a jelly baby...
"I'm certainly not a melancholy person," Robert says in the relaxed interview in the garden of the "Hilton" in Munich. "But before I came downstairs I was sitting on the balcony of my hotel room and listened to "Marlene On The Wall", looked down on Munich and grew very sad." Why? "Because I have to leave all of this at some point. Most people suppress the thought that one day they will cease to exist. I think a lot and then I write my songs. When I'm happy I don't write, I party. What should I write in such an occasion? Yes, Yes, Yes, I'm happy, very, very happy? And then also sing that stuff? That would be pretty stupid."
There we go: A gloomy view of things. Prejudice number 1 confirmed! Also prejudice number 2 applies: The Cure don't like light. Without being asked Robert Smith explains why he sits in the shadow while the sun is shining brightly: "I spend at most two hours in the sun – per year. But despite that I'm a normal person..."
Bizarre: There I am in a small beer garden. Chestnut trees, a brook ripples. Beside me a 27-year-old Englishman with smeared red lipstick and teased hair and we talk about what's normal. How normal is he in reality, this guy who lay for one day with his band in a flooded closet for the video of "Close To Me"?
Robert Smith has a girlfriend – it's the same one for 13 years. Ist that normal? He got to know Mary in school. It was only after 18 months that he could persuade her on a first date. Since then they're together. He leaves her out of the public and he just pretends not to hear the questions concerning his wedding ring which he is now wearing for a short time.
Robert Smith drinks beer. With orange juice. Is that normal? The Bavarian waitress almost spilt all of the remaining steins when she saw what Robert was doing. At first he took a big sip out of his beer, then he poured orange juice to it. "I'm always saying that that's good for me. It has vitamin C. In England we call it 'Britwick-Top'. Brit as in Britain and Wick as in Britwick Orange Juice. I don't like the pure taste of beer."
This beer isn't to be the last one for this night and also on stage the roadies have to give more. Is the rumour true that The Cure are alcoholics, like the trend magazine "The Face" wrote a couple of months ago? "If I drank as much as they wrote I'd be silly in the head and couldn't work anymore. If we were alcoholics The Cure wouldn't be where it is today. The last two weeks for example we've been in the studio and didn't touch one drop of alcohol. But when we go anywhere for two, three days on a TV shooting or a festival, that's like holidays. And what could you do in the endless hours of waiting. Everybody would drink, especially if the beer is for free." Cheers!
Maybe that's the reason for Robert's stumbling and swaying? His occasional absent-minded look? His strange sluggishness on stage? – Not really. Robert Smith knows what he is doing and he knows that nobody could harm him. The constant growth of musical success of The Cure is the best evidence. The band has it's own value in the music scene of the 80s – and what's more important: It is unique. 100%. Just as Robert. He does what he wants, doesn't take any compromises and can afford to make fun of colleagues: "I hate Madonna because she looks as if she smells. I hate Falco because he only copies. I hate A-Ha because they look as if they were mentally disturbed."At the Nürburgring," Robert confesses, "we wanted to be the hardest band and chose our songs so that Simple Minds were afterwards nothing in comparison. Was a bit silly, but very English. I'm really a very normal person, no eccentric. I don't jump in water to attract people' attention and I don't run through the hotel with my trousers on my head. But I'm always stared at, even back then when I was a kid. I'd never even think about staring at people. I'd prefer to read. Of course I sometimes do things and ask myself afterwards: Did you really do that?" For example? "Well. What I just said. Running through the hotel with my trousers on my head..."
In good mood Robert goes back to his room: Short meditation before the big gig. Not even two hours later The Cure are playing in Munich's Olympiahalle. "I'm happiest when I'm on stage," Robert told me, "I'm totally alone out there, can be in peace." Experienced and calm he plays for about an hour. Not even the breakdown of the amplifiers which lasted 15 minutes can disturb him. Afterwards it's back to the small beer garden. To party. The Cure have good reason to do so. For the first time the band was main act and amazing finish of a two days lasting rock festival. And there is also the happy message: "Boys Don't Cry" is now in the German top twenty. Robert Smith orders more beer. The orange juice is now replaced with champagne...
Thanks so much Falland/unseen_colours for TRANSLATING.