July/August 1986 - Rock & Folk (France) (Translation below)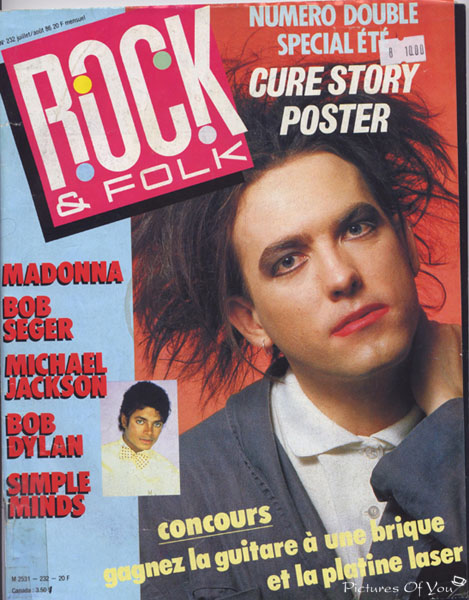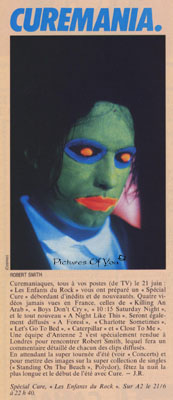 Cure maniacs, at your (TV) posts on June 21: "Les Enfants du Rock" [French TV program] has prepared for you a "Cure Special" full of unreleased material and novelties. Four videos never before seen in France, for "Killing An Arab", "Boys Don't Cry", "10:15 Saturday Night", and the brand new "A Night Like This". Also on the play list are "A Forest", "Charlotte Sometimes", "Let's Go To Bed", "Caterpillar" and "Close To Me". An Antenne 2 TV crew went to London specially to meet with Robert Smith, who will add a detailed commentary on each of the videos being broadcast.
While waiting for the super tour of this summer (see "Concerts") and to put images on the super singles collection ("Standing On The Beach", Polydor), celebrate the longest night and the start of summer with The Cure - J.R.
A Cure special, "Les Enfants du Rock" [The Children of Rock]. On A2 on June 21 at 22:40.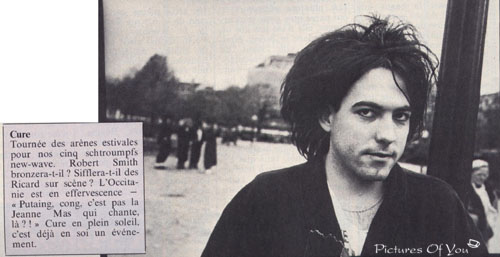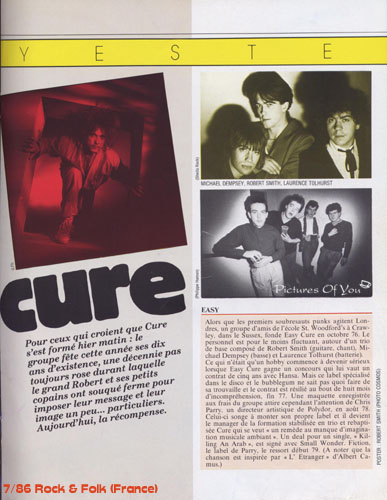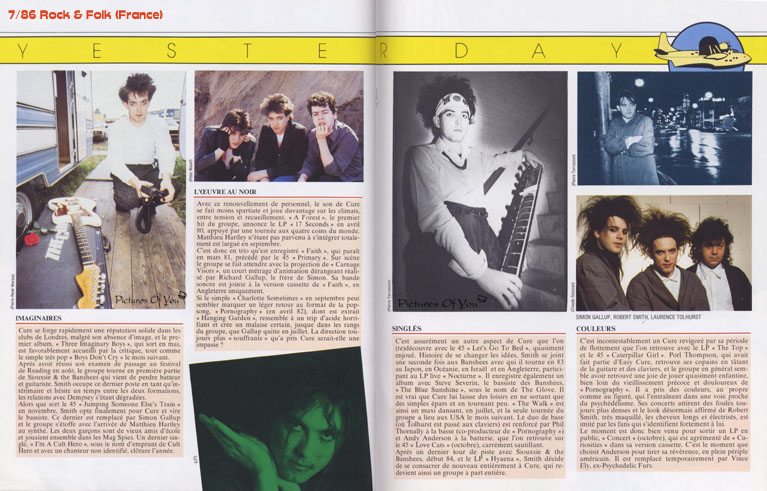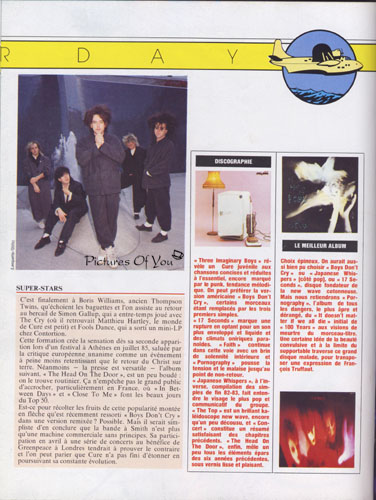 --

For those who think that The Cure was born yesterday: the group celebrates this year their tenth anniversary, a decade not always rose during which the great Robert and his pals have persevered with determination in imposing their message and their image... a bit peculiar. Today, the rewards.
While the first punk jolts shake London, a group of friends from the St.Woodford school in Crawley, Sussex, found Easy Cure in October 1976. The composition of the group fluctuates around a core trio formed by Robert Smith (guitar, voice), Michael Dempsey (bass) and Laurence Tolhurst (drums).
What had been just a hobby starts to become serious once Easy Cure win a competition that lands them a five year contract with Hansa. But this record company specialized in disco and bubblegum pop doesn't know what to do with its find and the contract is cancelled after eight months of misunderstandings, at the end of 1977. A demo recorded at the group's expense catches the attention of Chris Parry, A&R director at Polydor, in August 1978. Parry considers setting up his own label and he becomes the manager of the group, now stabilized as a trio and renamed The Cure, who wants to be "a remedy for the lack of imagination in music at the time". A deal for a single, "Killing An Arab", is signed with Small Wonder. Fiction, Parry's label, re-releases it at the start of 1979. (Note that the song is inspired by "The Stranger" by Albert Camus).
The Cure quickly builds a solid reputation on the London club circuit, despite its lack of image, and the first record, "Three Imaginary Boys", released in May, is favorably received by the critics, just like the very pop single "Boys Don't Cry" the following month.
After having passed its graduation exam at the Reading festival in August, the group tours as opening act for Siouxsie and the Banshees, who had just lost their guitarist. Smith takes his place as a temporary replacement and hesitates between the two bands, the relationship with Dempsey having degraded.
When the 45rpm "Jumping Someone Else's Train" comes out in November, Smith finally decides for The Cure and fires the bassist. The latter is replaced by Simon Gallup and the group is augmented by the arrival of Matthieu Hartley on keyboards. The two boys are old school friends and used to play together in the Mag Spies. A last single, "I'm A Cult Hero", under the borrowed name of Cult Hero and with a non-identified singer, closes the year.
With this personnel change, the sound of The Cure becomes less Spartan and plays more on atmosphere, between tension and meditative contemplation. "A Forest", the group's first hit, previews the "Seventeen Seconds" LP in April 1980, supported by a tour in all four corners of the world. Matthieu Hartley, unable to completely integrate, is fired in September.
It is then a trio that records "Faith", which comes out in March 1981, preceded by the single "Primary". On stage the group uses as opener "Carnage Visors", a short and rather disturbing animated film produced by Richard Gallup, Simon's brother. Its soundtrack appears on the cassette version of "Faith", in the UK only.
If the single "Charlotte Sometimes" in September seems to mark a return to the pop-song format, "Pornography" (in April 1982), from which "Hanging Garden" is released, resembles a terrifying acid trip and creates a real feeling of discomfort, even within the group, which Gallup quits in July. Would the ever more "suffering" direction that The Cure has taken prove a dead end?
It is a decidedly different aspect of The Cure that we (re)discover with the rather playful single "Let's Go To Bed". Speaking of his changing ideas, Smith joins the Banshees for the second time, touring with them Japan, Oceania, Israel and England, and participating on the live LP "Nocturne". He also records an album, "Blue Sunshine" with Steve Severin, the Banshees bassist, under the name of The Glove. It is true that The Cure leaves him enough spare time, releasing rare singles and touring little. "The Walk" is a danceable maxi-single, released in July, and the group's only tour takes place in the United States the next month. The basic duo (where Tolhurst moved to keyboards) is reinforced by Phil Thornalley on bass (co-producer on "Pornography") and Andy Anderson on drums, whom we also find on the 45rpm "The Lovecats" (October), a veritably jaunty number.
After a last tour with Siouxsie & the Banshees at the beginning of 1984 and the "Hyaena" LP, Smith decides to focus again completely on The Cure, which becomes once more a full group.
It is a Cure clearly invigorated after its wavering period that we find with the LP "The Top" and the 45rpm "The Caterpillar". Porl Thompson, who had been in Easy Cure, rejoins his old pals playing guitar and keyboards, and the group in general seems to have rediscovered an almost child-like joy of performing, very far from the premature and painful ageing of "Pornography". It has taken colors, literally and figuratively, that take it somewhere close to psychedelia. The shows attract ever bigger crowds and Robert Smith's now established look, with lots of make-up and long and electrified hair, is imitated by the fans, who identify themselves strongly with him.
It is then a good time to release a live LP, "Concert" (October), backed by "Curiosities" on its cassette version. This is the moment that Anderson chooses to bow out, right in the middle of the American tour. He is temporarily replaced by Vince Ely, ex-Psychedelic Furs.
Finally, the drumming duties fall to Boris Williams, longtime member of the Thompson Twins, while Simon Gallup returns to the cradle as well. He had played in the meantime with The Cry (where he found Matthieu Hartley, the Cure world is small) and Fools Dance, which had released a mini-LP on the Contortion label.
This line-up makes sensation since its second appearance at a festival in Athens in July 1985, greeted unanimously by the European press as an event of proportions just a tad less than the return of Christ on earth. Nevertheless - the press is fickle - the following record, "The Head On The Door" is snubbed a little: the critics find it humdrum. That doesn't stop the wide audience from getting into it, especially in France, where "Inbetween Days" and "Close To Me" bask in the sunshine of the Top 50.
Is it to reap the fruit of this rapidly growing popularity that "Boys Don't Cry" was recently re-released in a remixed version? Possibly so. But it would be simplistic to conclude that Smith's band has become just a commercial machine without principles. Their participation in April in a series of concerts benefiting Greenpeace in London rather prove the contrary and we can bet that The Cure hasn't finished surprising while it continues its constant evolution.
"Three Imaginary Boys" reveals a young Cure with short songs, reduced to bare bones, still influenced by punk but with melodically tendencies. Some prefer the American version, "Boys Don't Cry", certain songs being replaced by the first three singles.
"Seventeen Seconds" marks a break with the past, settling instead on a more layered, liquid sound and a dreamlike, paranoid atmosphere. "Faith" continues down this path with an air of interior solemnity and "Pornography" pushes the tension and uneasiness up to the point of no return.
"Japanese Whispers", a compilation of singles from the end of 1982-1983, on the contrary, shows the most pop and infectious side of the group. "The Top" is a brilliant new wave kaleidoscope, if a bit disjointed, and "Concert" is a satisfying summary of the previous chapters. "The Head On The Door", finally, mixes up a bit of all the scattered elements of the previous six years, under a smooth and pleasing veneer.
Thorny choice. One could just as well choose "Boys Don't Cry" or "Japanese Whispers" (from the pop side), or "Seventeen Seconds", the record that started the gloomy new wave. But we will keep "Pornography", the album of all dangers, the harshest and most deranged, from "It doesn't matter if we all die", first line of "One Hundred Years", to the murder visions of the title piece. A certain idea of convulsive beauty, at the limit of unbearableness, runs across this great sick record, to paraphrase Francois Truffaut.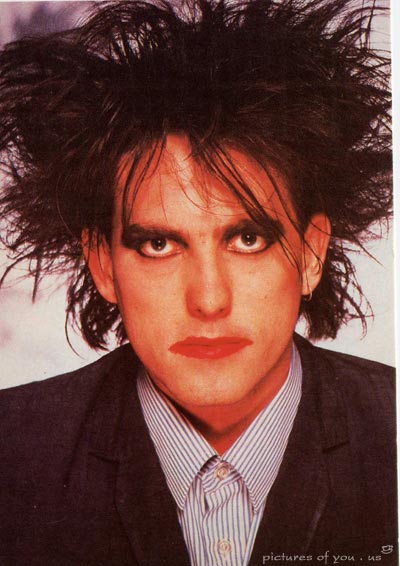 (BIG fold out center POSTER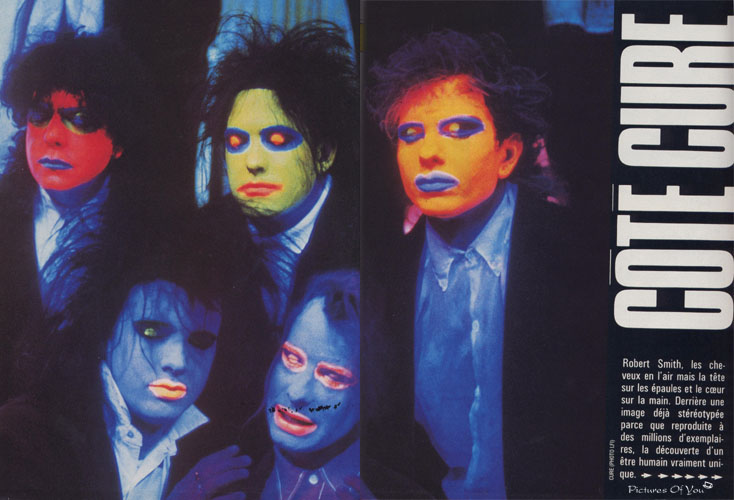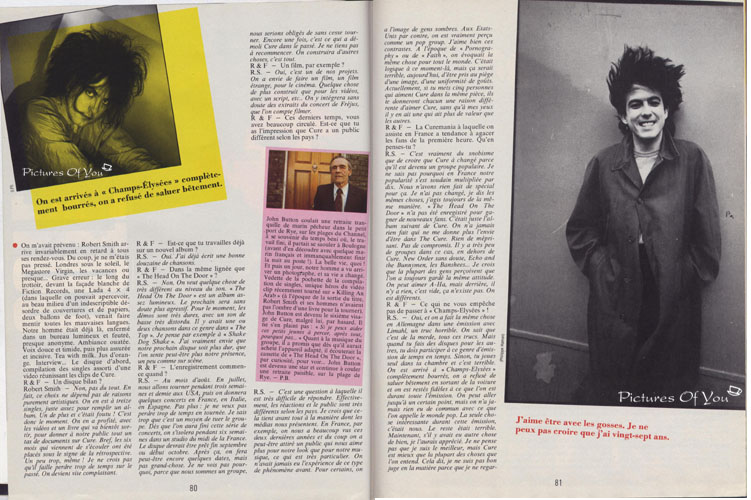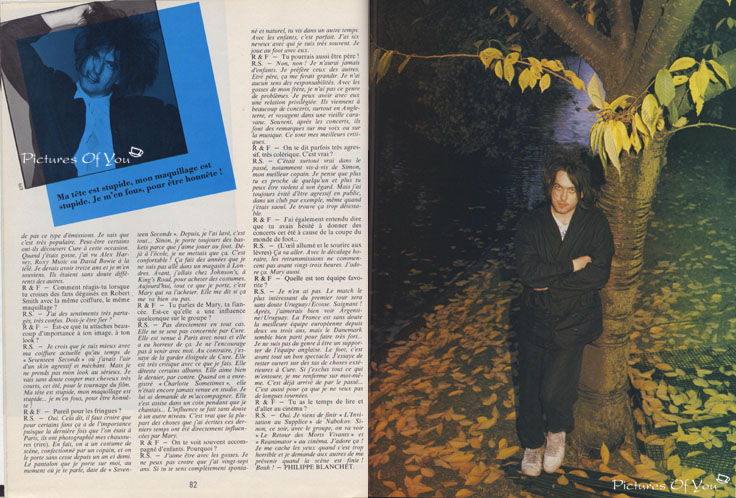 --
I had been warned: Robert Smith is invariably late for his meetings. So, I wasn't in a hurry. London under the sun, the Virgin Megastore, summer holidays or almost... Serious mistake: parked along the sidewalk, in front of the white facade of Fiction Records, a Lada 4x4 (inside which one could see, in the middle of an indescribable disorder of blankets and papers, two footballs), had come to prove wrong all the naysayer. Our man was already there, sitting in an office with a luminous and soft atmosphere, almost anonymous. Quiet surroundings. His voice is soft and shy, then becomes more assured and incisive. Tea with milk. Orange juice. Interview... First, about the record, a singles compilation accompanied by a video comprising the clips of The Cure.
Robert Smith - No, not at all. In fact, this choice wasn't made for purely artistic reasons. We have thirteen singles, just enough to fill an album. One more and it would have been cooked! So now is the right moment. We took advantage of it, with the videos and a book that's going to come out soon, to give our audience a whole heap of documents about The Cure. In short, the previous six months were placed under the sign of a retrospective. Maybe a bit too much! I don't think we should spend too much time on the past. You become complacent very quickly.
R & F - Are you already working on a new record?
R.S. - Yes. I've already written about a dozen songs.
R & F - Are they in the same vein as "The Head On The Door"?
R.S. - No. We want something very different sonically. "The Head On The Door" is a pretty light album. The next one will be undoubtedly more aggressive. For the moment, the demos are very hard, with a very distorted bass sound. There were one or two songs like that on "The Top". I am thinking of "Shake Dog Shake" for instance. I really want our next record to be harder, that our presence be felt more, a little like on stage.
R & F - When does the recording start?
R.S. - In August. In July we are going to tour in the United States for three weeks and a half, then we will do some concerts in France, Italy and Spain. Not more than that: I don't want to spend too much time on tour. I know too well that it's a way to kill the group. Once we finish this series of concerts, we are going to isolate ourselves for six weeks in a studio in the south of France. The record should be ready by the end of September or beginning of October. After that, maybe we will do some more shows, but nothing much. I don't see why, just because we are a band, we should be obliged to tour all the time. Once again, that's what destroyed The Cure in the past. I don't want to go there again. We will do other things instead, that's all.
R & F - A movie, for example?
R.S. - Yes, that's one of our projects. We would like to make a film, a strange film, for the cinema. Something more structured than the videos, with a script, etc.. We are going to definitely include some excerpts of the Frejus show, that we have plans to film.
R & F - You have been traveling a lot lately. Do you have the impression that The Cure has a different audience depending on the country?
R.S. - It is a question very difficult to answer. Effectively, the reactions of the audience are very different depending on the country. I think that has to do with the way the media presents us, in the first place. In France for example we've been seen a lot the last two years and maybe we have attracted an audience that likes us more for our look than for our music, which is very peculiar. We've never had this kind of experience before. For some, we have a somber image. In the United States, on the contrary, we are really perceived as a pop group. I like these contrasts quite a lot. Around the time of "Pornography" or "Faith", we were evoking the same thing for everybody. It was logical at that time, but it would be terrible today to be the prisoners of an image, of a uniformity of taste. Actually, if you put five people who like The Cure in the same room, they will each give you a different reason to love The Cure, and in my eyes one isn't better than the others.
R & F - The Curemania that we are witnessing in France tends to annoy the old time fans. What do you think about that?
R.S. - It is really snobbery to think that The Cure has changed because we became popular. I have no idea why in France our popularity suddenly jumped ten times. We didn't do anything special for that. I haven't changed, I still say the same things, I still act the same way. "The Head On The Door" wasn't recorded to gain new fans. It was just the next album of The Cure. We've never done anything that would make me want to not be in The Cure anymore. Nothing contemptuous. No compromises. There are very few bands like that, aside from The Cure. New Order, surely, Echo and the Bunnymen, the Banshees... I think most people realize that we have always had the same attitude. You can love A-Ha, but behind that, there's nothing, it's empty, it doesn't exist. We are different.
R & F - Which doesn't stop you from showing up on "Champs-Elysees"! [French TV show]
R.S. - Yes, and we did the same thing in Germany on a show with Limahl, a terrible thing. We know it's bullshit, all that stuff. But when you make records for the public, you have to participate on those kinds of shows now and then. If not, you're just playing alone in your room and that's terrible. We showed up on "Champs-Elysees" totally plastered, we refused to wave stupidly getting out of the car and we stayed true to what we are during the show. We can go this far, but we've never had anything in common with what's termed the pop world. The only interesting thing on that show was us. The rest was terrible. Now, if there had been something else good, I would have appreciated it. I don't think I'm the best, but The Cure is better than most of the things we hear. That said, I'm not a good person to judge that because I don't watch that kind of shows. I know it's very popular. Maybe some people discovered The Cure with this occasion. When I was a kid, I saw Alex Harvey, Roxy Music or David Bowie on TV. I must have been about 13, and I remember well. They were definitely different from the others.
R & F - How do you react when you walk by fans disguised as Robert Smith, with the same hairdo, the same make-up?
R.S. - I have very divided feelings, very confused. Should I be proud?
R & F - Do you attach a lot of importance to your image, your look?
R.S. - I think I'm better with my current hairdo than around the time of "Seventeen Seconds", where I looked like a mean, aggressive skinhead. But I don't take my look seriously. I'm definitely going to cut my hair very short this summer, for the shooting of the film. My head is stupid, my make-up is stupid... I don't give a damn, to be honest!
R & F - Same thing for the clothes?
R.S. - Yes. Having said that, I have to believe that it matters to certain fans, since the last time we were in Paris they took pictures of my shoes (laughs). In fact, I have a stage suit, made by a friend, and I've been wearing that all the time for a year and a half. The pants I'm wearing, as we speak, date back to "Seventeen Seconds". Since then, I washed them, but that's all... Also, I'm always wearing trainers because I love playing football. Already since school, I wouldn't wear anything else. They're comfortable! It's been years since I last went to a store in London. Before, I used to go to Johnson's, on King's Road, to buy suits. Today, it's Mary who goes to buy everything I wear. She tells me if something suits me or not.
R & F - You are talking about Mary, your fiancée. Does she have any influence on the group?
R.S. - Not directly in any case. She doesn't feel concerned about The Cure. She came to Paris with us and she hated it. I don't encourage her to come with me. On the contrary, I try to keep her away from The Cure. She is very critical about what I do. She detests certain records. She really likes the last one, though. When we recorded "Charlotte Sometimes", she had never before come to the studio. I asked her to accompany me. She sat in a corner while I was singing... There is obviously an influence at another level. It is true that most of the things I've written lately have been directly influenced by Mary.
R & F - You are often seen in the company of children. Why?
R.S. - I love being around kids. I can't believe I am twenty-seven. If you feel completely spontaneous and natural, you live in a different time. With the kids, it's perfect. I have six nephews that I see very often. I play football with them.
R & F - You could be a father as well!
R.S. - No, no! I'll never have children. I prefer other people's. Being a father, that would make me grow up. I have no sense of responsibility. With my brother's kids, I don't have those kinds of problems. I can have a privileged relationship with them. They come to a lot of concerts, especially in England, and travel in an old van. Often, after the shows, they make observations about my voice or about the music. They are my best critics.
R & F - Some say you can be very aggressive, very quick-tempered. Is that true?
R.S. - It was definitely true in the past, especially with regards to Simon, my best friend. I think that the closer you are with someone, the more violent you can be towards them. But I have always avoided being aggressive in public, in a club for example, even when I was drunk. I find that detestable.
R & F - I've also heard said that you were hesitating about doing any concerts this summer because of the football world cup...
R.S. - (Bright eyes and a smile on his lips) It's going to be ok. With the time zone difference, the broadcasts won't start before 11pm. I love that. Mary too.
R & F - What is your favorite team?
R.S. - I don't have one. The most interesting match of the first round will be without doubt Uruguay/Scotland. Bleeding! After that, I'd love to see Argentina/Uruguay. France has been the best European team the last two-three years, but Denmark seems well placed to make quite an impression... I'm not the kind to be an England supporter. Football is about good entertainment, first of all. I am trying to stay open to a lot of things external to The Cure. If I exclude everything that surrounds me, I just close in on myself. That has already happened in the past... That's also one of the reason why I don't want long tours.
R & F - Do you have time to read and go to the cinema?
R.S. - Yes. I've just finished "Invitation To A Beheading" by Nabokov. Also, tonight, with the group, we are going to watch "The Return Of The Living Dead" and "Reanimator" at the cinema. I love that! I hide my eyes when it's too scary and I ask the other ones to tell me when the scene is over! Boo!
John Button was spending the quiet retirement of a sea fisherman in the little harbor town of Rye, on the beaches of the Channel, remembering the blessed times when, work done, he would go get drunk in Boulogne (before getting into a fight with some French sailor and invariably ending the night in jail!). The beautiful life! And then one day, our man saw a photographer arriving, and his life changed. Star of the cover of the singles compilation and only hero of the newly filmed video for "Killing An Arab" (at the time the song came out, Robert Smith and his men didn't have the money to film it), John Button has become the sixth face of The Cure, despite himself, by chance. He doesn't complain: "If I can help these youngsters break through, after all, why not..." As far as the group's music, he promised that once he'll have bought a new player, he would listen to the cassette of "The Head On The Door", out of curiosity, to see... John Button has become a star and continues to live a quiet retirement, on the Rye beach. - P.B.
"We showed up on "Champs-Elysees" totally plastered, we refused to wave stupidly."
"I love being around kids. I can't believe I'm twenty-seven."
"My head is stupid, my make-up is stupid... I don't give a damn, to be honest!"
A BIG THANKS to: Aria Thelmann for the TRANSLATION.