November 1987 - Bravo (Germany)* (Translation below)
"The new Cure feeling"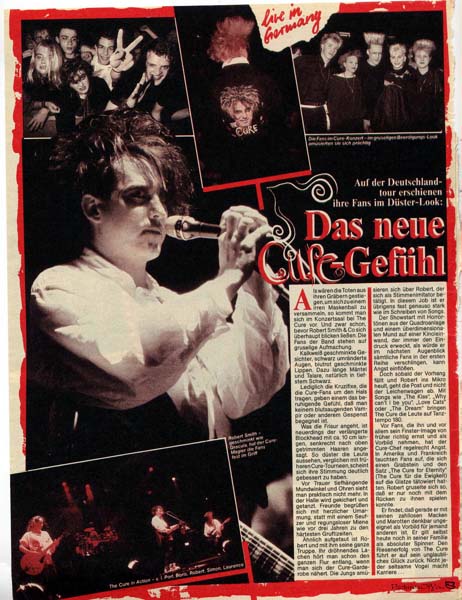 During the Germany tour their fans are dressed as goths:
The new Cure feeling!
As if the dead had left their graves to gather for a terrific masque – that's the way you feel in the venue of a The Cure concert. And that's even before Robert Smith and his guys go on stage. Fans of the band are into creepy looks. White makeup, kohled eyes, blood red lips. And long coats, of course in deepest black. Only the crosses around the necks of The Cure fans give you a comforting feeling that you aren't surrounded by bloodthirsty vampires or similar ghosts.
Concerning the hair, these days people are into out grown blockheads with straight vertically teased hair of about 10 cm length. No matter how gloomy the people may look, compared to earlier Cure tours, the mood seems to have lightened. There aren't any faces heavy with sadness anymore. The venue is full with laughing and dancing people. Friends greet eachother with a hug instead of a sigh and motionless looks just like three years ago at the peak of goth times.
Robert and his band is similar. Their roaring laughter can be already heard in the corridor as you approach their backstage area. The guys are laughing about Robert who imitates other people's voices. And he is almost as good at this than at song writing. The beginning of the show - horror sounds coming out of the speakers, an oversized mouth on a screen which seems to be just about to eat all of the fans in the first row – can be frightening.
But as soon as the lights go on and Robert starts to wail into the microphone, it's party time instead of morbid depression. Songs like "The Kiss", "Why Can't I Be You?", "Love Cats" or "The Dream" make people dance. Fans who take him, and especially his gloomy looks from back then, serious and take it as an example frighten the Cure boss.
In America and France there were fans who had a tombstone and the word "The Cure for Eternity" tattoo'd on their bald heads. Robert was so terrified that he could only play with his back turned to them. He thinks that he and his countless whims in particular can't possibly be an example for anyone. Even today he is a nut case for his family. In his eyes the success of The Cure is just luck. Not every nutter is successful.
Caption on top: Fans at the Cure gig – they're in excellent mood wearing their creepy funeral outfits
Caption to the left: Robert Smith – complete with Dracula makeup, The Cure magician masters the audience

Thanks so much Falland for TRANSLATING.