April -1987 Manchete (Brazil) (Translation below)*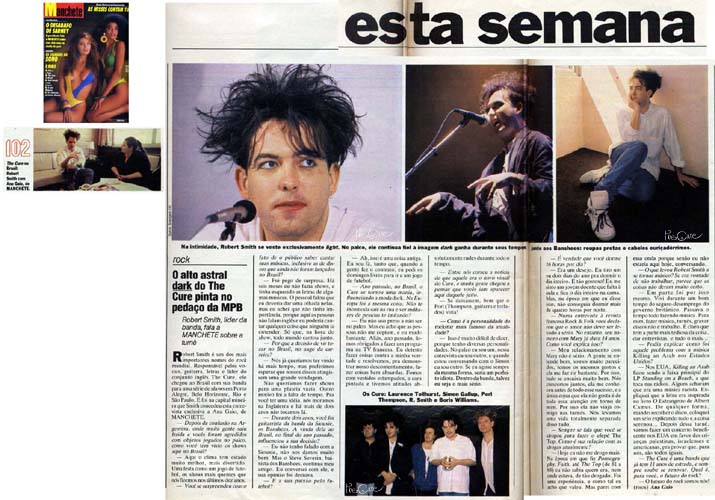 Cure's 'dark-good mood' appears on MPB's territory

Robert Smith, band's frontsman, talks to Manchete about the tour.
Robert Smith is one of the most important names of the worldwide rock. Responsible for the vocals, the guitar, the lyrics and the leadership of the british band The Cure, Robert arrived in Brazil with his band to perform shows in Porto Alegre, Belo Horizonte, Rio and Sao Paulo. And in Belo Horizonte,Smith gave an exclusive interview to Ana Gaio, from Manchete.

- After all that confusion in Argentina, where lots of people got injured and you were wounded by objects thrown on stage, how have you seen [felt about] the gigs here in Brazil so far?
Here the mood has been much more better, more fun. A party like a soccer game, the best gigs we've done in the last ten years.
- Did you get surprised with the fact that the audience knew to sing your songs, even those from albums not yet released in Brazil?
I was really surprised. I didn't perform any gigs during six months and I had forgotten the lyrics for some songs. The people [maybe Robert is talking about the other band members, that's not clear on the text] said that I should have taken a look on them to remember, but I thought it wasn't important to do so because here people don't speak English and I could sing anything and no one would understand. But, during the show, everyone sang along.
- Why your decision to come to Brazil during the band's career peak?
We wanted to come before but we decided to wait until our albums sold more.
- During two years, you were the guitarist for Siouxsie and The Banshees. The fact that she came here last year (late 1986) influenced your decision to come as well?

I haven't spoken to Siouxsie, I don't get along with her very well. But Steve Severin, Banshees' bassist, is still my friend. I talked to him and his opinion was decisive.
- And your passion for soccer?

That's a very old thing. I'm a fan, so that, when we made the contract to come play here I asked for free Sundays to go to a soccer match.
- Last year, here in Brazil, Cure became a mania,being an influence upon the dark vogue. In Europe, the same happened. Do you get bothered by seeing thousands of people imitating you when you go out on the street?
I don't wear black unless I'm on stage. But I think that people don't copy me and I change a lot. As a matter of fact, last year, we were obliged to participate in a French TV program. I hate to do things against my will and we decided, to show our discontent, to do absurd things. We appeared there with printed dresses and painted faces and we had absolutely rude attitudes all the time.
- Between us here in Brazil, there was a rumor that those printed dresses and everything was The Cure's new image and many people thought you would appear dressed like that here.

If they let us, Porl (Thompson, guitar and keyboards) would!
- How's the personality of the more famous rockstar of present time?
That's really hard to tell, because I have several personalities. On stage, I am a person, during this interview, I am another person and when I'm talking to Simon, I'm someone else. If I acted always in a same way, I would be a perfect idiot. Inside the band, maybe I'm the more serious one.
- Is it true that you sleep 16 hours per day?

It was a wish. I pick one or two days per year to sleep all day. That's so good! I feel like a sick boy that skips class and stays all day in bed. But, by the time I said that [I sleep 16 hours per day], I wasn't able to sleep more than four hours per night.
- During an interview to the French magazine Rock & Folk you declared that love can't be taken seriously. However, your relationship with Mary already lasts 14 years. How do you explain this?
My relationship with Mary is not serious. We understand each other pretty well, we have the same tastes and she makes me laugh a lot. Therefore, everything fit quite well. We grew up together, she knew me before all this success and the only thing she doesn't like is all this attention drawn towards me. For this reason, she does not travel with me on tour. We carry on with a life separated from all of this [sucess].
- It is always said that you used drugs to make the LP The Top. How's your relation with drugs now days?
I don't get drugged anymore. By the time I did Pornography, Faith and even The Top (from 1981 until 1984), I didn't know who I was, not even where I was because of drugs. It was an experience and as one, I think it was worthwhile. But I stopped with this habit or else I wouldn't be here today, talking.
- What caused Robert Smith to become a musician? If it was the will to not have to work, then things didn't really work.

To not have to work was one of the reasons. I lived a good time using the unemployment benefit given by the british government. I spent all my time doing music. To me, make music, go on tour, record albums are not jobs. Of course there is the most tedious part of it all: give interviews and all that...
- Could you explain what was that problem with the song Killing An Arab in the USA?

In the USA, Killing An Arab was the main track on the LP Standing On The Beach, the one that got played on the radios. Some thought that it was a racist song. I explained that the lyrics were inspired by The Stranger, written by Albert Camus. Anyhow, I ordered to gather all discs [take them out of the market] and put on them a stamp explaining everything and the situation calmed down...After this tour, we're going to do a benefit concert in the US to help Palestinian, Israeli, American children to prove that, to us, they're all the same.
- The Cure is a band that already has eleven years being 'on the road' and always knew how to renew itself. To you, what is the rock's future?

Rock's future is us! (
laughs)
photos:
Intimately, Robert Smith dresses himself in a very light way. On stage, he keeps faithful to his dark image acquired during his time with the Banshees: black clothes and hair largely spiked in all directions.
THANKS to: Diana (http://www.thecure.ca/forum/) for the TRANSLATION.