1987 - Popcorn (Germany)
"Snap Shot"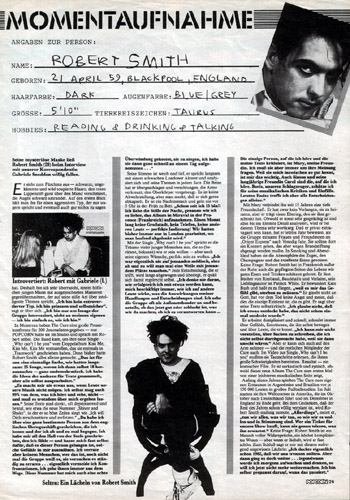 Snapshot
About the person
Name: Robert Smith
Born: 21 April 59, Blackpool, England
Hair: Dark Eye colour: Blue/Grey
Height: 5' 10" Sign. Taurus
Hobbies: Reading & drinking & talking
Caption of picture to right
Introvert: Robert with Gabriele (left)
Caption of picture in middle
Rare: A smile of Robert Smith

Robert Smith (28) willingly dropped his cryptic mask in the interview with our correspondent Gabriele Sneddon.
He looks frightening – black, uncombed and massively teased hair, red lipstick smeared over the mouth, the eyes black bordered. At first sight he looks like an aggressive guy who dislikes to talk and maybe does not even have anything to say. That is why I am very surprised to sit opposite a polite young man with excellent manners who talks in his quiet way about smart topics. "I'm not an extrovert kind of guy, I'm composed and self-confident", is what he says about himself. "I'm only interested in the image of the group, not in my own – I'm just the way I am."
In Montreux The Cure held a big press conference for 200 journalists – it was only POPCORN who had them into the studio and talked with Robert in person. The band arrived to talk about their new single "Why Can't I Be You" from the double album titled Kiss Me, Kiss Me, Kiss Me which they wrote for the first time in team work. For up until now Robert Smith had been writing everything on his own. "That's a unique thing for us, all in all we had 25 songs out of which I selected 18 – utterly undemocratic. I collected the ideas for lyrics from the others but worked on all of them on my own."
"It never bothers me if people don't like our music. I also don't like 99% of what I hear or see – and still have to live with it." His lyrics are direct, often depressing and violent, as for example the track "Shiver and Shake" on which he sings evil lines such as "I want to smash you to pieces" "I wrote this track about a certain person in the British show business who I know and meet every now and then. I wrote down all the hatred I feel – and almost hate myself for the fact that this person was able to cause those kind of feelings in me. But I don't tell anybody who that person is, not even the group knows it, they constantly try to guess it...actually I avoid confrontations, I always shun them. This track really took me a big effort to sing, I quickly recorded it in one day..."
His voice is soft and deep, he is talking slowly with a bit of a London accent and analyses himself and his topics in every sentence. His legs are crossed, his arms are crossed, the upper part of the body bent forward. It's not an averting way to sit but you realise that he likes to seclude himself. He's a night-active person and never goes to bed before 5am. "Since I was 15!! I love the silence of the night the way I loved to record the album in Miraval in the Provence, France. For one month no big city, no telephone, no other people – perfect isolation! Until now we had only worked in London where one is constantly distracted."
With the single "Why Can't I Be You" he sings about the dreams of a lot of young people who want to be like him or maybe even be as famous – but also about his own desire to be perfect. "Actually I was never jealous of anybody but every now and again you want to swap bodies with somebody else." Every decision he takes is thought about for a long time, he is torturing himself with it. "I never think about how successful I can be with something, I'm always thinking about how I come across to other people, what the consequences of my actions and decisions might be. I often look at the group from the point of an outsider and judge wether something is good or bad that way, what we are doing right now, whether I can account for it ... The only person I listen to and who criticises my lyrics is Mary, my girlfriend. I always have to ask her for her opinion. That's important for me because she has known me for so long. There's also Simon and his long-time girlfriend who I listen to. I appreciate Boris, our drummer, for his musical criticism and ideas. But in the end I make all the decisions."
For 15 years he's joined to Mary with a deep friendship. Even though he doesn't want to marry her, he is wearing a wedding ring she gave him. Although he usually talks a lot and explains everything meticulously, he does not want to say a lot about that topic. He proved last year that he can be extravagant in private when the group including the wives and girlfriends rode to Venice, Italy on the "Orient Express". They were supposed to hold a concert there but it was cancelled because of incendiarism. Wearing tuxedoes and gowns they enjoyed the atmosphere of the train, the champagne and the excellent food. No doubt: In France Robert Smith did learn to appreciate not only the quietude but also the cultivated sides of life like for example cuisines and drinks. He reads books by Rimbaud, Baudelaire and Verlaine, his favourite author is Patrick White. He admires Kate Bush and hates to fly "because it makes me feel like I had to die." He does not believe in God, is not afraid of death and thinks that this is the only life that exists. About his own lyrics he selft-critically says: "I don't think that I disovered anything which hadn't been already discovered."
He works disciplined and quick, writes about feelings, emotions which move him personally, and about people he knows. "I can't imagine to write about things I didn't experience myself because they wouldn't ring true." But he can laugh about himself – and the rest of The Cure. In the video of the single "Why Can't I Be You?" they had to learn dance moves which was very hard for them. Result – a funny film. He is sarcastic and cynical although the new album shows The Cure for the first time in a musically lighter perspective.
At the beginning of this year The Cure played, to their own amazement, in Argentina and Brazil in front of 150,000 people in each football stadium. In July they kick off their world tour in America which brings them to Germany in October and then finishes in December in England. Thinking about the fact that the rest of the year is already fully planned, Robert Smith feels a bit uneasy. "However", he says, "we do everything we can the way we want it and feel like. Those who buy a ticket for our show can't be sure what they are to expect." No question: Robert Smith is a person of contradictions, a highly complicated character – but when he smiles he is almost beautiful. At the end he tells me with this excitingly uncertain smile: "Actually I did already think we'd meet in 1982. But then we kept hanging on ... someday I will wake up and think I don't want to go on like this. I'm curious about when this will happen."

Thanks so much Falland/unseen_colours for TRANSLATING.