May 16, 1989 - Bravo (Germany)* (Translation below)
THINGS YOU DIDN'T KNOW ABOUT ROBERT SMITH - The Cure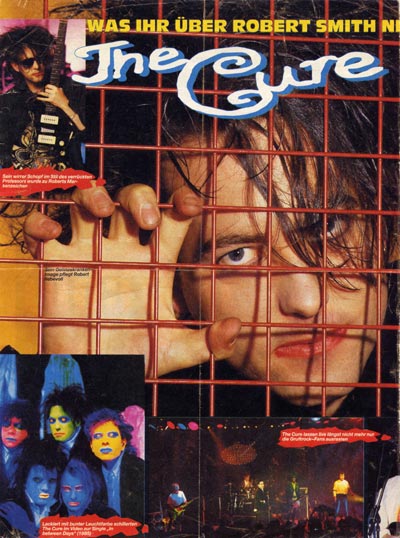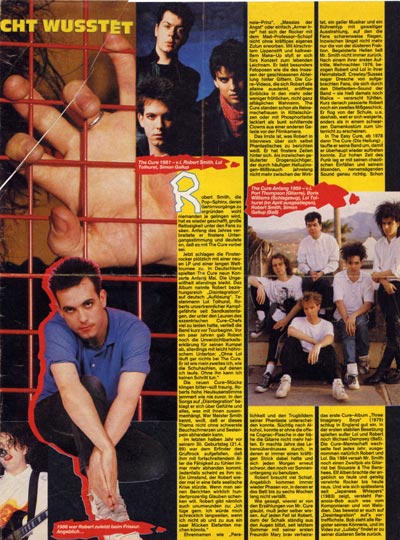 THINGS YOU DIDN'T KNOW ABOUT ROBERT SMITH - The Cure

Robert Smith, the pop sphinx, whose thought proceedings nobody could successfully explain, has yet again succeeded in sowing great confusion amongst fans. At the start of the year he spread a grim sense of desolation amongst fans by hinting that The Cure was over.
Now the gloom-rockers are suddenly letting loose with a new LP and a long world tour. In Germany The Cure played nine concerts at the start of May. Yet the uncertainty remains. Suggestively Robert called the album "Disintegration". Keyboard player Lol Tolhurst, Robert's inseparable comrade-in-arms since their sandpit days, who had suffered a lot at the whim of the eccentric Cure boss, left the band shortly before the start of the tour. Only a couple of years ago Robert was still declaring his mate indispensable, although with a slightly derisive undertone, "Nothing happens in The Cure without Lol. He's like my second self, like the soles of the shoes I walk on. I can't take a step without him."
The new Cure tracks sound bitter-sweet sad; Robert's high cry-baby voice wails like never before. In the songs on "Disintegration" he laments about feelings and everything that goes with them. Anyone who knows Mr Smith will know that he can't touch this subject without serious stomach-ache and mental anguish.
In the last six months before his 30th birthday (21/4/89) the inventor of Goth rock thought he was losing the knack of feeling as he got older. At any rate that's what it felt like to him. Something that once again threw Robert into a deep psychological crisis. That is, if you really want to believe his reports 100%. After all, Robert also frankly admits, "I like to lie. I would get terribly bored if I couldn't make a mountain out of a molehill now and then."
Honorary titles such as "Prince of Paranoia", "Messiah of Fear" or simply "Poor Madman" haven't been acquired by the rocker with the mad-professor mop without serious effort on his part. With cherry-red lipstick and chalk-white make-up, he turns himself into a living corpse for the concert. He especially loves photographic poses like that as an inmate of a locked ward behind bars. Cure videos, which are always thought up by Robert alone, give insights into more or less joyful, not quite everyday madness. The Cure have already appeared before the film camera as cleaning women in overalls or painted with phosphorescent paint as colourfully shimmering clowns from another galaxy.
The maddest thing is the fantastic tales Robert tells about himself in interviews. He has had dark times. A now chastened drug addict, who no longer could tell the difference between reality and delusion due to years of frequent hallucinogen abuse. Addicted to alcohol, he couldn't get by without an open bottle of brandy near his guitar. He survived years of world-weariness by always having a strong rope with him, and every morning swearing he would use it before sunset.
Robert needs a lot of sleep. Apparently there are often times when he doesn't leave bed for up to six weeks.
Well, how much you believe of Mr Cure's stories is your choice. In any case Robert, who always has a mischievous twinkle in his eye and since last summer has been
conventionally married to his first girlfriend, Mary, is a terrific musician and a stage performer with a powerful charisma who attracts fans in their hordes. And not just those from the dark side any more. [Still] Mr Smith hasn't always left enthusiastic audiences behind him. After one of their first performances, Christmas 1976, Robert and Lol drew coachloads of angry fans to their home town of Crawley in Sussex who felt had by the dilettante sound of the band – then still called Malice. Shortly after that Robert had another mishap. He was kicked out of school, partly because he refused to appear in class unless he could wear a black women's suit.
He renamed his band into The Easy Cure, then from 1978 The Cure, in order to appear on stage again at all. At the peak of punk he and his chaotic ideas and caustic, nerve-shattering sound were exactly right. The first Cure album "Three Imaginary Boys" (1979) was a hit in GB straightaway. In the first stable line-up, Michael Dempsey (bass) played alongside Lol and Robert. The Cure team changed almost every year, apart from Robert and Lol, of course. Until 1984 Mr Smith even held a second job as guitarist with Siouxsie and The Banshees. The allegedly extremely lazy and deranged rocker has brought out eleven albums by now. And as can be seen since at least "Japanese Whispers" (1983) "Paranoia Bob" also knows a bit about composing and melodies. Something he proves most excellently on "Disintegration". Bob pulls out all the stops in his ability, and in the video to "Lullaby" he returns to his dark side.
-
His dishevelled mop in mad professor style has become Robert's trademark
Robert cultivates his deranged image with loving care
For a long time now The Cure's live show has driven more than just Goth fans wild
The Cure shimmered in the video for the "Inbetween Days" single (1985) painted in colourful luminescent paint
The Cure 1981 – (l to r) Robert Smith, Lol Tolhurst, Simon Gallup
Robert last visited the hairdresser in 1986, allegedly …
The Cure at the start of 1989 – (l to r) Porl Thompson (guitar), Boris Williams (drums), Lol Tolhurst (left in April), Robert Smith, Simon Gallup (bass)

THANKS: Alison for the TRANSLATION.