May 1989 - Backstage (France) (Translation below)
"Robert, Cure Toujours" (Interview - 2 pages)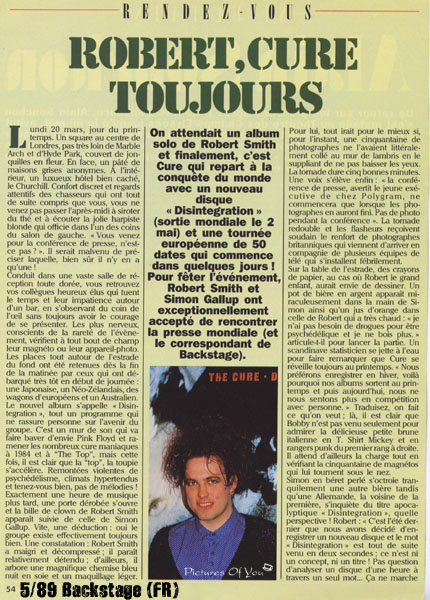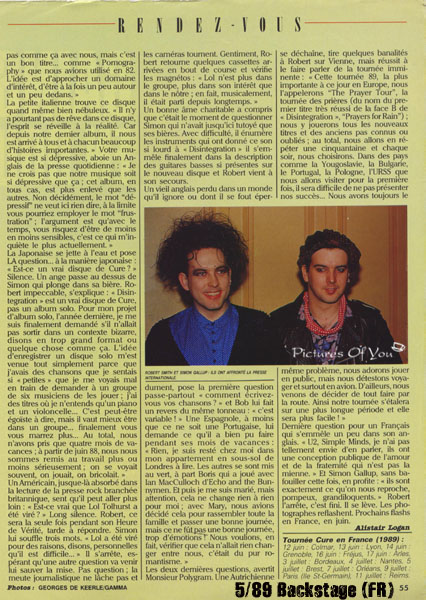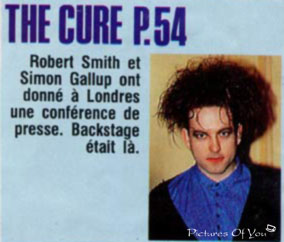 "Robert, Cure Toujours"

We were expecting a solo album from Robert Smith, but in the end, it is The Cure that goes out again to conquer the world with a new record, "Disintegration" (worldwide release on May 2nd) and a 50-dates European tour starting in a few days! To celebrate the event, Robert Smith and Simon Gallup have uncharacteristically accepted to meet the global media (and the Backstage correspondent).

Monday March 20th, spring day. A square in the center of London, not too far from the Marble Arch and Hyde Park, covered in jonquils in bloom. The facade, a wall of anonymous grey houses. Inside, a well hidden luxury hotel, the Churchill. Discrete comfort and the attentive looks of the staff who have already understood that you, you are not here to spend the afternoon sipping tea and listening to the pretty blonde harpist officiating in one of the corners of the living room on the left. "You are here for the press conference, isn't it?" It would be improper to mention which one, since of course there is only one!

Escorted into a vast reception hall all in gold, you find your happy chosen colleagues, who kill the time and their own impatience around a bar, watching each other out of the corner of the eye and still not having the courage to introduce themselves. The more nervous, aware of the rarity of the event, keep checking their recorders or photo cameras. The chairs all around the podium in the back have been reserved since this morning by those who came in very early: a Japanese, a New Zealander, loads of Europeans and an Australian. The new album is called "Disintegration", an idea that does not reassure anyone as to the future of the group. It is a wall of sound that will make Pink Floyd envious and will bring back the numerous Cure maniacs to 1984 and "The Top", but this time it is clear that the "spinning top" is spinning faster. Violent swellings of psychedelia, tense atmosphere, and get this, no melodies! Exactly one hour of music later, a door opens and the clown persona of Robert Smith enters, followed by Simon Gallup. Quick, a deduction: yes, the group still exists, and perfectly well. An observation: Robert Smith is slimmer and less tense; he looks quite relaxed; he is wearing a midnight blue silk shirt and light makeup.

Everything would be great for him if, for the moment, some fifty photographers didn't literally have him pinned against the wall, while begging him not to look down. The storm goes on for some five minutes. Finally, a voice resounds: "The press conference," announces the young Polygram executive, "won't start until the photographers have finished. No photos during the conference." The madness redoubles and the photo takers suddenly receive reinforcements from the group of British photographers who just came in together with a number of TV crews feverishly trying to set up.
On the podium table there are pencils and paper, in case Robert the big child feels like drawing. A silver beer jug appears miraculously in Simon's hand, and one of orange juice in Robert's, who feels very hot: "I don't need drugs to feel psychedelic and I don't drink anymore," he says, opening the proceedings. A Scandinavian statistician jumps into the water to note that The Cure always seems to "wake up" in spring. "We prefer recording in winter, that's why our records come out in spring and besides, today we are not in competition with anyone." Translate that as, we do what we want; there, it is clear that Bobby hasn't come here to admire the delicious little Italian girl with the Mickey t-shirt and punk rangers in the first row on the right. He is waiting for the assault all the while checking the fifty recorders turning under his nose.

Simon, in a pearly hat, is leisurely pouring himself another beer, while a blonde German, sitting next to the first one, worries about the apocalyptic title "Disintegration", what a prospect! Robert: "It was last summer that we decided to make a new record and the word 'Disintegration' came up in two seconds: it's not a concept, and it's not a title! There's no question of analyzing a one hour record through a single word... That doesn't work with us, but it's a good title... like 'Pornography', that we used in 1982. The idea is to approach an area of interest, of being at once a little on the outside and a little on the inside."

The little Italian finds this record kind of nebulous. "There are no dreams on this record, the spirit wakes up to reality. Because since our last record, there have been important events in the lives of each and every one of us." Your music is so depressing, barks an Englishman from the daily papers: "I don't think our music is so depressing; this album, anyway, is on higher spiritual ground than the others. No, definitely, the word 'depressing' has nothing to do here, at most you could use the word 'frustration'; the argument is that with time, you risk becoming less and less sensitive, that's what worries me the most right now."

The Japanese lady jumps into the water and asks THE question... in the Japanese manner: "Is it a true Cure record?" Silence. An angel passes over Simon, who dives into his beer. Robert, impeccable, explains: "'Disintegration' is a true Cure record, not a solo album. For my solo project, last year I was in the end wondering whether it wasn't going to come out in a bizarre context, like looking too grand or something like that. The idea of recording a solo album came to me simply because I had some songs that to me felt too 'small', songs that I had trouble seeing myself asking six musicians to play on; there are songs where I could only hear a piano and a cello... Perhaps it's a selfish thing to say, but it's better being in a group... In total, we only had four months vacation; from June '88, we went back to work more or less seriously; we saw each other often, we played music, we worked on things."
An American, up to now absorbed in reading the British branch of the rock press, feels he can go further: "Is it true that Lol Tolhurst was fired?" Long silence. For the only time during his Hour of Truth, Robert takes time in answering. Simon whispers him a few words. "Lol was fired for reasons, let's say, personal reasons that's difficult to..." He stops, hoping that another question will come to save him from it. Nothing going; the pack of journalists doesn't let go and the cameras are rolling. Graciously, Robert turns over some tapes that had come to the end and checks the recorders: "Lol is not part of the group anymore, more for his own good than for ours; in fact, musically, he had left a long time ago."

A charitable soul understands that it was time to ask Simon something, who had so far only talked to his beers. With some difficulty, he goes over the list of instruments that gave such a heavy sound to "Disintegration" and finally gets stuck in the description of the bass guitars that were used on the new record, when Robert comes to his help.

And old Englishman looking lost in a world he ignores or he doesn't give a damn about throws the first curved ball question: "how do you write your songs?" and Bob sends it right back to him: "it depends!" A Spanish lady, or maybe Portuguese, asks him what he did during his months of vacation: "Nothing, I just stayed home in my London basement flat, reading. The others went out, especially Boris who played with Ian McCullough from Echo and the Bunnymen. And after that I got married, but know that it changes nothing for me; with Mary, we decided to do that to get the whole family together and enjoy a good day, but it wasn't a good day - too many emotions! Actually, we wanted to verify that it would change nothing between us, it was pure romanticism."

Last two questions, announces Mister Polygram. An Austrian lady lets loose, gets some polite banalities from Robert about Vienna, but manages to make him talk about the upcoming tour: "We will call this '89 tour, the most important European tour to date, 'The Prayer Tour', (from the title of the highly accomplished first song on the B side of 'Disintegration', 'Prayers For Rain'); we will be playing all the new songs and some older ones, lesser known or forgotten; in total, we are going to rehearse about fifty songs and we will choose among those every evening. In countries such as Yugoslavia, Bulgaria, Portugal, Poland or the Soviet Union, that we will be visiting for the first time, it will be hard not to play the hits... We always have the same problem, we love playing live, but we hate traveling, and especially by plane. We just decided to drive the whole tour. So our tour will be spread out over a longer period of time and it will be easier!"

Last question from a Frenchman who has some trouble with his English. "U2, Simple Minds, I don't really feel like talking about them, they have a public concept of love and fraternity that isn't mine." And Simon Gallup, without stammering this time, seizes the opportunity: "they are exactly what people are accusing us of: pompous, grandiloquent." Robert stops, and it is over. He gets to his feet. The photographers' flashes snap again. Next flashes in France, in June.

(--Alastair Logan)

A BIG THANKS to: Aria Thelmann @ Music For Dreams for the TRANSLATION.