July/August 1989 - Paroles (France) (Translation below)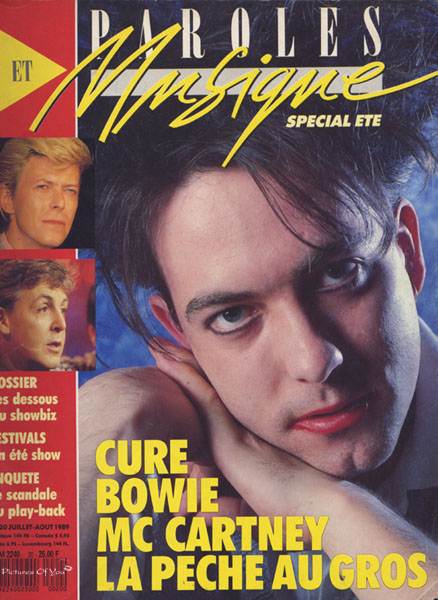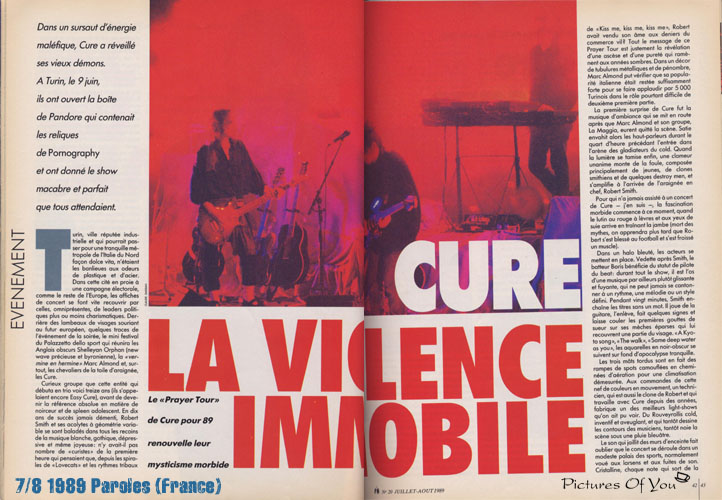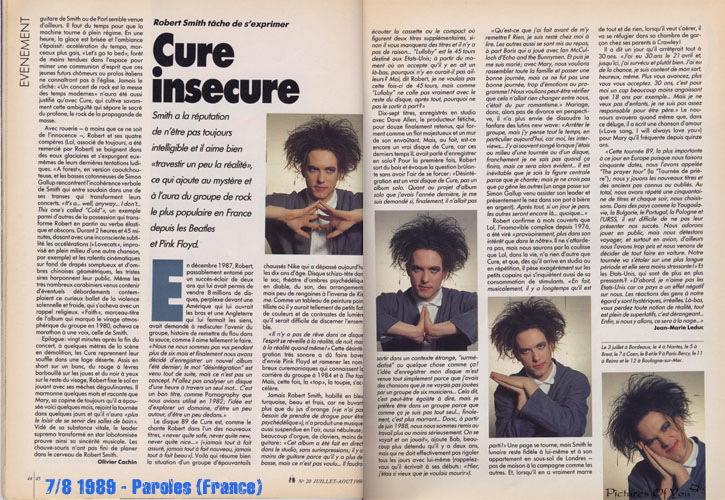 July/August 1989 - Paroles (France)
Quiet Violence
The Prayer Tour of 1989 renews for The Cure their morbid mysticism
In a burst of dark energy, The Cure has woken its old demons. In Torino, on June 9th, they opened the Pandora's box that contained the relics of 'Pornography' and gave the macabre and perfect show that everyone was waiting for.
Torino, a city with an industrial reputation that could pass for a dolce vita-style northern Italy metropolis, wasn't all suburbs smelling of plastic and steel. In this city caught in the middle of an electoral campaign, as elsewhere in Europe, concert posters are quickly covered by the omnipresent ones of more or less charismatic political leaders. Behind the tatters of faces smiling to the future of Europe can be spotted some traces of the evening's event, the Palazzetto mini festival that will reunite on the same stage the obscure British band Shelleyan Orphan (precious and byronian new wave), the "vermin in ermine" Marc Almond and, above all, the knights of the spider web, The Cure.
What a curious group, this entity that debuted as a trio thirteen years ago (they were still called Easy Cure), before becoming the absolute reference on the subject of darkness and adolescent spleen. In ten years of never failing success, Robert Smith and his variable geometry accomplices have strolled through all the hidden recesses of music - pure, gothic, depressing and even joyful: weren't there a number of early "curists" who thought that, since the spirals of "Lovecats" and the tribal rhythms of "Kiss Me, Kiss Me, Kiss Me", Robert had sold his soul to vile commerce? The message of the Prayer Tour is exactly the revelation of an ascesis and a purity that brings them back to the somber years. On a set made of metallic piping and shadows, Marc Almond could verify that his Italian popularity had stayed strong enough to receive applause from 5,000 Torino dwellers, even though in the difficult role of second opening act.
The first surprise of The Cure was the ambient music that started after Marc Almond and his band, La Maggia, had left the stage. Satie invades the PA during the fifteen minutes preceding the entrance on stage of the gladiators of the cold. When the lights finally go down, a unanimous roar surges from the crowd, composed mainly of young people, smithian clones and a few "destroy men", and amplifies at the arrival of the spider in chief, Robert Smith.
For those who have never been to a Cure concert before - I have -, the morbid fascination starts at that moment, when the imp with the lipstick and the shadowed eyes arrives limping (to the extinction of rumors, we learn later that Robert hurt himself playing football and had pulled a muscle).
In a blueish halo, the actors take their place. Second star to Smith, Boris the drummer takes advantage of his beat pilot status: throughout the show, he is the backbone of an often slippery, evasive music that can never quite settle on a rhythm, a melody or a definite style. For twenty minutes, Smith follows a song with another without a word. He plays guitar, then takes it off, makes some signs and lets fall the first drops of sweat from the scattered locks of hair that cover part of his face. "Kyoto Song", "The Walk", "The Same Deep Water As You", the dark watercolors follow each other on a backdrop of quiet apocalypse.
The three twisted ship masts are in fact lighting fixtures disguised around ventilation shafts that provide powerful air conditioning. At the command of this ship of moving lights, a technician, who is also a clone of Robert and has worked with The Cure for years, puts on one of the greatest light shows you could ever see. Cold, inventive and blinding Rouveyrollis-style lighting that one moment underlines the musicians' silhouettes, and the next drowns the stage under a blue rain.
The sound that rises from the walls of the venue makes us forget that the concert is taking place in a modest sports hall, usually prone to sound problems. Crystal-clear, every note that comes from the guitars of Smith or Porl seems to come from another world. It takes time for the machine to rev up. In one hour, the ice is broken and the atmosphere thickens: tempo acceleration, happier bits, "Let's Go To Bed", a forest of extended hands representing a community of spirit that these future Italian unemployed or proletarian youths will never know in church. Never has the cliché "A rock concert is the church of the modern era" been more justified than with the Cure, who skillfully cultivate this ambiguity that separates the sacred from the profane, and rock from mass propaganda.
Slyly - unless it's with innocence -, Smith and his four pals (Lol, old associate, has been thanked off by Robert) take a dip in the glacial waters and come clean off their newer playful tendencies. A springy "A Forest" and Simon Gallup's muffled bass meet a verbally incoherent Smith, who enters suddenly into one of the trances that transform their concerts. "It's a... well, anyway... I don't... This one's called 'Cold'", an example among many of the possession that transforms Robert into a puppet with jumpy, abstruse speech. For 2 hours and 45 minutes, striking an unconsciously subtle balance between up-tempo ("Lovecats", improvised right in the middle of another song, for example) and cinematic slow-motion on a background of sumptuous curtains and geometric Chinese theater shadows, the lords of sadness ensnare their audience. Even the numerous carabinieri come to guard against any incidents are contemplating this strange ballet of a solemn and cold violence, that will end with an almost religious call. "Faith", title song of the album that marked the atmospheric turnaround of the group in 1980, ends this marathon with one voice, that of Smith.
Epilogue: twenty minutes after the end of the show, a few meters from the stage under deconstruction, the members of the Cure are catching their breath in an empty loge. Sitting on a bench, lipstick smeared across his cheek and eyeshadow over the rest of his face, Robert stares at the ground, playing with his dripping tresses. He mumbles a few words and tells us that Mary, his long-time girlfriend that he married a few months ago, will rejoin the tour in a few days and that he won't "have the time anymore to enjoy the baths". And so, drained of his vital essence, the leader supremo transformed into a lobotomized star proves his musical sincerity. The bats are still flitting around in Robert Smith's head.
-- Olivier Cachin
The Cure, Insecure
Robert Smith tries to express himself
Smith has the reputation of not always being intelligible and he quite likes to "misrepresent reality a little", which adds to the mystery and the aura of the most popular group in France since the Beatles and Pink Floyd.
In December 1987, Robert, somewhat motivated by two years of explosive success that had allowed him to sell 8 million records, perplexed by an America that opened its arms for him and by an England that did the opposite, had asked the others to reevaluate the future of the group, an opportunity to re-mix the ingredients, as he always likes to do. "We hadn't seen each other for over six months and finally we decided to make a new record last summer; the word 'disintegration' came up right away, but it's not a concept. Don't try to analyze a one-hour record through a single word... It's a good title, like 'Pornography', that we used in 1982; the idea is to explore an area, to be a little on the outside, a little on the inside."
The 1989 record of The Cure is, as Robert sings on one of the new titles, "never quite safe, never quite new, never quite nice..." [n.tr.: that's how it appears in the original article]. That sums up quite well this group of Nike-wearing weirdos that has been around now for more than ten years. A schizophrenic disc in the bag, psychedelic shadow plays, sounds and arrangements, but no friendly tunes like on the Kiss Me album. Like a pointillist painting where there are so many little islands of color and contrasts of light that it is difficult to make out the whole.
"There are no dreams on this record, the spirit wakes up to reality, the reality of the night, but reality nevertheless!" This very resounding disintegration must have made Pink Floyd drool with envy and, for numerous curemaniacs who know well the group's career, brought back memories of 1984 and The Top. But this time, the "spinning top" is spinning faster.
Robert Smith, dressed in turquoise blue, looking beautiful and fresh since he's now only drinking orange juice ("I don't need to take drugs to be psychedelic"), has never made such music, so suspended in the air, so nebulous; a lot of organs, piano, less guitar: "This album was recorded live in the studio, without overdubs; there is less guitar because there is more bass, but that wasn't planned... You will need to listen to the cassette version or the CD, which have two additional songs, otherwise you would miss some songs and there is no reason... 'Lullaby' is the single for the United States; once you accept that it is going to be available there, why wouldn't it be available anywhere else? Me, says Robert, I didn't want any singles this time around, but as Lullaby doesn't really go with the rest of the record, after all, why not release it separately?"
Seventeen songs, recorded in the studio with fetish producer Dave Allen, out of which twelve have been selected, forming something akin to a majestic tide, an enchanting wall of sound. But, really, is it a true Cure record, since lately HE had been talking about recording solo? For the first time, Robert gets out of the woods and talks about the burning question without seeming like he is making an effort: "Disintegration is a true Cure record, not a solo album. As to the solo album project that I was thinking about last year, I was wondering if, in the end, it wouldn't come out in a strange context, "over-mediatized" or something like that! The idea to record my album came to me simply because I had some songs that I couldn't see being played by a group of six musicians... That said, it is perhaps a selfish thing to say, but I prefer being in a group because I am not alone... in the end, it's better... So, from June 1988, we went back to work more or less seriously. We saw each other a lot and we played", adds Bob, a lot more relaxed than two years ago, but that's not to say that he laughs his way through every day (remember that he was writing earlier: "Yesterday I got so old, I felt like I could die").
"What did I do before going back to the studio? Nothing, I stayed at home, reading. The others rested as well, except for Boris who went out and played with Ian McCulloch and the Bunnymen. And after that I got married; with Mary, we wanted to get the whole family together and spend a good day, but it wasn't a good day, too many emotions on the program! Perhaps we wanted to verify that it wasn't going to change anything between us, it was pure romanticism." Marriage, then, no divorce in perspective, he doesn't want to ruin the new wave kids' party anymore: "Stopping the group, but I think about that all the time, and particularly today, 'cause me and the interviews... I often thought about it when I was in the middle of a tour or a recording session, honestly I don't know when it's going to end, but it will be obvious then... It is inevitable that I should be the central figure because I'm singing; but I don't think it bothers the others (an angel passes over Simon Gallup, come to assist his leader, currently with his nose in a silver beer pint). After all, if I leave one day, the others will still be there... although... "
Robert confirms with delicate words that Lol, longtime accomplice since 1976, has been fired "temporarily, more for his own good than for ours". He doesn't spend time on this, but we know through the grapevine that in Lol's life there isn't anything apart from The Cure and that, when he comes into the studio of for rehearsals, he is weighing down his pals who are also worried about his abuse of stimulants. "As a matter of fact, musically, he left a long time ago!" A page is turned, but Smith stays faithful to himself and to his basement apartment in London - no country house like the others. And, when he really gets sick of everything and nothing, when he wants some fresh air, he seeks refuge in his old room at his parents' house in Crawley!
He said once that he would stop everything at 30. "I turned 30 on the 21st of April and, until now, I've survived rather well. I've been lucky, I am content with my life, happy even. The older you get, the more you learn to accept yourself. Turning 30 is less harrowing for me than turning 18 for example... But I don't want to have children, I am not responsible enough to be a father." The teddy bear will confess though that, even in this downpour, he wrote a love song ('Lovesong' : "I will always love you") for Mary, whom he has been together with for fifteen years.
"This 1989 tour, the most important European tour until now, because we are doing fifty dates, we called it "The Prayer Tour"; we will be playing new songs and old ones little known or forgotten. In total, we rehearsed about fifty songs, and we will choose each evening. In countries such as Yugoslavia, Bulgaria, Portugal, Poland and the USSR, it will be difficult to not play the hits. We love playing live, but we hate traveling, and especially by plane. We did that too much anyway so we decided this time to drive the whole tour. Our tour will be over a longest period and it will be less stressful!" And what about the United States, where the excitement is mounting? "First of all, I don't like the United States because it has a negative effect on us. The people's reactions towards us are hysterical, unreal. Over there, you lose your sense of reality, everything is full of superlatives, it's maddening... Anyway, if we are going, we'll be swimming there..."
-- Jean-Marie Leduc
A BIG THANKS to: Aria Thelmann @ Music For Dreams for the TRANSLATION.
Link to more Cure Magazine covers and articles...