October 1990 - Popcorn - (Germany)* (Translation below)
"The open air venue "Junge Garde" in Dresden before the gig"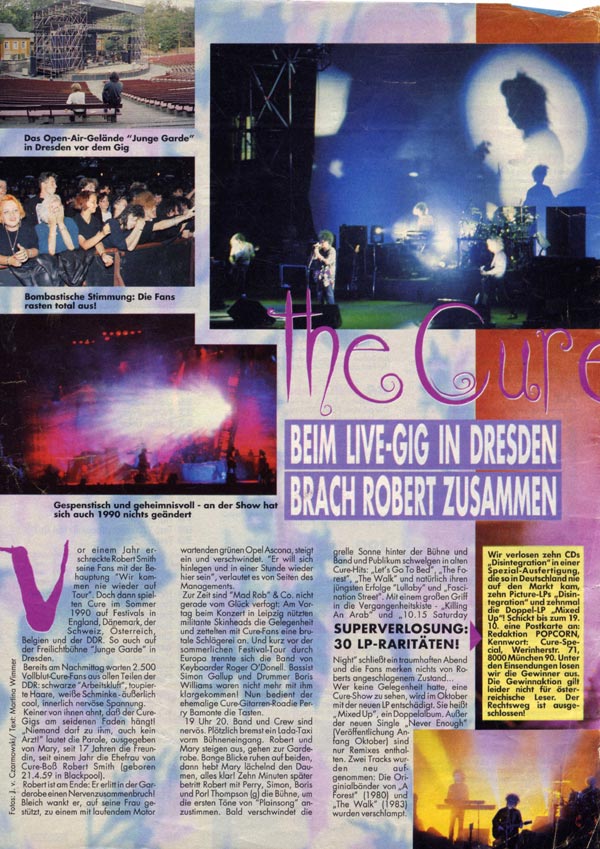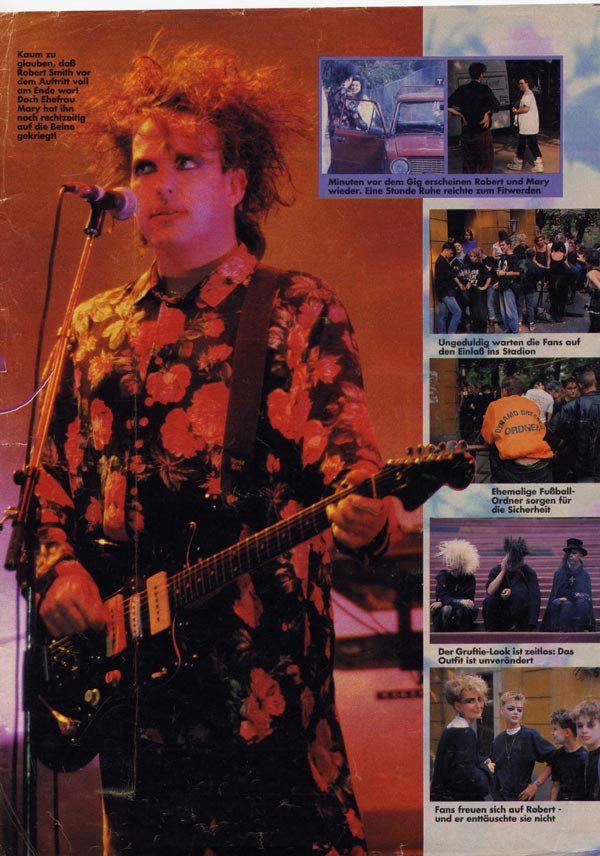 The subtitles of the three pictures say:
The open air venue "Junge Garde" in Dresden before the gig
Terrific mood: The fans are going mad!
Spooky and mysterious – the show didn't change in 1990
THE CURE: At the live gig in Dresden Robert broke down
One year ago Robert shocked his fans with the statement "We'll never tour again". But then The Cure played at festivals in England, Denmark, Switzerland, Austria, Belgium and the GDR in the summer of 1990. Also on the open air venue "Junge Garde" in Dresden.
Already in the afternoon there were 2,500 die-hard Cure fans from all parts of the GDR: black "work clothes", teased hair, white make-up – outwardly cool, inwardly nervous tension. Nobody of them guessed that The Cure gig wasn't to take place for certain! "Nobody is allowed in to him, not even a doctor!" is what you hear from Mary, girlfriend for 17 years, wife for 1 year of Cure boss Robert Smith (born 21 April 1959 in Blackpool).
Robert is shattered: He suffered from a nervous breakdown in the backstage area. He staggered pale, supported by his wife, to a green Opel Ascana with running motor, gets in and disappears. "He wants to lie down and be back in an hour", is what the management says.
Right now "Mad Rob" & co. aren't blessed with luck: During the afternoon at the concert in Leipzig, militant skinheads used the opportunity and started a violent fist fight with Cure fans. And shortly before the summer festival tour in Europe the band parted with keyboarder Roger O'Donnell . Bass player Simon Gallup and drummer Boris Williams didn't get along with him anymore! Now ex-Cure guitar roadie Perry Bamonte is charged with the keyboard.
7.20pm. Band and crew are nervous. Suddenly a Lado cab stops in front of the stage entrance. Robert and Mary get out, go backstage. Insecure looks rest on both, then Mary smiles and gives the thumb-up, everything alright! Ten minutes later Robert together with Perry, Simon, Boris and Porl Thompson enter the stage to break into the first tunes of "Plainsong".
Soon the glaring sun disappears behind the stage and band and audience indulge in old Cure hits: "Let's Go To Bed", "The Forest", "The Walk" and of course their latest success "Lullaby" and "Fascination Street". With old songs – "Killing An Arab" and "10.15 Saturday Night" – a dreamlike evening ends and the fans don't notice anything of Robert's tattered condition…
If someone didn't have the possibility to see a Cure show they will be compensated with a new LP. It's called "Mixed Up", a double album. Besides the new single "Never Enough" (release: Beginning of October) it only contains remixes. Two tracks were re-recorded: The master tapes of "A Forest" (1980) and "The Walk" (1983) got lost.
The yellow box at the right says:
We raffle ten "Disintegration" CDs in a special edition, which hasn't been like that on sale in Germany at all, ten "Disintegration" picture LPs and ten "Mixed Up" double LPs. Send a postcard until 19 October to: Redaktion POPCORN, Subject: Cure Special, Werinherstr. 71, 8000 München 90. We will raffle the winners from among the transmittals. This raffle is unfortunately not available for Austrian readers. Any recourse to courts of law is excluded. [I'm not sure about this phrase, it might not be correct English]
Page 2:
Robert picture:
Almost unbelievable that Robert Smith had been shattered before the performance! But wife Mary managed just in time to make him alright again!
Two pictures in top right corner:
Minutes before the gig Robert and Mary reappear. One hour was enough to be fit.
The four pictures from top to bottom:
Fans wait impatiently for the opening of the gates
Former soccer security guys are there to look after security
Goth look is timeless, the outifit unchanged
Fans are looking forward to see Robert – and he didn't disappoint them

Thanks so much Falland for TRANSLATING.