10/1990 - Best (France)* (Translation below)
INTERVIEW/Reintegration (6 pages)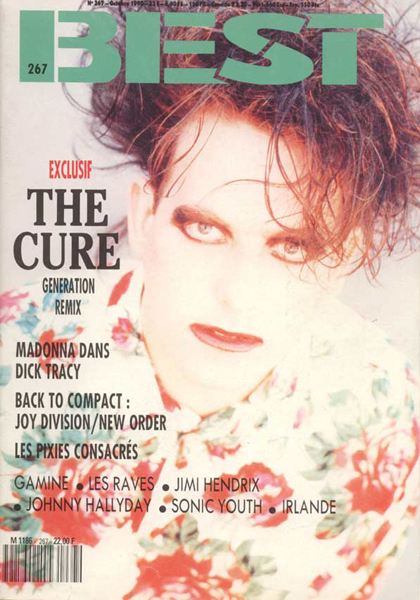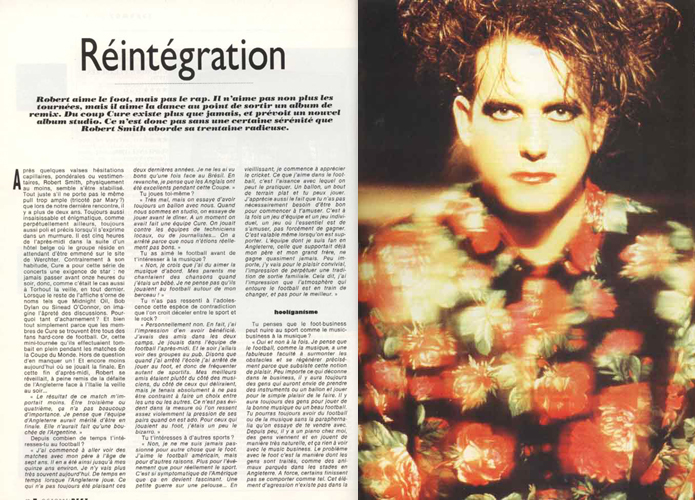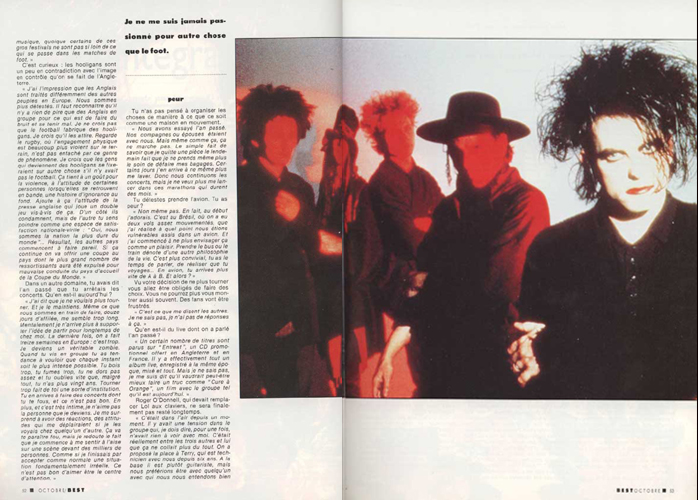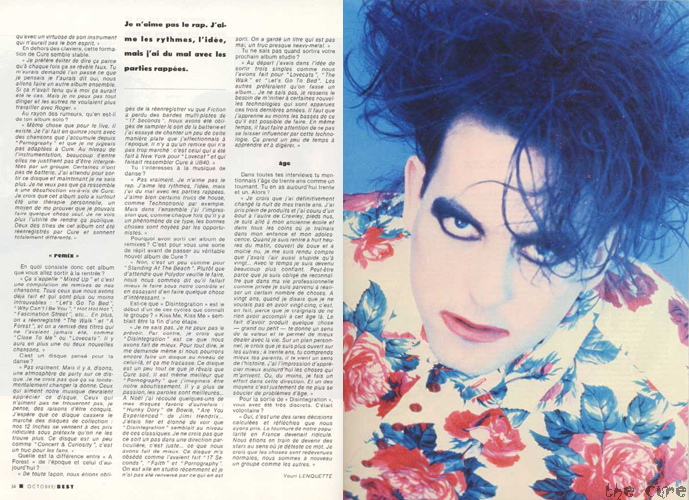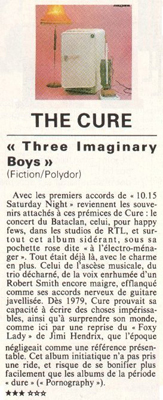 Reintegration
Robert likes football, but not rap music. He doesn't like tours either, but he likes dance music enough to make a remix album. So the Cure exists more than ever and plans a new studio album. So it's not without some serenity that Robert Smith reaches his radiant thirties.
After some capillary, ponderal or vestimentary hesitations, Robert Smith seems to be stable, physically at least. It is just as if he was wearing that same too big sweater (knitted by Mary?) that he was wearing at our first meeting, more than two years ago. Always as elusive and enigmatic as everywhere else, always as polite and precise when he expresses himself in a whisper. It's five o'clock in the afternoon, in a Belgian hotel where the band resides before being brought on the Werchter site. As oppose to usual, The Cure has a star request on this tour: never be on before 11:00 at night, and it was the case too at Torhout yesterday, they played at the very end. When posters say names like Midnight Oil, Bob Dylan, or Sinead O'Connor, we picture the sourness of the discussions. Why all of this? Well, only because the members of The Cure are all hardcore football fans. This small tour that they are doing is during the World Cup matches. It is completely out of question to miss one! And absolutely not today since it is the final. This afternoon, Robert was waking up and he hasn't really got over the defeat of the England against Italy from the night before.
- "The result of this match was less important to me. Being third or fourth doesn't have much importance. I don't think that the England team deserves to be in final. It would have made a bite out of Argentina."

How long have you been interested in football?
"I started to go see matches with my father when I was seven years old. It went on like this until I was 15 years old. I don't go very often now. Sometimes when England is playing, which hasn't been great the last two years. I saw them doing well only once, it was against Brazil. In the other hand, I think that the English were really good during this cup."
Do you think that foot-business can harm sport like music-business harms music?
"Both yes and no. I think that football, like music, has the fabulous faculty to go over the obstacles and regenerate itself, precisely because the pleasure notion subsists. Whatever goes wrong in the business, there will always be people that will want to take instruments or balls and play only for fun. There will always be people to play good music or great football. You will always have football or music without the thought that we are trying to sell you something. Now there's a piano at my place, people come and play in a really natural way and it has nothing to do with music business. The problem with football is the way that people are treated,

Do you play football?
"Very badly, but we try to always have a ball with us. When we are in studio, we try to play before dinner. At a moment we had a team Cure. We were playing against local technicians and journalists… We stopped because we were really not good."

Did you like football before you were interested in music?
"No, I think I must have liked music first. My parents were singing songs to me when I was a baby. I don't think they were playing football around my cradle!"
Did you fell this contradiction that we see as teenagers between sports and rock music?
"Personally, no. In fact, I think I profited from it. I had friends in both groups. I played in the football team in the afternoon and at night I was going to see rock bands at the pub. Let's say that when I dropped out of school, I stopped playing football and frequenting football players. My best friends were more on the musicians' side, on the side of the delirious ones, but I did not wanted to make a choice between them. It's not obvious when we feel the pressure of peers as teenagers. For those who played football I was kind of a weirdo."

Are you interested in other sports?
"No, I've never been passionate for anything else than football. I like American football, but for other reasons. More for the event than for the sport itself. It's so symptomatic of the America that it becomes fascinating. A little war on grass… By getting older I start to appreciate cricket too. What I like in football is the ease with which we can practice it. A ball, a flat field and you can play. I like the fact that you don't necessarily have to be good to enjoy it and to have fun. It's both a team game and an individual game, a game were the essential is to have fun, not to win. It's valid even when were supported. The team that I'm a fan of in England, the one that my father and my big brother were already supporting, almost never wins. Anyway, I go for the convivial fun, to have the feeling that I'm perpetuating a family trip tradition. This said, I have the feeling that the atmosphere that surrounds football is changing, and not for the best."
Hooliganism
Do you think that foot-business can harm sport like music-business harms music?
"Both yes and no. I think that football, like music, has the fabulous faculty to go over the obstacles and regenerate itself, precisely because the pleasure notion subsists. Whatever goes wrong in the business, there will always be people that will want to take instruments or balls and play only for fun. There will always be people to play good music or great football. You will always have football or music without the thought that we are trying to sell you something. Now there's a piano at my place, people come and play in a really natural way and it has nothing to do with music business. The problem with football is the way that people are treated, Like animals parked in stadiums in England. Some people end up behaving like animals. This aggression element exists in music as well, some big festivals are not so far from what goes on during football games."
It's curious: hooligans are in contradiction with the image that people have of England.
"I have the impression that the English are treated differently from the others in Europe. We are more hated. We have to know that there's nothing worst than a group of English to make noise and behave badly. I don't think that football creates hooligans. I think it attracts them. Take a look at rugby, where physical engagement is much more violent on the field, and we don't have this phenomenon there. I think that people who became hooligans would turn themselves to something else if there was no football. It's a taste for violence, the attitude that some people have when they are in groups, a history of ignorance. Add to this the attitude of the English Press, which plays a double game in front of this, on a side they condemned but on the other hand you can feel a kind of national virility satisfaction: "Yes we are the hardest nation in the world"… If the other countries start to do the same, if it goes on we're going to offer a cup to the country where the biggest number of people have been expulsed for bad behaviour at the World Cup."
Last year you said you decided to stop doing concerts, what about today?
"I said I did not want to tour anymore. And I still don't. Even what we are doing right now, 12 days in a row, seems too long. The last time we did 13 weeks in Europe, it's too much. I became a total zombie. When you live with a group, you have a tendency to want every instant to be as intense as possible. You drink too much, you smoke too much, you don't sleep enough and you quickly forget that you are not 20 years old anymore. Touring too much turns you in an institution. You do concerts that you don't care about, and it's bad. And it's really intimate. I don't like the person that I'm becoming. I surprise myself having reactions, attitudes that would displease me if I saw them in someone else. It will seem crazy to you, but I redoubt the fact that I'm starting to feel fine on a stage in front of a million persons. As if I finally started to accept as a normal situation, a situation that is fundamentally unreal. It's bad to love being the center of attention."
"I've never been passionate for something else than football."
Fear

You've never thought of organizing things so it's like a moving home?
"We tried last year. Our girlfriends and wives were with us. But it doesn't work this way. The fact that I'm leaving a room tomorrow causes me not to undo my luggage. Some days, I came up not even washing myself. So we still do concerts, but I don't want to throw myself in those marathons that last for months."
You hate taking the plane, are you afraid?
"No, not even. In fact, at the beginning I used to like it. It's in Brazil, where we had two animated flights, that I realised how vulnerable we are sitting in a plane. And I stopped seeing it as fun. Taking the bus or the train is another philosophy of life. It's more convivial, you have the time to talk, to realise that you are travelling. In a plane you arrive faster from A to B. So what?"
Since you don't want to tour anymore, you will have to make choices, you won't be able to show yourselves as much. Some fans are going to be angry.
"That's what the others say. I don't know, I don't have an answer to this.
What about the live album we talked about last year?
"A certain number of titles appeared on "Entreat", a promotional album offered in England and France. There is a whole live album, recorded in the same period, mixed and all. But I don't know, I said to myself that we should do something like "Cure in Orange", a movie with the group as he is today."
Roger O'Donnell, who was supposed to replace Lol at the piano won't have stayed for long finally.
"It was in the air for a moment. There was a tension in the group, and for once it had nothing to do with me. It was between the three others and him that it didn't work. We proposed the place to Terry (Perry Bamonte), who has been a technician with us for six years. Basically, he is more a guitarist, but we prefer to be with someone that we get along well with than with a virtuoso who wouldn't have the right spirit."

Besides the keyboards, this Cure line up seems pretty stable.
"I prefer not saying that, because each time, it happens to be false. If you had asked me last year, I would have said yes, and we're going to make another album. If it was all about me, it would have been like that. But I can't direct all and the others did not wanted to work with Roger anymore."
About the rumours, are you going to do a solo album?
"It's the same as the live album. It exists. I did it in 15 days with songs I accumulated since "Pornography" and that I found not adapted to the Cure. For the interpretations, most of the songs don't need to be played by a band, some of them don't even have drums in it. I waited before releasing and now I don't know, I don't want it to look like a separation from the Cure. I think that this solo album is a kind of personal therapy, a way to prove to myself that I can do something on my own. I don't see the use of making this public. Two songs of this album have been recorded with the Cure afterwards, and they sound totally different."
Remix
What is this album all about?
"It is called "Mixed Up", it's a compilation of remixed songs. All of those we already made but are hard to find: "Let's Go to Bed", "Why Can't I Be You?", "Hot Hot Hot", "Fascination Street", etc… And we recorded "The Walk" and "A Forest" too and some songs that were never remixed before, like "Close to Me" or "Lovecats". There will be more than one or two new songs."
Is it a dance album?
"Not really, but there is a kind of party atmosphere on this album. It's not a big change. Those who don't like us won't be conquered because of this album. I hope this album will break the collection album market: our 12 inches are sold at ridiculous prices only because we can't find them anymore. This album is like "Concert and Curiosity", it's for fans."
"I don't like rap music. I like the rhythms, the idea, but I don't like the rapped parts."
What's the difference between the old "A Forest", and today's version?
"Anyway we had to record it again because Fiction lost some of the tapes of "Seventeen Seconds". We had to re-record the drums samples and I tried to sing in a flat way that I used to like back then. There's only one remix that did not worked well, it's the one we did in New York for "Lovecats" and that made us sound like UB40."
Are you interested in dance music?
"Not really. I don't like rap. I like the rhythms, the idea, but I have problems with the parts in rap. I like some of the house stuff, like Technotronic for example. But in general I have the feeling that, like each time there's this kind of phenomenon, the good things are drowned by opportunists."

Why did you release this remix album? Is it to relax before doing a real new album?
"No, it's more like "Standing on a Beach", instead of waiting for Polydor to ask for it, we decided that it was better to do it under our control and to try and do something interesting."

Is "Disintegration" the beginning of a cycle that the group goes into? "Kiss Me, Kiss Me, Kiss Me" looks like the end of a stage.
"I don't know, I can't anticipate. But I think that "Disintegration" is the best that we have done. To say it all, I don't know if we will ever be able to do a record of that level, that's what bothers me. This album is all that I've dreamed the Cure could be. It's even better than "Pornography" of which I thought was our outcome. There is more passion, our lyrics are better… This Christmas I listened to some of my old favourite albums: David Bowie's "Hunky Dory", Jimi Hendrix's "Are You Experienced"… I was proud and stunned to see that "Disintegration" seems to be at the same level as our classics. I don't think it's a step in a particular way, it's just… the best thing we have done. This album obsessed me like "Seventeen Seconds" and "Faith" did. We were in the studio recently and I wasn't impressed by what we did. We kept one that isn't bad, an almost heavy-metal kind of song."
Do you know when your next studio album will be released?
"At the beginning, I had the idea of releasing three singles like we did for "Lovecats", "The Walk" and "Let's Go to Bed". The others preferred doing an album. I don't know, I feel like I got to get into some new technologies that appeared in the last three years. At the same time, we have to be cautious not to be influenced by this technology. It takes some time to learn and assimilate."
Age

In all your interviews, you mentioned the age of 30 years old as a turning point. You are now 31 years old, so?
"I think I definitely have changed the night of my thirty years old birthday. I took a lot of products, I ran from an end to another of Crawley, bare feet. I went to my old school and to all the places I used to go as a child and as a teenager. When I came back home at eight o'clock in the morning, covered in mud, half-naked, I realised that I looked as stupid as when I was 20 years old. With time I became more confident. Maybe because I see that in my professional and personal life, I've accomplished many things. At 20 years old, when I said I didn't wanted to be 25 years old, it was because I was afraid that I would not have accomplished anything. Having produced something – small or big – makes you see your value and makes you able to deal with life. Personally, I think I'm more opened to the others, at 30 years old, you understand your parents better, and you've got a history sense too. I feel that I appreciate more what happens to me now, or at least I try to. A way to do it, is to stop worrying about age problems."
For the release of "Disintegration" you have been very discreet. Was it voluntary?
"Yes, it's one of the few well calculated and well thought decisions we have taken. Our popularity in France was ridiculous. We were becoming the kind of stars I hate. I think it's all normal now and that we are a band like the others."

Review
THE CURE
"Three Imaginary Boys"
(Fiction/Polydor)
With the first chords of "10:15 Saturday Night" the memories attached to the Cure's beginning come back: the Bataclan concert, the one for Happy Fews, in the RTL Studios, and surely this stunning album cover, with the household appliances on a pink background. Everything was there, even the charm of the musical, lean trio, the voice (like someone who has a cold) of the slim Robert Smith, skinny like those nervous and chlorinated guitar chords. Since 1979, the Cure proved its capacity to write undying things, and to surprise people with a cover of Jimi Hendrix's "Foxy Lady", that the period neglected as a presentable reference. This initiatory album hasn't got old and risks to get better more easily than the other albums of that period ("Pornography") 3/6.
The integrist curists are going to be sad. The unconditional curists will continue to celebrate the myth with as much fervour as usual. In more than 10 years, the Cure has tried so many things that it's hard to be astonished when they decide to explore something new. Having gone through cold and hot, they are now going through the obscured and perilous roads of remix with a double album. Bob's band searched and lifted songs with humour, like "Close to Me", "The Walk", "Hot Hot Hot", etc… or more unexpected songs like "A Forest". Tempo box of rigorous drums and some arrangements placed in front… they play with their songs as if it was modeling paste and turn the cult into derision. It makes one want to dance and laugh. I hope it was the wanted effect. But you got to wait until mid-October to discover this double album. To keep us waiting, they offered us a new version of "Let's Go to Bed" with "Never Enough" (two versions of this single) that sounds as psychedelic and hallucinating as the guitars from a 70's rock band, with the unchanged and crying voice of Robert Smith. But with "Harold and Joe" it's different, it's not a club remix, the music and the voice are in a new register. Not bad. (Polydor). J
THANKS to: Charline CN for the TRANSLATION.