1992 Tutto (Italy) (Translation Below)*
Interview with Robert Smith - Interview / by Giovanna Asselle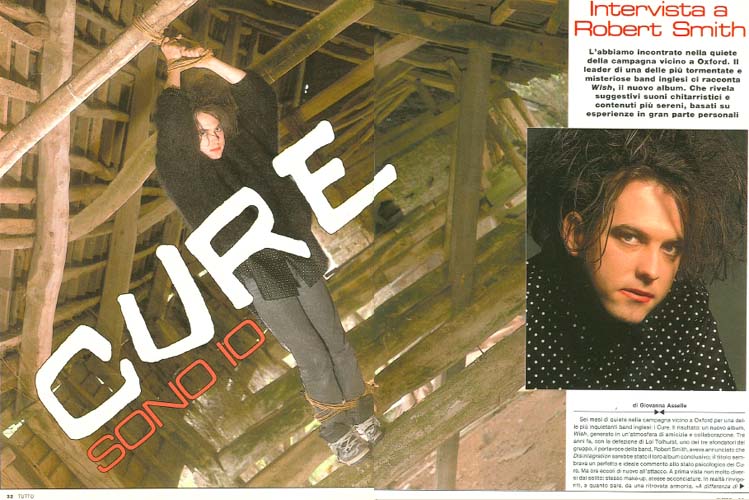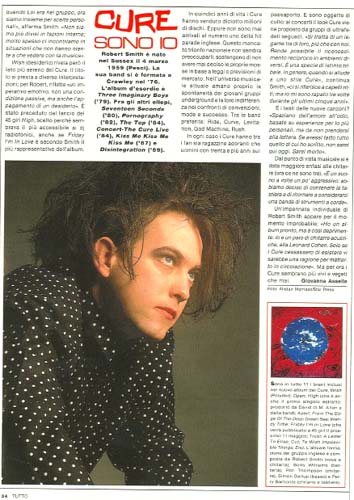 Interview with Robert Smith

We met with him in the peaceful countryside outside Oxford. The leader of one of the most tormented and mysterious English bands tells us all about "Wish", the new album. Which reveals evocative guitar sounds and lighter contents, based on mostly personal experiences

by Giovanna Asselle

Six months of quietness in the Oxford countryside for one of the most disturbing English bands: the Cure. The result: a new album, "Wish", born in an atmosphere of friendship and collaboration. Three years ago, with the departure of Lol Tolhurst, one of the three founder members of the group, Robert Smith had announced that "Disintegration" was going to be their last record; the title seemed a perfect and ideal commentary to the psychological state the Cure were in. But now here they are again. At a first glance they're not so different from usual: same make-up, same hairdo. But actually strengthened, it seems, by a refound harmony.

Differently from when Lol was in the band, now we're together for personal choices, says Smith. We're not divided in internal factions; we often meet in completely music-unrelated occasions.

But Wish reveals the most tranquil side of The Cure. The title suits many different interpretations; as for Robert, it shows an emotive imperative, not a passive condition, but also the satisfaction of a wish. It was preceded by the 7" "High", chosen because it seemed the most accessible to radio DJs, even if "Friday I'm In Love" is according to Smith the most representative of the album.

In 15 years of music the Cure sold 18 million records. And yet they never reached the number one spot in the UK Top 10. This missing homeland achievement doesn't seem to bother them; they claim they've never decided their moves according to market laws or forecasts. In the actual musical universe they love the spontaneity of young underground groups and their indifference towards conventions, fashions and success. Among the favorites: Ride, Curve, Levitation, God Machine, Rush.

The Cure have as their fans both screaming teenagers and 30 or more years old men. And they have a cult following: in concerts, the Cure look is showed by ultrafaithful groups of followers. It is more a bond between them, than with us. It makes it possible to recognize themselves in different places. It's like a tribal instinct. Usually, when you refer to Cure style, says Smith, you refer to long hair standing on end; but I cut my hair three times in the last five years.

And the new songs' lyrics? They range from love to hate, based on experiences mostly personal, but not to be taken literally. If I had done everything I wrote, I wouldn't be here today. I'd be dead.
From the musical point of view a greater emphasis to guitars has been given (now there are three of them): It is a sometimes more aggressive sound: we decided to keep the keyboards down and go back to considering us a guitar band.

And individual rise by Robert Smith seems unlikely right now: I have an album ready, but it's really depressing: me and two acoustic guitars, à la Leonard Cohen. Only if the Cure would cease to exist there would be a reason to release it. But for now the Cure seem more alive than ever.
by Giovanna Asselle


Thanks so much PIETRO for TRANSLATING.