July 6, 1995- Bravo (Germany) (Translation below) *
"THE CURE - Gothic Messiah Robert Smith returns"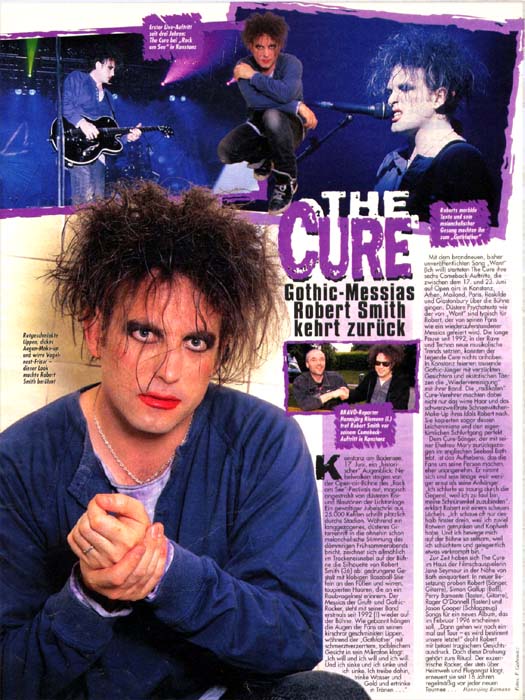 [picture titles]
First live performance in three years: The Cure at 'Rock am See' at Constance. Robert's morbid lyrics and melancholy singing made him the 'Gothfather' Red-painted lips, heavy eye make-up and dishevelled bird's nest hair – the look that made Robert Smith famous. BRAVO reporter Hannsjörg Riemann (l.) met Robert Smith before his comeback appearance in Constance
THE CURE - Gothic Messiah Robert Smith returns
The town of Constance on Lake Constance, 17 June, a 'historic' moment: fog wells up from the open air stage of the 'Rock Am See' festival, magically lit by sinister red and blue tones from the lighting system. A massive cheer from 25,000 throats rings suddenly through the stadium. As a drawn-out ominous guitar riff cuts through the otherwise melancholy mood of the fading early summer evening, the silhouette of Robert Smith (36) appears gradually in the fog of dry ice on the stage: a stocky figure with clumpy baseball boots on his feet and dishevelled backcombed hair, which resembles a bird's nest. The Messiah of Goth rockers stands with his band on the stage again for the first time since 1992 (!). As if spellbound the fans' eyes are fixed on his cherry-red lips, whilst the 'Gothfather', with death-white face contorted in pain, wails into his microphone. "I want and I want and I want. And I'm sinking and I'm sinking and I'm sinking. I'm drifting, drink water and gold and drown in tears …"
With their brand new, previously unreleased song 'Want', The Cure open their six comeback appearances on open air stages including Constance, Athens, Milan, Paris, Roskilde and Glastonbury. Sinister psycho lyrics like those in 'Want' are typical of Robert, who is celebrated by his fans like a reborn Messiah. The long pause since 1992, during which rave and techno have set new musical trends, haven't worried the Cure legend. In Constance thousands of young Goths celebrated the 'reunion' with their band with enraptured faces and ecstatic dancing. The 'radical' Cure worshipper not only copied the dishevelled hair and blackwhitered Snow White make-up of their idol Robert, they even copied his corpse-like demeanour and his characteristic shuffle perfectly.
The fuss that his fans make about him is however rather embarrassing to the Cure's singer, who lives quietly with his wife Mary in the British seaside resort of Bath [sic]. He takes himself and his image far less seriously than his followers. "I shuffle around so pathetically because I'm too lazy to fasten my shoelaces," Robert explains with a shy smile. "I often only look gloomy because I've drunk too much red wine and have a headache. And I move on the stage in that strange way, because I'm shy and sometimes a bit tense."
At present The Cure have settled in the house of the film actress Jane Seymour near Bath. The new line-up of Robert (singer, guitar), Simon Gallup (bass), Perry Bamonte (keyboard, guitar), Roger O'Donnell (keyboard) and Jason Cooper (drums) are trying out songs for a new album, which will be released in February 1996. "Then we'll go on tour again – it will definitely be our last time!" Robert threatens, with a studied tragic expression. But this threat is part of the ritual. The eccentric rocker, who always complains about homesickness and fear of flying, has regularly renewed it over sixteen years before each new tour …
Hannsjörg Riemann (Reporter)
THANKS to: Alison (usedtobe) for the TRANSLATION.