misc...
2003 - The site is primarily a look at our personal collection of Cure memorabilia, records, magazines/interviews/articles and photos. It also features a section of personal photos and Cure show experiences. I am trying to only put up interesting and rarely seen pictures and articles. (I could easily just scan in all of the old books and tour programs. But most of us have seen those a million times. In the years to come I might run out of interesting things to show and I might just add everything someday). .. If by chance someone else has submitted your Cure photos to POY please let me know and I can put proper acknowledgement/links or remove them. Picturesofyou.us is not a Cure site for current CURE news - that is was the great and old cure fansite COF is for!
This site is just my fun Cure scrapbook, one big online photo album of memories. Cropped and laid out just the way I like it. I hope you enjoy it. Also (The watermark on some images = Picturesofyou. and the teacup does not signify that I took all of these photos - just that they are on my site and or part of my personal collection, or were submitted to this site. If I know the photographer, I do try and give proper photo and or source credit.) I am not selling anything! In all I just love The Cure's music and images. This site is not a complete list of what the Cure have done, only of what is in our Cure collection or other cure fans have sent in.
If you take anything from this site, please provide a link back to picturesofyou. Please, never link anything to an object on this site.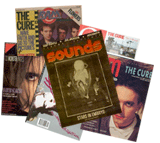 *The pictures are sometimes sorted by the year of the magazine first, than by the year the picture was taken.
Coming Soon!! (well maybe not soon)
But Maybe Someday..


Click here for more on Autumn
*Site Index*
My WANTED Cure items
My Cure concert experiences #72!!!
Cure magazine article list.

Our Cure record collection!!! (hmm... check out TheCureRecords )