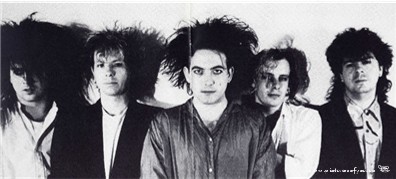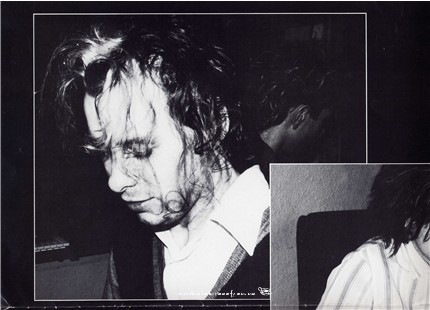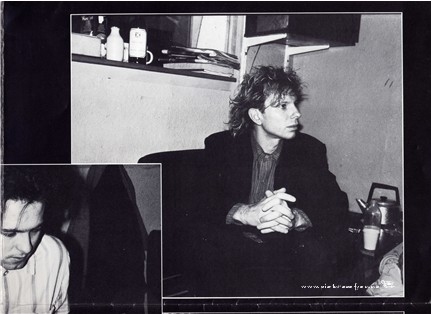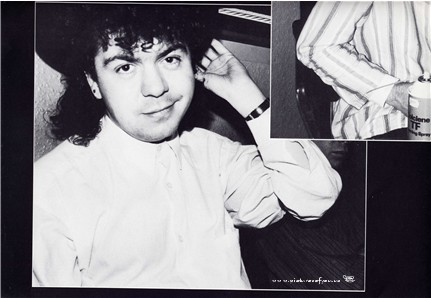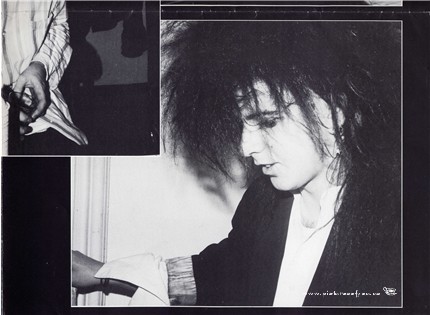 Back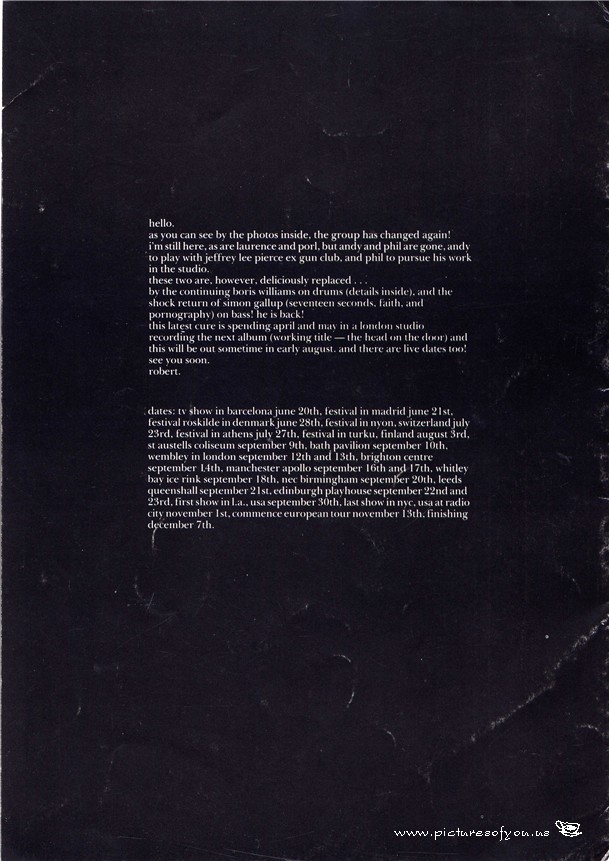 on september 28, 1984 at 11 am the cure party (robert, laurence, porl, phil, andy, bill (chris parry posing as a tour manager ha!), roger (sound), mac (not so sound and lights), and PERRY (backline and events) got on a plane at heathrow airport and went to sleep...
28 hours later we woke up in auckland, new zealand.
this was the third time we had come to play here, and so we were greeted like old friends (hello and hugs). despite this, we only stayed 5 days and played 3 concerts (in auckland and wellington) because nz only has a few people in it... so we got back on a plane and six hours later we woke up in brisbane, australia. the following days became blurred. we played 2 concerts in one night in brisbane, made a tv appearance 1200 miles away in melbourne the next day, and then had to get back up to brisbane the same night for another show. this particular adventure took 5 separate flights, 2 helicopters, several police escorts(!), and years off our lives... then we hopped round australia for a few more concerts in sydney, adelaide, and newcastle(!), and then got on a plane..
this time we woke up in osaka, japan.
because we had never been in japan before, we were greeted by a mild form of hysteria, caused mainly by curiosity (what did we look like? how many heads did we have? etc) and by generosity (please accept this gift. and this one, and this one, we sent home 2 crates of toys and sweets!). the three concerts we staged here (in osaka and tokyo) were the most peculiar we have ever played; a bit like performing in a strange dream... screaming through all the songs, but dead silence in all the gaps... (a video was made of one of the shows in tokyo, which will be out later this year)... very odd... in fact it was so odd that andy got on a plane and woke up in london.
we got on a different plane and woke up in los angles, america, with 2 days to find a drummer!
luckily phil knew vince ely (ex psychedelic furs) and thought that he was staying in la. a couple of phone calls and a bit of sweet talking later and we were back up to a 5 piece again!
we had time for only one days rehearsal before our first american concert of the tour. it was enough... short but fab!
we spent the next 2 weeks skipping from windy san francisco to freezing vancouver, down to yeehi dallas and back up to crispclean salt lake city. crazed audiences. strange dancing. grotesque rituals. bizarre customs. and all the time getting better and better. but iller and iller...
then a disaster. because of prior commitments, vince had to say goodbye. time to play 'find the drummer' again! but phil (the drummers friend!) saved us once more. the name of our new recruit - boris williams (now ex thompson twins!). time again for only one days rehearsal before the next show in minneapolis, but again it was enough, and the concert was absolutely brilliant!
the last 2 weeks of the tour slipped into a very hazy and muddled city... we fell down the stairs in buffalo... we arrived in washington half an hour after we were due onstage... the pa system blew up in boston... we went over niagara falls in a barrel...
until finally, 8 weeks and 43 shows after setting off from england, the last concert - new york. and, fittingly, it was probably the best. we staggered off after 2 hours onstage completely and utterly exhausted. in fact we were so tired that we didn't even go to our own end of tour party...
instead, we got on a plane and fell asleep...
hello.
as you can see by the photos inside, the group has changed again!
i'm still here, as are laurence and porl. but andy and phil are gone, andy to play with jeffrey lee pierce ex gun club, and phil to pursue his work in the studio.
these two are, however, deliciously replaced...
by the continuing BORIS WILLIAMS on drums (details inside). and the shock return of SIMON GALLUP (seventeen seconds, faith, and pornography) on bass! he is back!
this latest cure is spending april and may in a london studio
recording the next album (working title - the head on the door) and this will be out sometime in early august. and there are live dates too!
see you soon.

robert