1992 - Cure News #12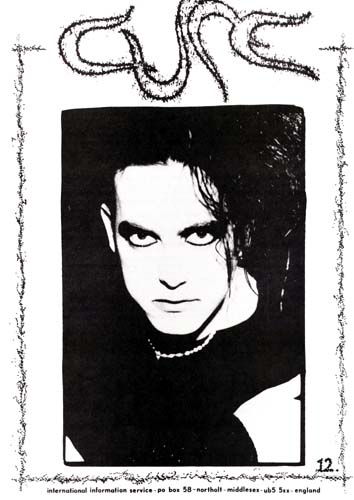 hello,
this issue of curenews has been put together very quickly, in an attempt to bring you the news as it happens - so here goes!...
the new single "high" will be released on 16 march. (full details can be found in the discography). special formats to look out for are a 12" clear vinyl with "high" (trip mix) and "open" (fix mix). neither of these mixes will be available on any other formats. the european cd release comes complete with a collectors' box with special artwork. the box has space to add future cd single releases, enabling you to create your own cure box set! the cd also includes a 5" x 5" print of the front cover artwork without graphics, which is backed by the lyrics of the b-sides which are unavailable elsewhere. the accompanying video for "high" is being shot at the time of writing - directed by tim pop -everyone's keeping tight-lipped as to the content, but i'm sure it'll be yet another unpredictable epic production!
the new album "wish" is produced by david m allen and the band. it was recorded over the last six months in oxfordshire. it will be released on 20 april. the final track listing has literally just been finalised.
1992 will see the biggest cure tour since 1989. by now most confirmed tour dates have been announced locally. at this stage i cannot confirm any additional dates on the main tour - do keep checking your local music press for details. for those of you who like to know where the band are and when, here's a rough guide:
mid may to end june - north america - east to west coast
early july - australia and new zealand
mid july to mid august- north america - west to east coast
mid september to early november - mainland europe
mid november - uk
the very special news i have is details of the small venue 'warm up' tour of the uk. these dates are being announcedexclusively to members of the information service, before they are released to the press. the dates are as follows:
april 21 bradford st george's hall
april 22 newcastle mayfair
april 23 dundee caird hall
april 24 glasgow barrowlands
april 26 liverpool royal court theatre
april 27 nottingham rock city
april 28 cambridge corn exchange
april 30 portsmouth guild hall
may 1 st austell coliseum
may 2 newport, gwent centre
may 3 london kilburn national.
tickets will be available at the venues for purchase on the morning of 25 march. please note, for all dates on the world tour ticket enquiries must be made direct to the venues and ticket agents and not to either the international information service or fiction records. if you wish to buy tour programmes or cure merchandise at a show, ensure you wait until you are inside the venue to purchase official merchandise.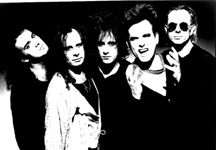 with the last issue of curenews all uk members were invited to fill in a questionnaire to assist fiction with their planning for future cure releases. all completed forms went into a prize draw to win an original "kissing tour" shirt, signed by robert. congratulations to the lucky prize winner, rebecca ross.
on 13 february, i attended the press conference at the randolph hotel in oxford. we were treated to a playback of "wish" followed by the opportunity to ask the band questions. i sat quietly at the back taking notes, and let everybody else do the asking ..... so here's what i learnt ..... the live set on the world tour will consist of the whole of the new album plus several older tracks. approximately 40 songs will be rehearsed and 25 will be performed at each show, with the selection changing daily ..... the final 12 tracks on the album were selected from the 25 songs that were actually recorded ..... the rumoured instrumental album "music for dreams" will now probably be released as a 25 minute ep later in the year. at the moment 4 six minute instrumental tracks have been completed ..... current favourite bands of the cure are curve, ride, lush and god machine ..... there was a lot of discussion about a support band for the whole tour, no act has been confirmed at the moment ..... the group were unanimous in agreeing that the recording of the album was great fun, they did a lot of socialising together and love each others' company! ..... most songs on the album are based on personal experience (there is no literary inspired number this time) ..... the much rumoured solo album by robert was actually recorded before disintegration, but he said "it's really miserable"!!! ..... finally, someone asked robert if he'd actually done everything he writes about, he replied "if i'd done everything i sang about i wouldn't be here". "why?" they asked? "i'd be dead" ..... "or in prison".....
unfortunately due to the fact that the band have been so busy i have not been able to put together a question and answers or inspirations section this time, but do keep sending in your questions for inclusion next time. i have included a full uk discography of all official cure releases, plus a copy of the official press release biography courtesy of polygram. hopefully the inclusion of these will help answer a lot of your questions, especially if you are a more recent cure fan and member of the international information service.
i hope you all get to see the band perform this year. (if you do, please send in your review for next time). i'll be back as soon as possible ...... but probably late summer!
until the next time, have a great summer!
love, janie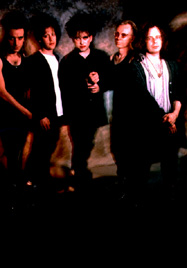 biography
if robert smith had a teenage dream, it probably featured him running away from giant spiders and falling off cliffs in wardrobes full of water. he probably didn't dream about forming a group that would sell millions of records all over the world: but both came true! one man's vivid imagination has fuelled the fantasies of music lovers on every continent. ask a cure fan what the essence of the group's appeal is and it feels like prying into something private. if pressed, they will admit that, at some time in their life they felt isolated, an outsider, and the cure's world was and still is a place where they can feel some comfort in knowing they're not alone. every person can connect with the cure's dream world where life can be insane, melancholy, morbid, angry, lost, lonely, hysterical and joyful all at the same time. as if to confirm this, it was once written of the cure's music that "it requires a personal act of involvement, but the reward is a sense of belonging". and that is why the cure are special, why they have survived and thrived through 15 years, why they have gone global with that big, sploshy red lipstick kiss and have become one of britain's best-loved and most successful groups.
when robert smith, lol tolhurst and michael dempsey played their first gig together in 1976, their sights weren't set much further than their hometown of crawley in sussex, but when an ad in the music press asked "wanna be a recording star?" they swiftly decided "yes". by 1978, they had written their classic and controversial first single "killing an arab", the song inspired by albert camus' book "the outsider". and it took an outsider, new zealand born chris parry, to spot their potential. he signed the cure to fiction, his own label distributed through polydor, and invested hope and thoughts of future glory in their moody, atmospheric sound.
in 1979, their debut lp, "three imaginary boys" was deemed a "masterful debut, a distinctive sound running the gamut of moods from anger to wistfulness" by a music press eager to hook up with the next big thing after punk. but the cure didn't make it big on the back of enthusiastic press. from the beginning, at a stage when most groups were focusing on home territory, they toured the world. they built up an international fan base by degrees, gradually reaching more and more friendly ears. they toured america for the first time in 1980 and already found a healthy cult following. after the release of their second lp, the introspective, atmospheric "17 seconds" they toured europe, then went on to break house records in australia and new zealand. these years of touring provided the foundations of their subsequent success.
1981 was the "difficult third album" period and robert became immersed in morbid thoughts, these resulted in the dark, intense songs of "faith". he said, rather prophetically at the time, "we're not mainstream and we never will be unless the mainstream changes to us". this uncompromising stance continued through to their fourth album, "pornography", released in may '82, a record inspired by insanity which many found heavy and unfathomable. but this was the nectar to the band's fans and was their most successful lp to date. hindsight has proved it was an important stage in the cure's career even if, at the time, the confrontational nature of the songs effected many line-up changes, rows and bouts of extreme behaviour, but this exemplified their passionate nature; something positive always emerged from what seemed like utter destruction.
after the intensity of "pornography" the cure made their first dance single ("let's go to bed") and linked up with video director tim pope, the beginning of a long and fruitful partnership and the first glimpse of robert's new tragi-comic video persona.
in 1983, robert took a break from the cure by playing with siouxsie and the banshees and forming offshoot project the glove with steve severin. but the cure went through another rebirth with the dream-inspired "the walk" (their first uk top 20 single), and later, "the lovecats", inspired by disney cartoon film the aristocats. its absurd humour and pop accessibility took it right to number seven in the charts, aided by the best-yet tim pope video. a new audience was being exposed to the strange world of the cure.
robert continued to work with the banshees in 1984 but his commitment to the cure soon took precedence. their next lp, "the top" descended once more into the dark side and reflected the confusion of the time. in '85 a circle was completed when simon gallup along with early member porl thompson rejoined the group, and the presence of old friends resulted in the "glorious celebration" that was "the head on the door" lp. their popularity was escalating worldwide. in september they headlined a sold-out wembley arena and the single "close to me" an eclectic pop swinger, produced one of their best known videos, featuring the band falling off a cliff and drowning in a wardrobe! through the 80's the cure grew with the boom in pop visuals; they made both video and film a big part of their career and used the medium rather than let it use them. in '86 their video compilation "staring at the sea" gave full vent to the fantastic imaginations of robert smith and tim pope; dreams were made real, and they were filtering through to tv screens across the world.
their popularity started to mushroom all over the globe and in july of '86 their us tour attracted an enormous amount of attention, culminating in a shocking incident when a lovelorn fan jumped onstage in la and repeatedly stabbed himself. the 18,000-strong audience thought it was part of the act. the group were stunned. such is life when you are dubbed "the leaders of the gloom movement" in america.
in 1987, everything was booming. the group's first south american tour began in march in argentina, where the cure played two shows in a 20,000 capacity football stadium in buenos aires. fans without tickets started a riot outside and the band were put under siege. they flew on to brazil for eight more concerts: they were a wild success, and the group subsequently sold 400,000 lp's in south america. they returned to london triumphant but dazed for the release of "the cure in orange", a film directed by tim pope documenting their autumn '86 concert in orange, provence, in an amphitheatre filled with 8,000 adoring fans.
the double lp "kiss me kiss me kiss me" tumbled out in a maelstrom of styles and moods and went on to sell two million copies worldwide. the cure were now officially internationally massive. success always brings scrutiny, though, and an old controversy returned. in america, there was much fuss and misunderstanding over "killing an arab" at a sensitive time, and the group had to call a press conference to calm the storm.
after an 18 month gap, the cure released "lullaby". it was their 16th hit, and their biggest to date. they had now registered at least one hit for every year of the decade. but mounting success brought further changes; early member lol tolhurst departed, just before the aptly named "disintegration" lp was released. an unexpected return to the darker side of the cure psyche, it fulfilled its commercial promise on both sides of the atlantic and paved the way for the 50-date prayer tour of europe, which played to 360,000 people, and an even more massive us tour, which played to over half a million. flying was out of the question (robert having refused to leave the ground), so the group took the qe2 to their shows in america which included the ny giants and la dodgers' stadiums. curemania swept america.
in august "love song" rose all the way to number two in the us charts. by the end of 1989, in many parts of the world, particularly europe, the cure were britain's biggest export. they had sold over eight million albums since 1977...
1990 brought official recognition, tim pope's video for "lullaby" was voted best music video at the brits awards. in the summer they played over 13 major european festivals, to over a million fans. in belguim, they topped the bill that included amoung others bob dylan. keyboard player of two years standing roger o'donnell then departed, to be replaced by long-standing guitar roadie perry bamonte, to complete the group's current line-up.
in september, the band announced the release of an lp of remixed tracks, "mixed up", a delicious melange of re- recordings, remixes, deleted 12 inch mixes and a new song, worked on by a range of hot remixers/producers including Paul oakenfold, mark saunders, bryan 'chuck' new and william orbit, who all chose their favourite cure song to strip down and rework. it was a typically contrary move by the group, but robert pronounced it was the perfect party record for "drunk cure fans"! by the end of 1990, the cure passed the 12 million sales mark...
1991 had many salad days ... the group's "picture show" video was released, reaching number one in the uk video charts, selling over 30,000 copies. cure fans in australia launched a petition entitled "i need a cure tour", as they'd been without one since 1982. they collected an astonishing 28,000 signatures from australia and 10,000 from new zealand. the group responded and dates in both countries and being organised for summer '92.
on january 17 the cure played a secret gig in london billed as the "five imaginary boys". two days later they headlined wembley as part of the great british music weekend. these shows became the cornerstones of their 'fly on the wall' video, "the cure play out", compiled and produced by the band themselves. the highlight of the video, and indeed the year, was the brits awards ceremony, where the uk music industry finally acknowledged the cure's enormous contribution by voting them best british band.
1992 will see the cure releasing a new album. and that remains an exciting, unpredictable prospect. one thing issure: the cure will never be mainstream. but, as robert predicted, the mainstream has changed to accomodate them. how many groups can tryly make that claim? robert smith many not have had a teenage dream about joining a group and selling millions of records. but that is what has happened. the cure have now sold over 18 million records worldwide... and counting...