August 1992 - Cure News #13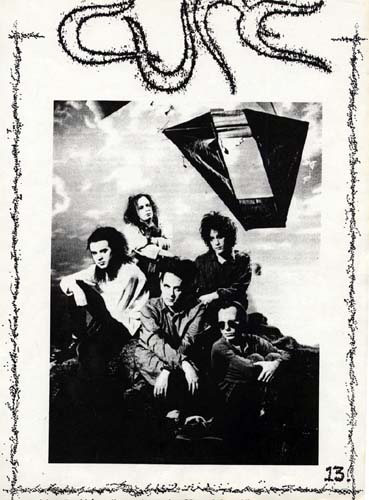 Cure News 13
August 1992
hello,
what a chaotic few months it's been!!

thanks so much for all your letters, particularly regarding the spring uk dates. the information service priority booking was a huge success, enabling uk members to purchase tickets before they went on general sale (unfortunately this offer could not be extended to international members because of the limited time we had to organize everything). i've had so many letters of gratitude and in turn have passed your thanks on to everyone at fiction who made the whole thing possible, despite the hassle of organizing it!
it was great to meet so many of you on tour - and make so many friends (and share so many drinks!). i was amazed at how many people went to all 11 shows, by the time we got to Kilburn we were like one big happy family!! i hope we'll all meet again very soon ...
i returned from America a few weeks ago where i saw five shows (phoenix, long beach, two in san Diego and Pasadena). each show was special, but the Pasadena rose bowl gig was incredible - the largest arena i've ever seen! the whole show was enhanced by the extended stage, plus two giant video screens, ensuring a brilliant view. i took the liberty of sneaking down to the front row where i enjoyed an extra special view. i was startled to discover how different audiences are in America - screaming, singing, shouting and generally making so much more noise! but there was no pushing and shoving. everyone stayed in their place and enjoyed the show from their allocated seat - quite a refreshing change from the usual agony in the uk - attempting to get a good view whilst still being able to breathe!
i've received so many reviews of shows - i've included as many as space would allow. thanks to everyone who sent in a review, I'm sorry if yours was not included this time. please keep sending them in for inclusion in future.
i've attempted to include a full world tour schedule, but please do consider the fact that these dates are correct as of now but they can, and almost definitely will, change over the next few weeks. obviously i will not be able to keep you informed of changes as and when they happen, so do keep reading your local music press to keep informed.
all ticket enquiries should be made direct to the venue or through usual agents. the information service and fiction will not be able to supply tickets or information regarding the availability.
i know many fans plan to travel overseas to shows - again i am unable to help with ticket requests - you should contact the venues direct - most will accept credit card telephone bookings. you may have noticed ad's in the music press recently for all inclusive trips to the continent for some of the shows. i know that several of you have used these services in the past, and have had a great time, traveling with other cure fans. if you plan to travel with a tour operator do ensure firstly that the operator is a member of abta (to ensure security in the event of a problem) and secondly ensure that you have your concert ticket from the operator before departure.
on the subject of tickets - never buy a ticket from anywhere or anyone except the venue or official agent. there were some heartbreaking scenes outside a couple of uk gigs when fans had bought counterfeit tickets for a lot of money (and yes - they really did look identical to the real thing!). i must admit, i couldn't help smiling when one tout selling counterfeits was arrested after quite a struggle outside the Nottingham gig! please also note that backstage passes are not sold! they are issued at the discretion of the band only. each pass is logged and numbered, and can be used by the named holder only.
do remember, licensed tour merchandise is only available from official stalls, usually inside venues. do take plenty of money as there are so many t-shirts to chose from, all equally wonderful!
several of you have enquired about 'Lefaye' (pictured below) the support act for the Uk Tour. you can write for information on them to: Lefaye information Crutchfield Cottage Crutchfield Lane Hookwood Surrey rh6 oht.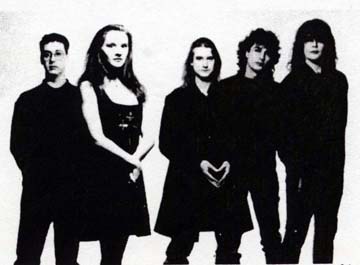 the current lefaye news is that they are unsigned, but are actively pursuing a record deal. they have been playing a few gigs in and around London recently. i've been to a few and have had a good time, as well as enjoying a reunion with several friends made on the spring dates.
the official 1993 calendar will be available shortly and is published by danilo (isbn: 0-7819-0230-4). i'm sure there will be the usual batch of unofficial calendars (i've seen one already and it really is not up to the standard of the official version) so it really is worth waiting for the genuine thing. there is also an unofficial biography ('success, corruption and lies') in circulation. despite the fact that i have been mentioned and credited in this publication i had absolutely nothing to do with it! as a matter of principle i won't read it, but i have been informed that it is very poorly written and inaccurate, so don't waste your money! this issue sees the introduction of full band participation in the questions section! send in questions for everyone next time and i'll attempt to get them to the band somewhere in Europe later on in the year. because the tour will take up the rest of the year, i won't be back until early next year, but do write to me now to receive the next issue. all contributions are welcome!
happy gigging!
love, Janie


questions and answers curenews 13
r-robert
s-simon
p-porl
b-boris
t-perry
how did you enjoy the first gig at Bradford, what did you do afterwards to celebrate Robert's birthday?
r it was an excellent way to spend my birthday - getting drunk in the Indian afterwards was the icing on the cake (?)
s i enjoyed it very much after we went for a drink and an Indian
p i loved it. i think we should always play small gigs.
b yes and i had a curry
t the first gig is always exciting, chaotic and fun. afterwards we went to a restaurant and drank a lot.
which of the new songs do you most enjoy playing live?
r end.
what is your strongest memory of each of the show?
r end.
do you prefer playing smaller or larger venues?
r larger (but not too big - about 10,000 people feels good).
do you find it difficult to cope with your lack of privacy whilst on tour?
r yes!!!
what is the name of the instrumental number played before each show?
r it is just called 'opening instrumental' - we recorded it specifically for this purpose.
what is the song played after each show?
r a selection of Billie holiday songs starting with 'we're getting some fun out of life'.
how did you choose 'lefaye' to support you on the warm up dates?
r i have known them for quiet a while and had seen them a few times - i thought it would be a good experience for them.
given the choice, who would be your ideal support band?
r the cranes!
s ride / the cranes.
p god machine / dinosaur junior / nirvana or us.
b pj harvey.
who did the artwork for 'wish', 'high' and 'friday', and whose hand print is on the reverse of the 'wish' sleeve?
r parched art (porl and undy). it's porl's hand.
is it true that you will produce a film to accompany the proposed
instrumental ep later this year?
r it is one of a few ideas we're considering, but i think that being realistic (?), bearing in mind how many concerts we're going to be playing, nothing new will materialize this year.
what's the real story behind porl's dislocated elbow?
r he came off his motorbike. true.
when touring the usa, do you plan to visit Disneyland or Disney world?
r universal studios, Florida and Disneyland, California.
where do you buy your musical instruments?
r i have got quiet a few of my guitars from a shop in London called 'vintage and rare'.
s various places but the last bass i had made by a mysterious person called dick knight.
p in London at 'vintage and rare', 'andys guitars', 'gibson ltd' (usa) and 'ray mans' + 'street corner music' in camborne for my acoustics.
b i don't
t London - locally - we buy stuff as we need it from whoever can supply it quickest (impatient) and at a good price! -guitars are a different matter - we just collect them!!!
what do you think of the demise of the vinyl format, and do you support the introduction of dcc?
r the demise of vinyl doesn't really bother me, except for losing 12" artwork. i have yet to hear dcc. in principle it seems a good idea.
s i think it's quite sad but i only buy cassettes anyway, so it doesn't really affect me.
p it's a shame to loose that lovely big 12 inch cover to draw on.
b we've been done and don't know what it is.
t dance music is keeping vinyl alive - dj's can't use cd's and tapes!
do you ever listen to classical music? if so, what is your favorite composition?
r i love classical music. my favorite composers are chopin, tchaikovsky, beethoven, mozart, debussy, sartie and khatchaturian.
r yes, but my favourites change. it's usually delius.
p barbess adagio for strings. pearl fishers. mahler, ravel ond on and on.
b bach cello suites, verdi's requiem.
t when i'm not listening to cure music (ie. working) i listen to classical music, almost exclusively. i like mozart and his period (baroque) and opera.
what are your 3 favorite albums?
r impossible, they change all the time...but...today: '5 leaves left' - nick drake 'astral weeks' - van morrison 'axis:bold as love' - jimi hendrix experience s at the moment it's: 'going blank again' - ride 'loveless' - my bloody valentine and a various tape i made up of things.
p impossible question, but at the moment: 'wee tam' - incredible string band 'nevermind' - nirvana anything by led zeppelin, captain beefheart, ibs and a million more.
b they change
what do you think of the following acts:
right said fred
r pap
s are you sure?
p i don't think about them
b genius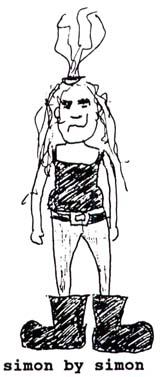 the wonderstuff:
r don't like his voice too much, but some of it's good
s excellent
p boring
the cranes:
r savagely underrated, a band with a vision
s excellent
p I'll tell you after America
b good mates and music
tin machine:
r absurd!
s oh dear
p pretentious
slowdive:
r ok
s very good
p not heard enough to say
jesus and mary chain:
r wonderful live
s good
p some of it's ok
b i like them
nirvana:
r i like most of their albums.
s very good
p most excellent
b good
other fiction bands:
r oh dear...
s very good
p god machine - well 'ard.
b oh yes, excellent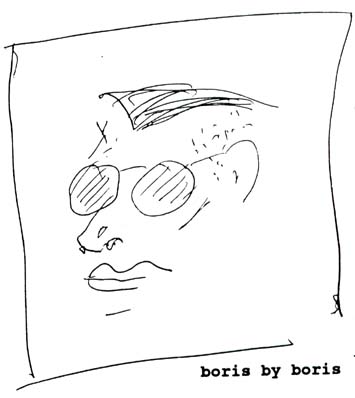 as your taste in music mellowed with age?
r no. (the only thing i like a bit more now than i didn't in my teens is a few bits of rousing opera...)
s i don't think so.
p no. just expanded
b i only listen to mantovani now.
t yes - in that i'm not so narrow minded about it. i used to hate most things because of the people who made them. i try and get past that now...
what was your first thought on hearing that freddie mercury had died?
r it didn't really have any impact on me at all. i thought queen were pompous nonsense.
s i didn't really think anything.
p sad.
b i'm not suprised.
t it wasn't a surprise because of the rumours but i thought it would heighten public awareness, which is good - and a shame.
what are your views on bootlegs?
r they don't usually sound too good, but i have nothing against them per se.
s i condone them
p i think bootlegs of gigs are valid and fun.
b good idea.
t i like them.
do you read the music press, and what do you think of it?
r i occasionally dip into the melody maker front pages for amusement!
s i read the melody maker and just think that any article, review etc is just one person's opinion.
p no, i don't read any papers, i think they are all shit.
b rarely - most boring.
t occasionally - it is rarely interesting for me. after a time you realize it's always the same - only the band names change.
do you personally have copies of every format of every thing the cure have ever done?
r yes!!! (except a picture disc vinyl 'caterpillar' which someone nicked!)
s no.
p no. i have a cd copy of every album and that's it.
b i think so.
t no.
how involved have you been in xfm, and to what extent do you support an independent radio station for indie bands.
r xfm is an excellent idea. we support it (ie. with the 'kilburn national' broadcast), but we don't really have anything to do with it.
s i'm not involved at all but any independent radio station must be supported as it offers more choice.
b less than i should be.
t i've listened in - i think it's excellent that after 15 years or so of 'pop radio' you can now hear indie bands all day instead of 2 hours a night.
who do you most admire?
r people who don't compromise. people who don't give up. people of intelligence. people of tolerance. people of integrity. not too many i can name.
s my son Eden.
p as a guitarist jimmy page. as song writers mike heron and robin williamson.
b selfless people (are there any?)
what gigs have you been to lately?
r the rollercoaster show at brixton was brilliant.
s the heroines at the fulham kings head.
p god machine at camden - they were most excellent.
b pj harvey, ride, curve, rollercoaster.
what is the last film you went to see, and what did you think of it?
r i haven't been to the cinema for about 3 years...i saw 'my life as a dog' by lasse hallstrom recently on video and thought it was wonderful.
s i can't remember.
p film - 'barton fink' - shit. video - 'bill and ted's excellent adventure' - most excellent.
b 'jungle book', 'shining'.
t i don't like cinemas, and i'm rarely attracted by most of the new films released - there are so many wonderful old films - i have an ever growing list of hard to get films i want to get on video. the last film i went to see was 'these foolish things' by bertrand terranier.
what's your favourite day out / tourist attraction in the uk?
r the sea.
s chessington world of adventure with Eden.
p being by the sea or near water. ie. rivers, lakes in the countryside.
b a walk in the countryside
t the tate gallery.
what is the last book you read?
r 'the book of edenezer le page' by g b edwards.
s 'bor/going solo' by roald dahl.
p 'journal of a sad hermaphrodite' by michael de larrabeiti (really good).
b 'perfume'.
t a collection of poems by dante gabrielle rossetti.
are you doing anything musically outside of the cure?
r only writing.
s no.
p always.
b at this moment no, but i have been recording with Shelleyan Orphan.
t there is little time for that at the moment...
what's your favourite alcoholic drink? have you invented any good cocktails recently?
r red wine is my favourite drink...i've given up cocktails (except bloody mary's and brandy alexanders).
s lager. i haven't had any cocktails since giving up spirits.
p red wine.
b i don't drink.
t i like red wine.
what do you drink on stage?
r red wine mixed with orange juice!
s lager (becks or fosters)
p coke, water and sometimes red wine (no 9)
b water
t red wine and orange juice.
do you drive, if so, what?
r i drive a black customised 4wd thing.
s i can't drive
p harley Davidson 883 sportster (saffron).
b saab 900 and ducati 851.
do you play computer games? if so, do you prefer nintendo, sega or amiga?
r i only play tetris on gameboy.
s i like kick off on the atari st.
p no. i hate them.
what's the first record you ever bought?
r 'ziggy stardust' by david bowie.
s a woolworths cover version of the batman theme i think.
p lp - 'what'd i say' by jimi hendrix (mfp 75p at woolies) single - 'i hear you knocking' by dave edmunds, rockpile.
b 'satisfaction'.
t the first roxy music album.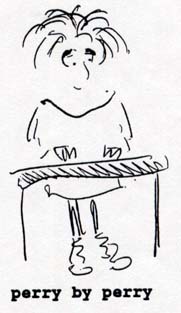 what's the most recent record you brought?
r 'doppleganger' - curve 'loveless' - my bloody valentine'dry' - p j harvey
s 'visions of you' - jah wobble
p not sure. i usually buy a lot of records at the same time. last batch could have been nirvana, orb, levellers, ozric tenticles.
b p j harvey
t a collection of italian baroque music ( a cassette for on tour)>
what's your favorite joke?
r presence.
what's your favorite childhood memory?
r arriving at victoria station from blackpool in 1963 on a train. i was terrified.
s sitting in the garden with my dog.
p seeing the world through orange glasses in my dad's side car.
b falling off my tricycle.
what are your best and worst habits?
r my worst habit is drinking.
s the best is that i try to please too many people. the worst is that i try to please too many people and end up pissing them off.
p fuck knows.
b annoying people.
do you have any phobias?
r big spiders and heights.
s flying / heights.
b none
do you wear boxer shorts or briefs?
r boxer shorts.
s boxer shorts.
p neither.
b sometimes.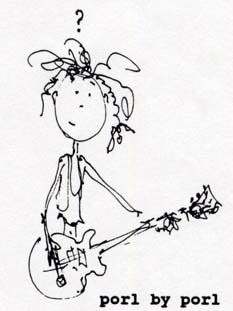 what do you wear in bed?
r a t-shirt if it's very cold.
s boxer shorts
p nothing
b nothing.
what's the nicest thing a fan has ever done?
r i have received too many gifts and words to single something out.
s it happened last night and it was someone throwing a teddy bear on stage for Eden.
p enjoyed seeing us play.
b acted like a person not a fan.
t i think it's really special when a fan makes something - spends time and effort and puts a lot of care into something.
what's your most treasured possession?
r my ring.
s eden's drawings.
p this moment.
b my privacy.
what's the one thing you haven't done that you'd like to do before you die?
r go to the moon!
s learn to drive.
p live in the present.
b fly.
t a sculpture i would be proud of (a piece of art to leave behind).
if you could change one thing you have done in the past, what would it be, and why?
r i wouldn't change anything (except maybe chuck lol out in about 1977!!!)
s there's a lot of things i wish i could change, but what's done is done.
p nothing. the past does not exist.
b none of your business.
t there is something but it's too personal - it has to do with not speaking out honestly and boldly when it's really important.
how do you feel knowing you've changed people's lives, and does it scare you?
r sometimes it scares me, mostly it helps me...
s it depends whether the change is for the better.
p i haven't, peoples lives are their own. everything is meant to happen.
b i haven't
t isn't this really one for robert?
what is the picture on the front of 'picture show', and whose idea was it to use it?
r it is a picture of a girl using a 'planchette' (for automatic writing). it was in a book i was reading (called 'the encylopeadia of the unexplained').

would you ever consider singing a duet with someone? if so, who would it be?
r caroline from shelleyan orphan is singing the choruses on 'halo' ('friday's' b-side) - does this count?
do you feel these questions invade your privacy?
r it's my choice to answer them...
s no. else i wouldn't answer them.
p nothing invades my privacy.
b yes.
curenews 13 - inspirations
Kiss Me Kiss Me Kiss Me
the kiss- the sickness of lust
catch - 'a girl i think i used to know'
torture - abasement in a basement ...
if only tonight we could sleep - a slow and happy death
why can't i be you? - me bemoaning my inelegance? or being jealous of someone else's poise?
the snake pit - a bitter experience
how beautiful you are ... - adapted from a short story by bauderlaire
hey you!!! - a party song
just like heaven - one night on a clifftop a long time ago
all i want - sex!
hot hot hot!!! - drugs!
one more time - mourning the loss of innocence
like cockatoos - a dream? i'm not sure if this one isn't a true story ..
icing sugar - more drugs!
the perfect girl - a love song
a thousand hours - 'why can't i be me?'
shiver and shake - an appreciation of lol, and others like him
fight - 'never give up never give in if you're determined...'

a Japanese dream - something that happened whilst recording the 'glove' album i think
breathe - the song that captures late night miraval - stars and sighs
a chain of flowers - a story simon told me once
snow in summer - imagery - not one of my favourite songs, this didn't really turn out right
sugar girl - she has a name ...
reviews - 'wish' world tour, 1992
st george's hall, bradford - 21 april
there is a sense of excitement in the air as cure fans gather for the first night of the warm-up uk tour. the crowds are getting larger by the end of the afternoon. then the doors open and hundreds of cure fans rush through, straight to the front. the support band are good and get the crowd in the mood. then an instrumental piece of music can be heard and smoke billows off the stage. the '5 imaginary boys' that we all love step onto the stage. tonight is robert's birthday and the crowd sing 'happy birthday'. the first song tonight is not 'shake dog shake' but a new one called 'open'. it starts and everyone dances. not all the new stuff is performed but my faves are played, 'from the edge of the deep green sea' is powerful! 'trust' is beautiful. "this one goes a long way back" says robert smiling, "this is 'in your house'". then it's time for the pop singles. then a powerful finish of 'never enough', 'fascination street' 'cut' and 'end'. the crowd shouts for more and we get more in the form of 'boys don't cry', 'a night like this', 'a strange day' and 'a forest'. god knows how porl plays with his arm in a plaster cast, but we're thankful he does. the crowd leaves hot and tired with their ears ringing but one night over, only 10 more to go.
michael ager
mayfair, newcastle, 22 april
after waiting what almost felt like forever robert and co appeared on stage about 9.00 pm, starting with the brilliant opener 'open' exciting a packed mayfair who couldn't believe the cure were actually there. next came 'high' and robert decided to change the words again and then quoted "that's the worst i'll sing all night", but 2000 people disagreed. they then went into their usual pop singles from 'disintegration' to 'the edge of the deep green sea'. forty five minutes into the gig and it was 'friday i'm in love', the latest release. then boris was playing drums to 'the walk' simon playing bass to 'let's go to bed'! robert announced "that's probably the first time we've ever done that!" after the other pop singles came 'cut', the brilliantly reworked 'away', ending with 'end'. theycame back on with a very dreary version of 'figurehead'. we all knew it was near the end when 'boys don't cry' started, which sounded like 'three imaginary boys'. they went off again, only to reappear with 'a strange day' and finish off with a very radical 14 minute version of 'a forest' which robert changed the words to again. this ended a great night out, which was rounded off by actually meeting robert and the boys, getting a photo taken with perry and getting a can of lager off robert after offering to pay for it! thanks robert.
graeme batten
barrowlands, glasgow, 24 april
i arrived for my first cure gig just in time for the band to come on. positioned at the front, i had an amazing view as the excellent 'open' was blasted out. through 'high' to 'the edge of the deep green sea' and 'just like heaven', the old favourites mixed with new songs. moving further back i saw more of the show as they moved into their 'pop' section. robert started it all by commenting that this was the first time they'd played this on a friday (slight hint) - the crowd went wild. the last four ('never enough', 'fascination street', 'cut' and 'end') were a sheer noise attack and destroyed the eardrums. then to the encores. after microphone problems they whisked through many older songs ('primary', 'a strange day', 'three imaginary boys') two at a time and, for the first time on the tour, 'wendy time'. the show closed with an extended and ultimately best performed 'a forest' before robert came out and said that he'd see us all later in the year. he'd better keep his promise!
rock city, nottingham, 27 april
we arrived at the venue half an hour before the doors opened and waited patiently in an enormous queue for 1 hour to get in. the girl behind us said that she had waited for 9 hours to get a ticket, so i am extremely grateful to fiction and cure news for giving us a chance to avoid this mayhem. once inside, i quickly realised how small the place was. we started off in the middle of the floor, in front of the stage but we hastily retreated to the back when at least two people fainted from being crushed! i was worried about not being able to see, but fortunately there was a small (and very uncomfortable) ledge which i managed to sit on. when, after half an hour of screeching from the support band, 'lefaye' the cure appeared at 10 o'clock, i realised that i was in a better position than most because i was directly opposite robert and on the same level, so i didn't have to crane my neck to see the band. i also had the added advantage of being able to breathe (just about!) what can i say about the performance that you do not already know? it was, as usual, excellent, and although they played many songs from 'wish' they managed to include a wide range of songs covering their whole career. robert himself said that "this is the closest i have ever felt, at any concert we've ever given, anywhere" so that indicates just how small and crowded it was. this, i feel, was the problem, because the conditions became so unbearable that it detracted from the music. the other problem, i'm afraid to say, was the crowd. a certain element of the audience decided to ignore the music and spend most of the concert screaming and shouting. this angered me intensely and i think the band felt the same way as robert said how difficult it was to speak to us. saying that, i would endure practically any conditions to see the cure and the sheer magic of what was happening on stage made up for the lack of respect from the audience. highlights for me include 'a forest' (original!), 'a strange day' and the delightful 'friday i'm in love'. the low point was the last song they did, which i had never heard of, and quite frankly never want to hear again!! ('forever' - ed). when the band finally left the stage at nearly 1.00am, i jumped down from my ledge and promptly collapsed from the heat and passed out. i have rarely felt so embarrassed, but at least it happened after the concert, so i didn't miss anything. seeing the band at such close proximity is a great honour and as it is unlikely that i'll get the chance again, i will relish the memory of this marvellous night for a long time to come.
nikki pankhurst
corn exchange, cambridge, 28 april
the lights go dim, the side stage door opens and, into what was to be their home for the next two hours, the cure step. a great cheer erupts the tiny venue as the silhouette of that famous haircut took the prepared guitar and stepped forward to the mike. the light picks out robert as the first note of 'open' strikes, starting, what was for me, an unforgettable night. the new material interlaced with many old favourites set the perfect arrangement for the band's two hour long set. boris striking out the infamous beats backstage, almost threatened to become overshadowed by simon's striding performance with his grinding bass. perry's talents were shown to us all and perhaps with this performance the music press will now comment on him as 'band member' rather than 'ex-roadie'. this was explained to us by robert, after probing questions from many, "oh, porl, he fell off his motorbike!" nethertheless the cast arm held up well sounding out more than his 20% of band contribution. after the encore, which included a record 12 minute version of 'a forest' (please could anyone enlighten me, was robert introducing new lyrics to this classic?) and apologies from robert for his less than talkative approach - apparently self induced - (exactly how many bottles, i wonder?) the set came to a close.
michael
kilburn national ballroom, london, 3 may
the beginning bars of 'open' and the hall, swamped with dry ice, set the scene. five dark figures emerged from the mist and the magic began. the two and a half hour set did not fail to astound the intimate crowd. 'high', 'friday i'm in love' and a frantic version of 'cut' followed. classics such as 'just like heaven', 'the walk', 'pictures of you' left the audience captured in awe. the set continued to amaze with such tracks as 'lullaby', 'fascination street' and 'doing the unstuck' (with a marvellous acoustic track by robert). the encores brought more wonder to the already mesmerised crowd, with songs such as 'a strange day', 'three imaginary boys' and 'in your house'. but, it was a nostalgic seventeen minute version of 'a forest' which finally left london hungry ... and desperate for more. thanks robert, simon, perry, boris and porl for a night eighteen hundred fans will never forget!
nassau coliseum, uniondale, ny, 15 may
the second night of the american tour was quite odd, but brilliant none the less. after a three hour plane ride, nothing could be more weird. the evening started off with the live broadcast of the pre-cure show by radio wdre. something was mentioned about the cranes not being let into the country! so the cure took the stage when they were supposed to, not before, and the fun began. with four cameras positioned around the arena, the band played to a packed house and to potential movie film. the only problem was the band strayed far from the set list that the camera operators had! one cameraman came and asked us which song this was! 'wendy time' and 'to wish impossible things' were strangely left out of the set and classics such as 'cold', 'charlotte sometimes' and 'a strange day' were included. the weirdest bit was that '10.15 saturday night' and 'killing an arab' were even left out. the band was obviously having a brilliant time, with porl laughing and robert dancing. 'cut' reached a fever pitch as the strobe lights flashed and 'apart' and 'pictures of you' were delivered with true emotion. this was an excellent show and robert concluded by saying "thank you, this was fucking excellent!" a twenty minute firework show followed outside afterwards. this was an excellent night to be sure.
ryan miller
long beach arena, long beach, ca, 21 june
the crowd went wild and scrambled for their seats as the lights began to dim 5 minutes earlier than the scheduled showtime. the traditional smoke engulfed the stage (and almost the arena as well) for about 5 minutes. finally, we saw the band make their way to the stage from our side of the arena and the screaming got louder. suddenly the screams are quickly drowned out as the tune 'open' roars through the air from the dark stage. soon after, the lights started flashing wildly about the stage. then out of nowhere a huge spotlight focused on robert and the people got even louder and almost drowned out the music with their screaming. the band quickly broke to a cut from 'disintegration' and from there on, with the exception of a few new songs, navigated us down memory land. robert, (who seemingly had a good day) walked and pranced about the stage, posed for pictures, and played to the right and left sides of the audience. he even reached out (risking a bad fall) and shook hands with at least two fans in the front row. because of the acoustic feedback and the roar of the crowd, it was hard to understand what robert was saying between numbers. but his vocals came across very clear and strong. i have heard 'a forest' in many different versions, but that night's version (which lasted at least 20 minutes) showed that the band hasn't lost a thing. the lighting and spectacular back drop scenery complimented the show even more. the peak of the show came about when they played 'close to me' and 'just like heaven' and, of course, 'boys don't cry'. simon thrashed about more than his usual self. boris, (who was heard but not seen from where i was sitting), played very well. porl could barely be seen through all the smoke and the dim lighting, but he made his presence known. perry, seemed tense and out of place, but his performance was nonetheless flawless. all in all the band gave a strong performance (about 22 songs in a little over 2 hours), and we all had fun and warmed up for the rosebowl concert the following weekend.
john m ramirez
the rosebowl, pasadena, ca, 27 june
hungry for more? feeding time! although following the same format, along with one extra guest 'dinosaur jr.', the cure belted out the same songs as at long beach, but this time to 65,000 (a near sell out). local radio station kroq 106.7fm had a cure look alike contest so there was plenty of sky high hair and make up, including me! we had 12th row seats, but since everyone was standing on their chairs, the two huge tv screens came in handy along with the two gigantic silk screens with dozens of flashing lights under them. rob, porl. rob, boris. rob, simon. rob, perry. robert smith all over the tv screens! the crowd was wilder than a week before. 'let's go to bed' enjoyed some new lyrics - "you think you're tired now but wait until 6!". "some people think we make mistakes with certain songs. we're not sure if this one is or isn't, but this is called 'friday i'm in love' anyway". robert muttered to us, concerning how popular 'friday' is in america. we were slamming and/or headbanging during 'fascination street', 'never enough', 'cut', 'end', 'primary', 'a strange day', and yes 'a forest'. even though the rosebowl is a huge open air stadium there wasn't enough air from all of the body movement. when it was over, we sat down to catch our breath while the crowd was leaving. i thought i was going to pass out! but i didn't. a night to remember, a night i'll never forget, a night like this. cool.
steve lopez
**********