September 1994 - Cure News #15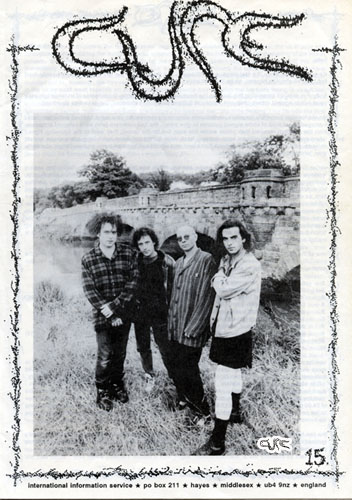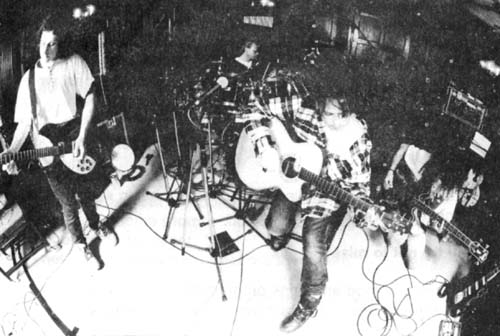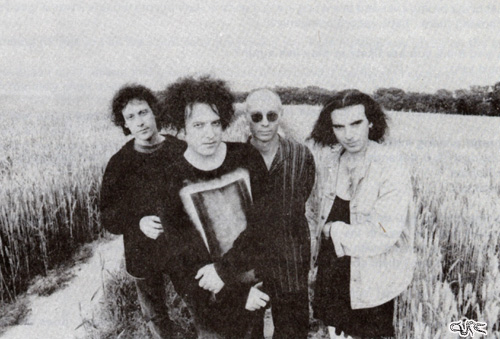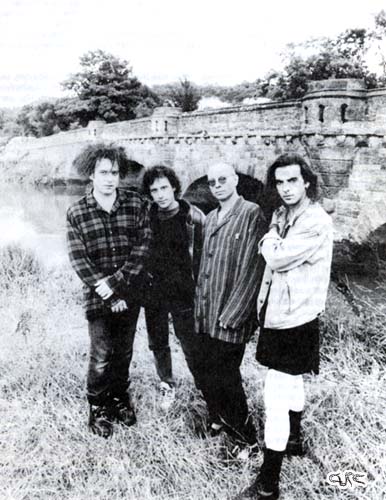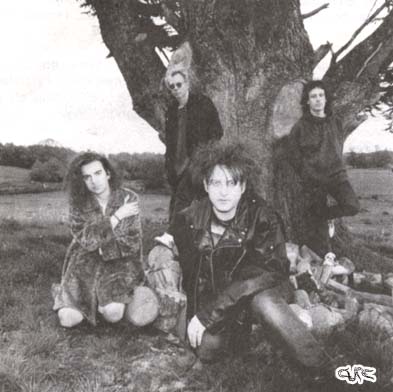 Cure News 15 - September 1994
hello,
it's been a year since the last issue, and although i feel there should be lots to report, there really isn't! but.....it's all about to happen, so by the next issue......! firstly, i've delayed completing this issue as i've been waiting to let you know the outcome of laurence tolhurst's court action against robert, chris and fiction. at 2.00pm today, 16 september, the case was dismissed. thanks for your incredible response, contribution wise, to my request for your input. as you know, last time i managed to get hold of some signed goodies to give away. the lucky winners (who were selected at random from the mailbag) received their prizes earlier this year, but for the record, they went to the following: signed 'show pro' cd's: beverly williams, kami straining, frank mejia, bernie watkinson, sylvia legg, conor rowan, laurent delsarte, paul dancombe, debby garland, fusae iami. and signed epk's: sarah curtis, andrew slinger, stephanie gray, john vincent and jayne waddams.

earlier this year i discontinued the 'stop press' service, which was taken over by a new, fiction run, service 'curious'. again this service is only available for fans living in the uk. if you have not yet enrolled, simply write, enclosing your name and address, to: curious mailing, fiction, 97 charlotte street, london, w1p 1lb. curious will supply regular updates on the band, and it is hoped that in future will be able to offer the occasional special item, as well as priority when it comes to booking tickets, and new release information, etc. the curious service will be run in conjunction with the international information service - hopefully they will compliment each other with cure news featuring questions and details of the band's activities and curious supplying up to the minute news, and generally filling in all the gaps between issues. (as i've mentioned before, the time scale involved in producing an issue means the news is history before you receive it!) as most of my news is supplied by fiction it makes sense for them to administer the new service themselves. this should ensure that all news is mailed out directly without any time delay.
one of the most popular responses to the last issue was in response to a question to robert, regarding the possibility of the band releasing a limited edition flexi, produced especially for members of the information service. well, having collated all your requests the most popular requests were as follows:
1. something new, previously unreleased, and exclusive
2. the instrumental recordings, from the 'wish' sessions, that never got released
3. 'ariel' (unreleased track from radio session) / 'to the sky' (only available on 'stranger than fiction' cd)
4. live versions of 'faith' (rome '89 in particular) / 'a forest' ('wish tour') / 'forever' (any version!)
5. anything from robert's solo project 'music for dreams'
6. acoustic versions of just about everything, particularly 'fire in cairo'
7. collection of intro tapes, such as 'eyemou', 'airlock', 'tape'
8. anything hendrix cover, but particularly 'purple haze' (version recorded for the launch of virgin 1215)
9. studio version of 'forever'
10. a christmas song to go with a christmas card for all members of the is!!!
now for some brilliant news.....! the band have included the two most popular requests above and decided tomake available a limited edition cassette, entitled 'lost wishes'. it contains four previously unreleased instrumental recordings. the tracks, recorded during the 'wish' sessions in 1991 are 'uyea sound', 'cloudberry', 'off to sleep...' and 'the three sisters'. the tape has been specially 'dimension d' mixed by robert (and no, i don't have a clue what that means .... answers on a postcard please....) . this cassette will never be available 'over the counter' and is available by completing the order form on the back page of this issue. a small charge of £4.00 per tape (eec members) or £5.50 (outside eec) will be made, with all the proceeds from the sale going to the portsmouth down's syndrome trust. i haven't heard the tape yet, but i can't wait, it's been so long since we heard anything new!
the jimi hendrix tribute album 'stone free' was released earlier this year on reprise and included the cure's remixed version of 'purple haze', (not the version recorded for virgin 1215). the track was recorded at comforts place in london and produced by robert and bryan 'chuck' new.
as i'm sure you're all aware, the film, 'the crow' was eventually released in the us in may, the uk in june and throughout europe during the summer. i was fortunate enough to be invited to a small screening of the film in january. this had been arranged especially for the band, as they hadn't seen the film either until this time. immediately after the screening (stopping only for some liquid refreshment) the band left for the studio where they remixed the track 'burn'. at this time i believe it was intended to release 'burn' as a single, but it was later decided not to. however, the film version of the track is included in the original sound track album. released in the uk by east west records on the atlantic label (cassette and cd only) the full track listing is as follows:
the cure: 'burn' / machines of loving grace: 'golgotha tenemant blues' / stone temple pilots: 'big empty' / nine inch nails: 'dead souls' / rage against the machine: 'darkness' / violent femmes: 'color me once' / rollins band: 'ghostridar' / helmet: 'milktoast' / pantera: 'the badge' / for love not lisa: 'slip slide melting' / my life with the thrill kill kult: 'after the flesh' / the jesus and mary chain: 'snakedriver' / medicine: 'time baby ii' / jane siberry: 'it can't rain all the time'.
the film was the success of the summer in the usa, but, as is often the case, it didn't capture the imagination of the european cinema goers and disappeared without a trace. a great pity as it really was worth seeing..... (and i must be honest, i really didn't think i would enjoy it!).
did any of you get to see 'the cure in orange' which was screened on 26 august at the national film theatre in london? it was part of the nme's 'punk before and beyond' series of live performances and documentary films from the last 30 years. unfortunately i wasn't able to go but would love to hear from anyone who did get the opportunity to see 'orange' on the big screen once again.
there's plenty of questions following. unfortunately these were answered a few months ago and some answers are, therefore, out of date. boris has not contributed to this issue but robert, simon and perry have given lots of interesting answers and comments, as usual. i receive a letter from porl the other week, he's certainly enjoying himself. he and janet have a new house and having a wonderful time watching tod 'exploding into a bundle of energy' and yes - he may only be just over a year old - but already he loves music! porl recently received a phone call out of the blue which has resulted in him working with robert plant and jimmy page on re-workings of led zeppelin songs. obviously he's over the moon as led zep were his favourite band. they have been rehearsing recently but as yet there's no more news. porl plans to record with caroline crawley on her new album too ..... more news next time. additionally he's taken up the banjo, and shelved the tattoo shop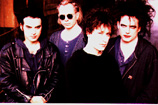 project (due to lack of personal commitment) - he's also spend a lot of time working on paintings and quote "my work is developing into a very 'free form' style" - should be interesting to see! a lot of you mentioned how you enjoyed discovering what bands who have been associated with the cure over the years are doing, so continuing where i left off last time; cranes have just released a new single 'shinning road' and an album entitled 'loveless' on dedicated records. they are at present touring the uk with 4ad band 'the pale saints'. box office poison's double a side single '1995/checkmate' is still available by mail order, simply write to russell c brennan at future legend records, 21a cullesden road, kenley, surrey, cr8 5lr for details.....peter and adam, ex of lefaye, have continued to work together on various projects over the past year, again, they'll be more news from them next time!
as robert hinted in the last issue, 'ten imaginary years' is to be updated and issued some time next year. i'm really very excited about this as i've been asked to help out with it and will be meeting with the writer, johnny black, in the next few weeks. another book which catalogues every cure release (including promos and limited editions) has been written by long-time cure fan and member of the international information service; daren butler. a keen collector himself daren has compiled the information over the past couple of years and hopes to publish the book in january 1995. it will be the definitive list of releases, and will include lots of pictures, including some previously unpublished shots of the band. although not an official publication 'the cure on record' has been written with the band's consent and input. for london based fans, the latest news on the xfm application for a london wide broadcasting license is that the new application is with the radio authority and they are due to announce their decision on new licenses on 6 october.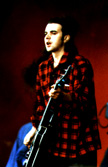 the 1995 calendar has just been published by danilo. the photos, taken exclusively for the calendar, are all new. i've just got a copy, and, i must admit, it's my favourite so far! as usual, let me remind you not to buy any unofficial calendars - they'll never come close to the standard of the genuine article! looking to the future, the band are about to start recording their new album. at last there's a major project for everyone to look forward to. hopefully some live shows are not in the too distant future too.... i imagine 1995 will be a great year for all cure fans!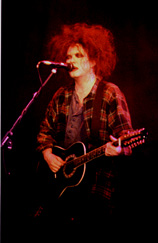 well, that's it for this time. i'll try and get the next issue together as quickly as possible. there should be lots to report. please send your contributions of any nature (what about putting together crossword or puzzle just for fun?). please send in more of your cure experiences too - i thoroughly enjoyed reading all your experiences, despite the fact that there's never enough space to include all your contributions.
a very big thank you this time goes to Chris who's helped with the weekly deluge of mail, as well as everyone at fiction, bruno, and of course, the band themselves. plus you - don't forget it's your questions and contributions that make up the majority of cure news!
until the next time, enjoy lost wishes......
love janie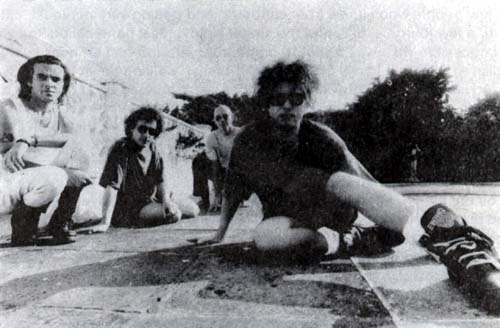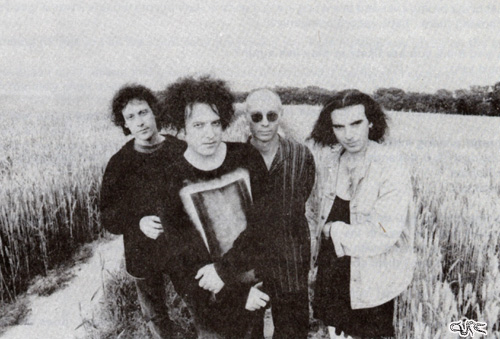 CURE NEWS 15 - QUESTIONS AND ANSWERS

R- Robert
S - Simon
P - Perry

what have you been doing for the last few months, both with and without the band?
R 	january - mixing 'burn' and visiting solicitors. february - in court
	listening to perjury. march - writing. april - house hunting! may - demo's
	and calendar photos! june - writing and watching the world cup (in america!). july - ditto!
S 	cycling, writing songs, learning mandolin, coming to terms with drinking
	too much, and sleeping in ditches.
P 	fishing.

when will the new album be released? does it have a title yet?
R 	at the moment i think of it as 'the next album' (or 'bare' sometimes...)
	after the demo's in august it will have a title (and it will be out in the
	spring).

did you all demo several tracks before going into the studio to select a shortlist, as usual?
R 	so far we have 'demo'd' 20 songs, of which 8 are destined - so we need a
	few more. (the downside of rising expectations and standards!)

what sort of direction is the new material going in?
R 	it's a very strange mixture - probably my favourite 2 or 3 songs are quite 
	'accousticy', ie brushes, accoustic guitar, strings...

is there anything we should expect from the new material?
R 	delight and pleasure (i hope!) and a bit of puzzlement...

do you think porl's departure has been responsible for a change in
musical direction?
R 	no. i'm sure porl will like a lot of the new songs.

are you still not planning to replace porl with another full-time
band member?
R 	no, although we may use other musicians on the record.

do you think porl might possibly contribute to the group again 
-either through live performance, recording or artistically?
R 	yes, i'm sure, in some capacity, he will contribute.

what on earth is the symbol on wish meant to be?
R 	i think of it as unfulfilled desire ... porl might have other ideas!

were you disappointed with the performance, chart wise, of 'show' 
and paris?
R 	i think of both 'show' and 'paris' as a 'legacy' to that particular 'cure'
	, and i'm sure in coming years they will probably be re-appraised, and 
	maybe more appreciated!? (as is anything once it's gone forever?)

why did you not release 'burn' as a single?
R 	it wasn't right: it sounded (purposefully) like an 'old' cure song (ie. 
	from 'pornography' time - 'hanging garden' in particular!)

what did you think of 'the crow'?
R 	really enjoyed it.
S 	suprisingly i thought it was really good. a bit of a cross between 'the 
	sandman' and something we have n all of us.
P 	excellent. were you surprised at the success of 'the crow', both the movie 
                 and the soundtrack, in america?
R 	not really - it has all the right ingredients, and, (sadly), brandon lee's
	death added a genuine mystique.

is it true that you shot a promo for 'purple haze'? if so, why was 
it never screened?
R 	i shot the promo over and over in my head, but as no-one but me thought 
	it was a 'good single' it's only showing there. bah! record companies!

when do you think you are likely to play live again?
R 	next year.

do you think you'll ever do a full-scale world tour again?
R 	that depends on how full 'full-scale' is! we will tour again though!

do you prefer playing indoors or outdoors?
R 	obviously that depends on the location and the weather! i like both/i 
	can hate both.
S 	outdoors.
P 	outdoors.

when playing live do you deliberately make eye contact with one 
individual in the audience? if so, how do you select that one face
in the crowd?
R 	i make 'face contact' with quite a few people near the front (my eyesight 
	isn't good enough for 'eye contact'!) i don't think about the selection, 
	it just occurs...
S 	i'm very blind.
P 	no, i don't. we're just facing each other and...

are you aware that one of your wedding photos is on the cover of
a bootleg? does this bother you?
R  	yes i am and yes it does. it's a bootleg of the cure, not me and Mary.

how rare is the cd 'stranger than fiction'?
R 	15,000, i think...

why did the cd version of 'three imaginary boys' lose the track 
world war?
R 	i really can't remember - probably (possibly) because i hate it?

did you hear the cure cover version ep by terry edwards? if so, 
what did you think of it?

R 	i honestly didn't understand it. thankfully. were you in the band on sean's show, because you couldn't be seen? 
if not, who was your stand in, and why?
S  	yes i was, but i'm not very important.

what is your least favourite cure song?
R 	'world war'! (and 'pillbox tales' and 'heroin face').
S 	a bit hard to answer this because i like the song, but with 'a forest'
	i'm fed up with going 'boom, boom,boom'
P 	can't think of one.

what are your favourite three cure b sides?
R 	off 'the top of my head'... 'happy the man', '2 late' and 'harold and joe' oh, and 'this twilight garden'!!!
S  	'babble', 'fear of ghosts' and the other one.
P 	twilight garden', 'big hand', 'new day'.

would you give up the cure if Mary asked you to?
R 	she wouldn't ask me to!

what is the 'fish-panning' method, as used on 'blue sunshine'?
R  	i moved the left hand side 'pan-pot', and severin moved the right, in this configuration (sort of!)

have you heard from any ex band members (except lol!) recently?
R  	porl!!!
S 	no.

is the forthcoming judgement on the court case preventing you from
making any plans for the immediate future?
R  	no, because i can't believe that greed and injustice will prevail!
	(although i suppose in the real world it unfortunately often does ...)

what did you feel about kurt cobain's death?
R 	helpless and sad.
S 	it affected me much more than i thought something like that could.
P 	it was regrettable.

is michael jackson guilty?
R 	always!
S  	as i said last year, he is an evil bastard, i hope in hell he burns. 
	wanker, wanker, wanker.
P 	is anyone innocent?

what do you think of the following acts:
the breeders -  R excellent / S lovely and happy / P nothing
frank black - R sometimes I like him / S not sure / P nothing
sonic youth - R  too studied / S uummmm? / P  nothing
bjork -  R aagh! (oh for the heady days of 'birthday'!) / S ok / P nothing
the lemonheads - R aahg! aagh! / S horrid / P nothing

what bands are you listening to at the moment?
R 	banco de gaia, hole, madder rose, depeche mode! 'ambient dub' vols 1-3!!! ... nick drake ...
S 	this won't go along with what i'm meant to say, but the levellers, chumbawamba, the wonderstuff and jah wobble.
P 	none.

what were your favourite albums and singles over the past year?
R  	the breeders - 'last splash', banco de gaia - 'maya', cranes - 'forever', 'kings of cajun' vols 1&2, gabrielle - 'dreams'!, madder rose - 'bring it down', nirvana - 'in utero', the whole of the 'relax with nature' catalogue.
S  	'anarchy' - chumbawamba.
P 	'echoes of spain' by john williams (they didn't put out any singles from
	 it though ...)

was it really you who sang on the fools dance song 'the ring'?
S 	afraid so!

who were the obtainers, and who wrote their songs 'pussy wussy'  and 'yeh, yeh, yeh'?
R  	'the obtainers' were 2 local Crawley boys, aged about 10, who came round 
	to my mum and dad's house in 1978 with a tape they had made at home using
 	tupperware boxes and spoons. it was so excellent, i took them to the
 	studio with me and recorded them, in between takes of 'cult hero'. the 
	single was released with 'the magspies' (one of simon's old groups) on 
	the other side. it sold about 500 copies! (and they never recorded again!)

which certain people directly inspire you to write (lyrically)?
R  	at the moment, nick drake (and pictorially mervyn peake). still.

how did you feel when you discovered that your brother daryl had joined depeche mode in the same way as you joined the cure?
P  	amazed!

who's better, the cure or depeche mode?
P	please!

is there any truth in the rumour that you took part in a major fashion show last year?
P  	absolutely not (it was the year before)

were you angry with the radio authority when xfm's application for a full licence was turned down?
R 	yes. hopefully the new application will be successful(?)


if you could ask alex harvey one question, what would it be?
R  	please can i have your t-shirt?

what do you think of mtv? do you think it has treated the cure well?
R  	i very rarely watch mtv, so i don't know. (i like ray cokes!)
S 	i don't care if it treated us well. i think it's visual mcdonald's shit. get out side. u2. bon jovi. fuck off. burn it down.
P  	don't know.

do you like beavis and butt-head?
R 	a 15 second burst once a week ... they don't touch 'the simpsons'!
S 	never seen it ... sorry.
P 	yes.

can you sing?
S 	after a fashion.
P 	no!

can you play the drums?
R  	very very poorly!
S 	ask the count.
P  	no!!

have you every busked?
R 	no, i would be too shy! (although 'unplugged' was a bit like busking!)
S 	outside. the garden.
P 	!!! many, many times. (ask robert)

what's the worst job you've ever had?
S 	in plastics, smallfields, near hell.
P 	trying to build a jetty, up to my knees in mud, with the tide coming in ...

do you listen to any of the demos that fans send you? are you ever seriously impressed?
R  	i always listen, and try to respond, but it's very unusual for anything to make me jump ... it sometimes happens, though.

do you ever go to qpr/arsenal football matches?
R 	no!
S 	arsenal sometimes.

what would you do if Eden suddenly decided that he was going to support spurs?
S 	send him back to the womb.

where's your favourite pub in the whole wide world?
R 	my back garden in summer! (i don't think i've found my favourite pub yet)
S 	the coopers. and the anchor. both in east sussex.
P 	the one that's furthest away from my house!

who's your ideal drinking partner?
R 	the moon, and the sound of the sea.
S 	robert, widge, and dave nash.
P 	claudia cardinale.

on average how many pints/bottles would you drink in a good session?
R 	i never count!
S 	now this is very hard to answer because people in groups like to be macho, but put it this way; far too much!
P 	please! have you got the right bloke here?

what is your opinion on, or involvement with, illegal drugs?
R 	why, have you got some? (i think all drugs should be decrimialized, and heroin regulated - most of the others are fine! certainly no worse than alcohol ...
S 	do what you do, as long as you can take it. don't do it to show off. i can't smoke dope but some people i know can.
P  	being illegal makes them expensive - therefore a worthwhile trade - and appealing. they should be seen for what they are - a waste of time.

have you ever been arrested? why?
R 	once in holland for public indecency. once in luxembourg for criminal 
	damage. once in japan forthreatening behaviour: all 3 times i was let 
	off with a 'warning'!!!
S  	yes. at gatwick airport, and they had a look down my trousers and couldn't 
	find nothing (in more ways Than one) phnaw! phnaw!
P  	yes. for smuggling heroin. (JOKE!)

do you have murderous instincts?
R 	not as often as i used to ... but then i don't see as many people!
S 	against child molesters. yes.
P 	occasionally.

what's the meanest thing you've ever said to anyone?
R 	no.
S 	fuck off and die of cancer.

what's the dumbest thing you've ever done to impress someone?
R 	jumped a chasm.
S 	talked rubbish which i knew nothing about to impress people.
P  	i jumped over the barrier at niagra falls - that's pretty dumb.

what would people learn about you just by observing your closest friends?
R 	i really don't know: probably nothing.
S 	i'm a drunk that likes the sun
P  	he has weird friends.

what emotions do you find hardest and easiest to show?
R 	i rarely show my anger, often my discontent.
S 	hardest is patience - easiest is sadness.
P 	don't get me on these ones, please!

what do you think when you look at yourself in the mirror?
R 	don't look too long.
S 	i never look - this is very true. when i shave i feel when i'm done by 
	feeling any bristle. this isn't a lie.
P 	'oh dear!'

do you think you are nosey or interfering?
R  	no, quite the opposite!
S 	most definitely. i am pauline fowler.
P 	why do you ask?

what makes you sad?
R 	people, mainly.
S 	hippy's stealing children's balloons, 'danny the champion of the world', 
	'la story'.
P 	everything, everything! even being happy makes me sad. i need help.

do you keep promises?
R 	i try - i hate breaking them.
S 	i really try to ... promise.
P  	yes - ish.

have you ever met someone you consider to be perfect in every way?
R 	no, and i don't think i ever will.
S 	no. yes. nearly!
P 	no.

who is the strangest person you have ever met?
R 	chris parry! followed closely by boris, simon, porl and perry. and tom wilson!
S 	most of the people at glastonbury this year.
P 	what is strange?

do you get tired of things quickly?
R 	not if i enjoy them!
S 	no, but when it goes, it goes.
P 	unfortunately yes.





do you prefer to lie and please or to tell the truth and hurt 
someone?
R 	both - it depends on who i'm talking to.
S	i think people do a bit of both, so i'm the same as anyone else.
P 	i'll bend the truth to soften the blow.

do you usually confront or avoid difficult situations?
R 	i usually confront, but i often wish i had avoided!
S	usually confront nowadays.
P 	avoid. definitely avoid.

do you care about other's opinions?
R	i value very few people's opinions, and very rarely do i take much notice!
	(this is often my worst fault, sometimes my saving grace...)
S 	i'd like to think so.
P	yes.

what's been the most terrible day/event in your life?
R 	leaving school (and passing 30!)
S 	it hasn't happened yet in someways, but Eden having salmonella was nearly it.
P	any death.

if you could chose between friendship and love, which would you chose and why?
R	i think the 2 go hand in hand. you shouldn't have to choose.
S 	i think they are very linked.
P 	love, because ... who wouldn't?

which is stronger, your head or your heart?
R	it depends who i'm with!
S 	heart.
P	my damned heart.

how do you react to rejection?
R 	i'm used to it! and it doesn't really bother me at all!
S	i don't think anybody likes rejection.
P 	i go to pieces.

what do you fantasize about?
R	perfect moments ...
S 	being a person that people like.
P	not telling you.

are you a compulsive liar?
R	sometimes.
S	how can you answer this? if i said no, how would you know i'm not a liar?
P	no, definitely, absolutely not.

who are your favourite and least favourite celebrities you have ever met?
R	i liked rodney marsh, roger daltrey, sean hughes, rob newman, martin gore,
	and tommy cooper. i think chris de burgh was the most obnoxious 
	'celebrity' i have every had the misfortune to be in the same room as, 
	but there have probably been others that i've forgotten...
S	the least favourite was paul weller a very long time ago (very evil and 
	arrogant) the best were 'cranes' and wayne hussey.
P	they are all lovely, lovely people.

who are your favourite female celebrities? why?
R 	i like kate bush for 'the hounds of love'!
S	helena bonham carter, imogen stubbs (just lust) and sinead o'conner for being sweet but tough.
P	all females a celebrities ... well almost ... (oh dear!)

are there any tv programmes which you try not to miss?
R	the simpsons! (and football!)
S	coronation street, emmerdale farm and the food and drink programme (because jilly's raving mad).
P	programmes about space - the sky at night, beavis and butt head (at the moment). i quite like
 	seinfeld and the late show.

do you watch any soaps, if so, which?
R 	aagh! i despise 'soaps'.
S	see above.
P 	no.

who's your favourite dj?
R	jed the fish.
S	not because of the music he plays but because he knows a lot of cak it 
	must be danny baker.
P	this one

do you have a favourite journalist?
R	johnny black! (i have to say this!)
S	no.
P	no.

which sports/hobbies/pastimes do you indulge in?
R	football, tennis, table tennis, petanque (with the group), snooker, 
	astronomy, cycling, drinking, reading,lucid dreaming and archeology! 
	(and very occasionally computer chess!).
S 	cycling, cycling and a bit more cycling.
P 	fishing.

do you really do your garden?
R 	i weed ..... honest!

how friendly are you with rob newman?
R	when i'm with him, very friendly! but this isn't often.

in an interview in 'best' you said that simon and perry have 
incredibly complicated lives. why?
R	ask them.

who do you think should play the character of tank girl in the film?
S 	i don't know but somewhere the real tank girl exist's so it should be her. 
	why don't more men wear leggings??!!!!
	afraid of being called names, or perhaps they just don't like them, most 
	boys prefer levi 501's.

have you got italian ancestors?
P	yes.

would you like to get married and have children?
P	no.

where do you go fishing?
P	anywhere!

do you prefer eating out or cooking at home?
R	cooking at home (no-one stares when i drop my food!)
S	depends on the lager.
P	i never cook at home (or eat out that often).

did you do the london to brighton bike race this year?
S	not this year. i did last year, but there's too many people who aren't 
	sure what they're doing so the fall off, or walk, or have heart attacks. 
	saying that, it is a good thing.

did you pass your driving test?
S	not yet.

if the other members of the band were an animal, which would they 
be?
R	simon: dog (a black friendly one!), boris: giraffe, perry: beaver (or a bear)
S 	robert: panda, boris: bat, perry: rabbit.
P	robert: fish, simon: fish, boris: fish.

have you ever seen a ufo?
R	not a 'real' one ...
S	well yes, but no one ever believed me, but it was on the brighton road 
	and it left a rainbow vapour trail (and this was before i'd tried any 
	drugs).
P	no. except for once, when i was in the swiss alps. at night. it looked 
	like this (honestly). coloured lights, a small greenish occupant. i was 
	drawn upwards by a beam of light - i remember a kind of operating table. 
	it felt like a few minutes but when i came too i found i had been gone 
	for 3 days! (my book is published next month).

have you ever seen a ghost?
R	sometimes i think i do.
S	this one i'm not sure about, but when i was about four i remember a hand 
	coming out of a wardrobe and it was trying to do a puppet show.
P	no.

do you have any phobias?
R	i hate big spiders and windows that don't open. and guard dogs.
S 	rats, spiders, heights, toads, frogs, lol. well, mainly lol.
P	no.

do you keep a diary?
R	not really - i write when i feel like it.
S 	not any more.
P	no.

what aftershave do you wear?
R	rose musk or vanilla.
S	i don't. i sometimes use patchouli.
P 	no.

what was your favourite and most hated subject at school?
R	 i liked english, and hated maths.
S	my favourite was environmental science (because we could go outside). 
	my worst was maths.
P	art (ms thornborough, mrs pegram, mrs saunders !) maths (yuk! all men) 
	which is a shame, i'd like to be good at maths...

do you ever regret not having a university education?
R	 no! i would probably have read less than i have! and i doubt i would have had as much experience...
S	sometimes.
P	well, not really, all things considered ...

have your parents always supported you in your music, or were they sceptical?
R	they have always been supportive - we even used to rehearse in their 
	dining room!
S	i've never asked them, but they didn't try and stop me.
P	they just let me get on with what ever i wanted.

what's the most useful thing your parents taught you?
R	never give up.
S	bollocks to it all.
P	don't get married.

finally, what would you like to get off your chest?
R	support the anti-roads movement, and don't ever vote conservative. 
	and always believe, individuals make a difference ...
S	this rash.
P	the hair!


(Text from thecure.com)

read the other curenews
Scans - Submitted by Ian R.