November 1995 -Cure News #16
(I need to scan in the cover and a few other pages)


curenews 16
November 1995


hello,

well...it's been a long wait...but finally i'm back with cure news 16 and lots of exciting news! firstly, i'm delighted to say that from now on i should be able to get things more quickly and accurately as perry has volunteered to become involved in the running of the service and it certainly should make things much easier and quicker from a information point of view. in fact, over the past few months so many things have been 'about to happen' that iv'e been waiting for the most opportune moment to send everything off to the printers...!

now for the news. the cure will kick off 1996 with two concerts in brazil in mid january, one schedulded for rio de janeiro and one for sao paulo. on 16 april they will release a brand new single (as yet untiled) and a few weeks later, on 6 may the long awaited (and again still untitled) album will be released. at the end of may they will start a tour of the uk and ireland, with a major london venue on the schedule. june will see a well earned break (which, purely by coincidence, ties in quiet nicely with the european cup final!!!). on independence day the world tour kicks off in earnest, commencing (appropriately) in the usa and moving on to europe, and possibly taking in japan too.

perry and roger are actively involved in developing an offical cure service on the internet and by the next issue i hope to be able to confirm details of this. as any regular 'net' user will already know, there are many unoffical cure pages, generally spreading untrue rumours about the band; the intention is to provide a service which will be updated very regularly and will ensure total accuracy of information. they would love to know what you would like to see / here / experience on a cure site.

uk fans may remember enlisting with fiction's 'curious' service (which replaced the iis's 'stop press' service). they haven't sent out any information for the last year but now we've agreed to join forces to get the service back up and running. if you haven't enlisted already write, enclosing your address, to: curious mailing, fiction records, 97 charlotte street, london, w1p 1lb.

as you all know by now boris decided to leave the band late last year and has been replaced by jason cooper, it's great to welcome roger o'donnell back on keyboards too.

i hope lots of you got to a least one of the festival dates during the summer, just for the record the band played at the following.


6 june panathinaikos stadium, athens, greece

10 june sonoria festival, milan, italy

16 june rock am see festival, konstanz, germany

25 june greenpeace festival, glastonbury, england

30 june roskilde festival, denmark

1 july torhout rock festival, belgium

2 july wercher rock festival, belgium

7 july les eurockeennes, belfort, france

9 july lisbon super rock, gare maritima de alcantada, portugal

14 july gurten festival, bern, switzerland

18 july plaza de toros de las ventas, madrid, spain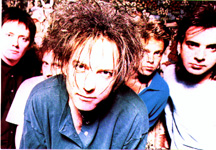 i went to glastonbury where unfortunately if i stood near enough the stage to hear i couldn't actually see anything and if i went up the hill to get a good view the sound wasn't too hot!! consequently glastonbury '95 will not go down as being one of my favorite cure shows! bbc radio one broadcast the majority of the show live and channel four included some highlights in their coverage of the event.

the following friday chris and i decided to fly to denmark for the roskilde festival - this time i was taking no chances - we were allocated 'all access' passes therefore allowed to stand on the stage. great view, great sound. great show. afterwards we went with the band over to another stage to watch supergrass who were performing. another great show. we all went back to supergrass's changing room for a couple of beers before being virtually dragged out by our driver for the treaterous drive back to copenhagen in a very dodgy mini-bus. luckily perry's and simon's jokes kept our minds off the fact that the driver was going at about 120mph in the pouring rain through the road works!!!

for the record, the cure played a total of 30 songs, including three new titles, across the festivals, which are as follows: want, fascination street, a night like this, pictures of you, lullaby, push, just like heaven, trust, jupiter crash, dressing up, high, the wak, friday i'm in love, inbetween days, from the edge of the deep green sea, shiver and shake, disintegration, mint car, close to me, let's go to bed, why can't i be you?, charlotte sometimes, a forest, end, boys don't cry, 10.15 saturday night, a strange day, three imaginary boys, killing an arab, forever.

before heading off on the festival tour of europe the band recorded 'dredd song', their contribution to the soundtrack of sylvester stallone's movie hit 'judge dredd', the soundtrack was released worldwide by sony.

they've also covered bowie's 'young americans' - their contribution to '104.9' a compilation album to promote xfm's application for a london-wide radio license.

robert met with david bowie for the first time a couple of months ago to record an interview with him for xfm.
they chatted about such diverse subjects as art, touring, fame, their favorite records and barry manilow!!

one last album to look out for is a compilation called 'devolution' alternative rock classics 1975-85 - it includes the original 12" mix of 'a forest' (the only time this track has been available on cd), other artists include joy division, new order and killing joke.

the official cure calendar has just been published by danilo. if features all new very strange photos by paul cox.

the band's answers to your questions on the following pages were completed during the summer, so some are a bit out of date - iv'e decided to include everything anyway, as they still make interesting reading.

questions and answers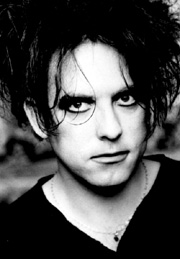 robert has very kindly given me two signed shirts to give away - these will be donated to anyone who sends an entry for the next issue - so get writing - reviews, experiences, curefriends, pictures, puzzles, anything at all!

the first two 'out of the bag' get the shirts.

many thanks to everyone who helped with this issue, particulary perry - it's great to have you on board! and a special thank you to daryl and brian of looking after us in copenhagen!

until next time..happy christmas...see you next year...


love
janie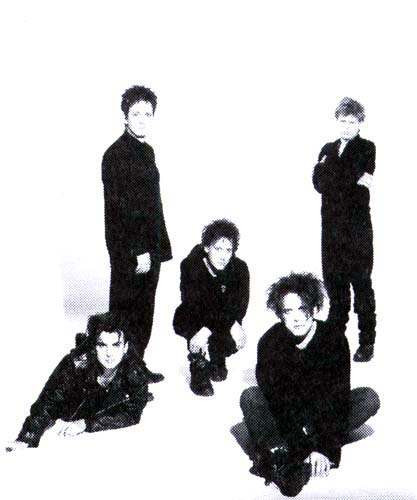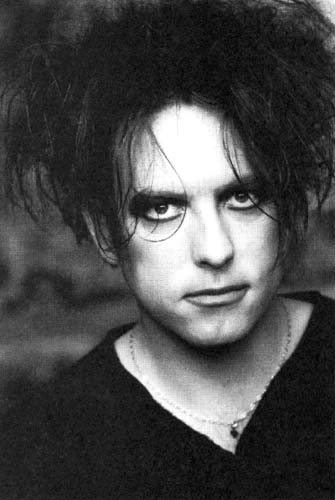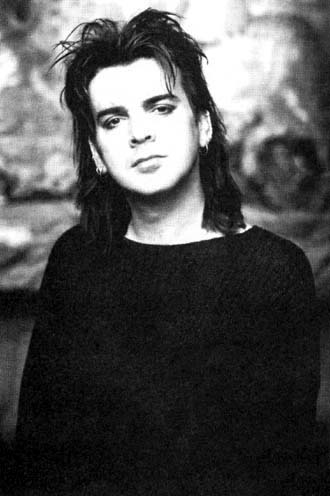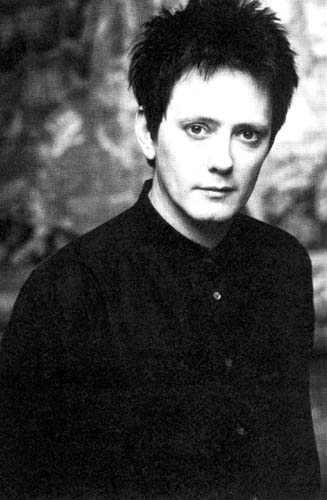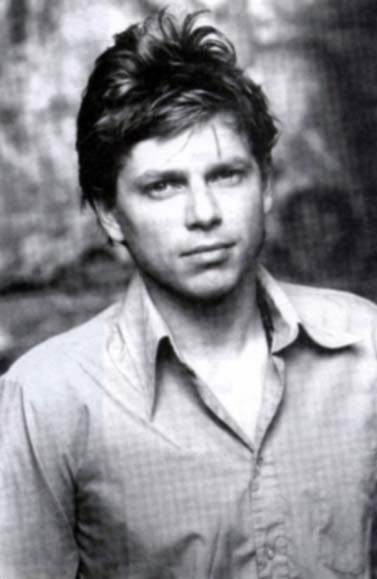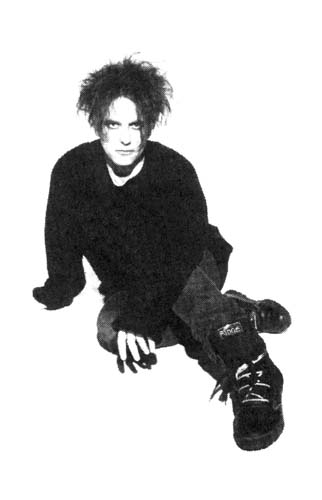 curenews 16 questions and answers

r - robert, s - simon, p - perry, o - roger, j - jason

what have you been doing for the last year?
r 1994 - june - world cup! / july - 'lost wishes' / august - demo's without
boris / september - writing auditioning drummers / october/november/
december - recording at st catherine's court, bath, with
7 different drummers - jason cooper/mark price/ronald austin/louis pavlou
/bob thompson/martin gilkes and scott? january 1995 - jason joined /
february - roger re-joined / march/april - recording and living -
tennis in earnest! may - rehearsals / june/july - european festivals
august onwards we will be finishing off and mixing the new album...
p hanging out in jane seymour's house.

what are you currently doing in the studio?
r i'm singing and mixing, we're going to finish all 25 songs before choosing
which make it onto the record. we also just did a cover version of
'young americans' by bowie for the xfm album.

when will the new album be released?
p god knows! when it's finished!! (probably march '96).

does the album have a title yet and what musical direction does
it take?
r sometimes in my head it's called 'bare' other times it's called 'jupiter
crash'. there isn't one particular 'musical direction' - it's very diverse.
p no, and it's quite multi-directional at the moment.

who is producing the album?
p steve lyon and robert.

which of this year's festival dates was your favourite, and why?
r i really enjoyed them all - athens was good because it was first and
there was a lot of 'excitement'(?), glastonbury was a funny day, madrid
was an unexpected bonus, but i think i enjoyed belfort most - it was just
one of those concerts where everything worked.
s tourhout. we played and acted in a very cure way; ie upsetting
professional bands and not knowing what we did wrong/right to offend them.
p athens because it was first, glastonbury because it was glastonbury and
madrid because it was an extra - just when we thought we had to stop!
o athens. it was the first and it's a excellent city.
j glastonbury because it was at home.

which of the other bands playing at the festivals did you like?
r supergrass were excellent, the best band i've seen this year by a mile.
seeing poz on stage with p&p was heartwarming!
s oh let's be honest, no one.
p i thought pj harvey was amazingly good - very talented. i enjoyed
watching rem too.
o van halen, blur, sinead, definitely not rem or p&p.
j supergrass, pj harvey.

were you nervous before your debut cure show in athens?
j yes.

will you perform any shows before the end of this year?
r it is highly unlikely, although plans are afoot for south america in
january and everywhere else to follow!

will you work with tim pope again?
r i hope so!
p i don't know, probably yes, i'd like to ...

is the follow-up to '10 imaginary years' still going ahead?
r yes - johnny black is currently working on it - it should be out next year.

were you surprised at boris's departure from the band?
r i was surprised at the timing.
s yes, very much, and i still miss him very much. but saying that we now
have jason who otherwise we would never have met, so every cloud etc etc.
p yes.

are you still in touch with him with him? if so, what is he doing?
r he has visited us in our studiohouse several times - he even played some
glitter songs with jason! - he is playing with his girlfriend caroline.
p yes. he is recording with caroline.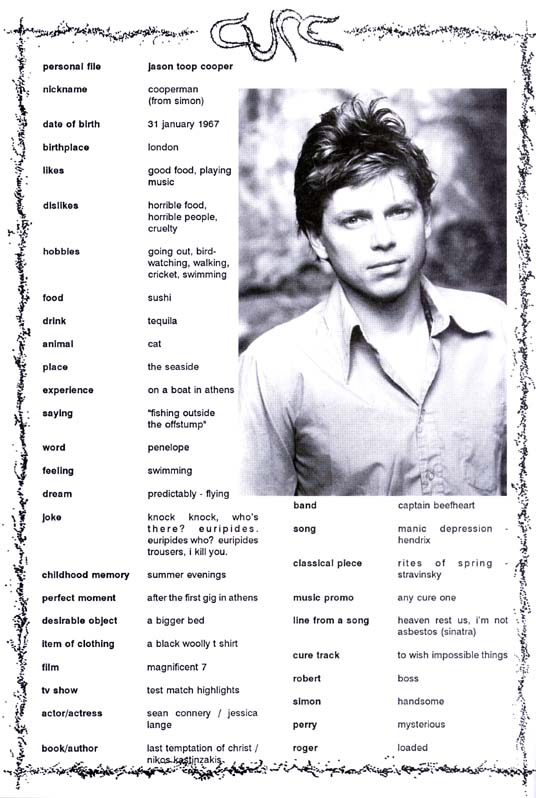 which band(s) did you play with before joining the cure?
j jean jaques burnell of 'the stranglers', 'my life story'.

when you answered the 'anonymous' ad for a 'drummer wanted for international band' who did you
think it would be for?
j i wasn't sure but i knew it was a very famous band.

when you discovered the cure were behind the ad how did you react?
j happily.

were you ever musically influenced by the cure?
j yes, during the '17 seconds', 'faith' era, very much.

when rehearsing for the live dates, how did you feel learning 'old' cure material - did you deliberately try to emulate the original sound or did you try to add your own identity to these numbers?
j a bit of both.

are you enjoying being part of the cure?
j yes, very much.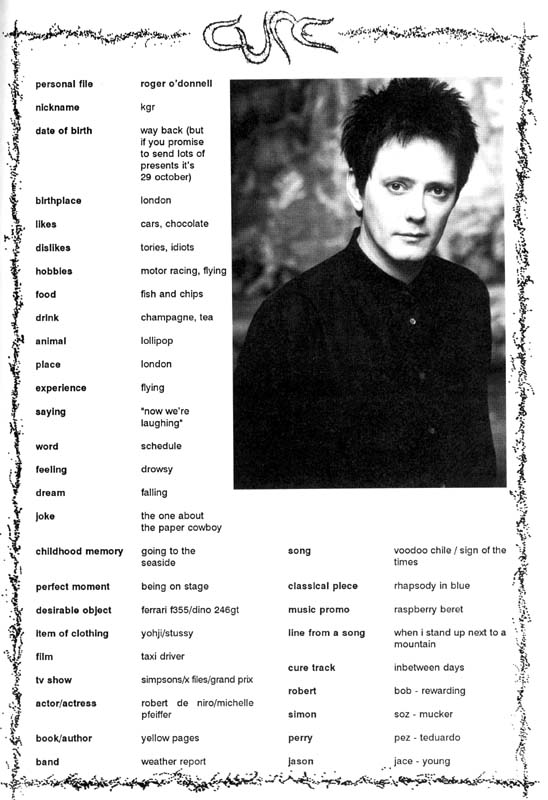 what have you been doing since leaving the cure five years ago?
o designing clothes and recording my solo album.

are you happy to be back?
o yes.

what do you think of 'wish' - do you think it would have sounded
different if you had been part of the band at the time?
o excellent. completely.

will you move back to england?
o i already have.

how did you arrive at the 'lost wishes' titles of 'uyea sound',
'cloudberry', 'off to sleep' and 'the three sisters' - what is
the inspiration behind each of these pieces?
r 'uyea sound' was based around a porl demo idea - it was called 'old
scotland'... ('uyea sound' is a place in scotland). 'cloudberry' was
based around one of my demo ideas - it was called .....
'cloudberry'! (a scandinavian liqueur). 'off to sleep' was based around
a simon demo idea - it was called 'off to sleep'!. 'the three sisters'
was based around a teddy demo idea - it was called 't3' (the third idea
on his home demo tape) - i preferred 'the three sisters'.

will porl still help with the artwork on the next album sleeve?
p no - he's too busy!

what do you think of porl's work with page and plant?
r it's not really my 'thing' but i can see why he likes doing it!
p i couldn't think of a more perfect job for him. have you heard page and
plant's cover version of 'lullaby' which they played live during the
recent tour?
r not yet...
p no, they dropped it from their set when we played on the same bill.

what did you think of 'loved' by the cranes
r lots of it is excellent.

what do you think of siouxsie and the banshees new album 'the
rapture'; any parallels with the top?
r i haven't heard it.

what do you think of the trend towards english bands at the moment,
such as blur, elastica, suede, sleeper,oasis, gene, menswear, etc?
r i don't think anything - i'm afraid i'm not really excited by any of these
seven too much - i do like 'portishead' though.
s i hate london and manchester.
p i didn't know of this 'trend', but it's nice that english bands are
popular.
o it won't last.
j although i'm not into all of them i think it helps other unknown english
bands retain an 'english identity' and not have to emulate the american
sound of a few years ago.

is it true that you asked supergrass to support you on tour next year?
r i can't remember! probably...

do you know about 'fat bob and the cure heads' - another cure covers band? if so, were you tempted
to see them play live earlier this year?
r i've heard the name - not strangely enough i'm not the slightest
bit tempted to see them 'play live'!
s no and therefore no.

do you surf on the internet?
r i tried it once.
s i woke up this morning with a strange zebra like makeup smeared across my
face, a club still in my hand, splinters embedded in my wrists from yet
another smashed spinning jenny.
p no. i've paddled.
o yes, i'm on compuserve if anyone wants to e-mail me.
j when roger lets me.

do you plan to get the cure on the internet? have you seen what
other bands are doing and what do you think of their efforts?
r yes, although in my current state of mind i'm not sure why.
p yes, we plan to get on line because there's so much unofficial 'news'
about us on the net. i haven't seem other bands' stuff.

have you read the two recent cure books; 'on record' by daren
butler and 'faith' by dave bowler & bryan dray? if so, what did
you think of them?
r yes, i read both of them - 'on record', by it's very nature, was dry -
but very well researched! the other one was pretty funny - a strange
weave of clippings, history, supposition and bad psychology! weird...
(and the strangest photo of not mary i've ever seen!)
s i've looked at daren's book but i don't know what to say ... it's very colourful.
p i've seen daren's book. i imagine it's quite useful for collectors.

describe the average cure fan
r i honestly don't thing there is such a thing.
s honest, decent, hard working, clever, thoughtful, mad as a resident of yabby creek!
p quiet. sensitive. unstable.

do you listen to cure records at home?
r usually only at christmas and birthdays...
s home?
p occasionally.
o no (only when i'm learning for tour) ... (actually i did start listening
just before robert phoned to rejoin).
j yes.

how big is your personal record collection?
r ummm...probably 1000+ albums - i really don't know!
s 13 cure cd's and about 25 different tapes and about 20 cure demo's.
p not that big at all.
o large.
j small as they were all stolen earlier this year.

do you have any new guitars?
r yes - a gretsch 'tennessee rose' (from teddy), and old stere gibson
335, and 2 takamine acoustics, a 6 string and a 12 string.
p i have a gibson les paul (which i'm not allowed to use!).

what was the first song you learned to play?
r 'jimmy crack corn' i think!
s 'messing about on the river'.
p 'catch a falling star'.
o i've never learnt any.
j something off bowie's 'pin ups'.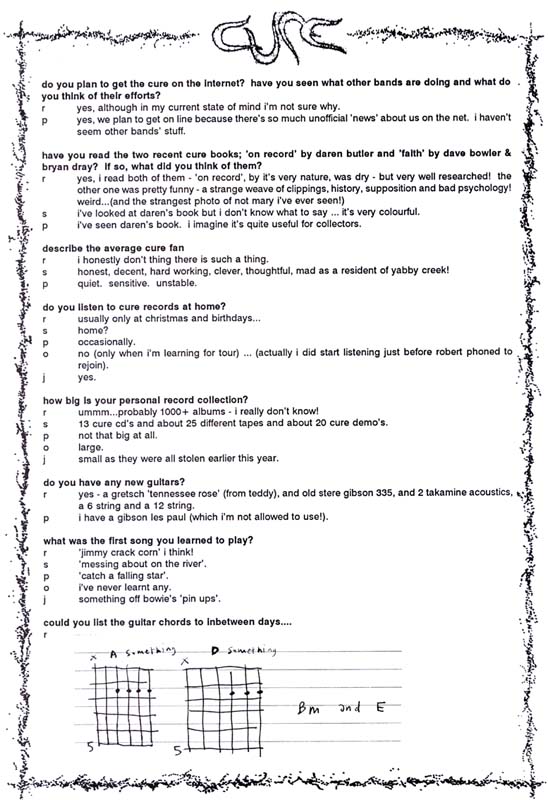 what are your three favourite all time songs?
r at this moment (on a bed in a hotel in zurich!); 'somewhere over the
rainbow', 'the second star to the right' and 'jerusalem'.
s 'wasting my time' - take that, 'complete control' - the clash,
'malteser of love' - hot chocolate - this is just made up on the spot, it
changes everyday.
p that's a very difficult question to answer.
o too many to single out.
j 'true love' - high society, 'foxy lady' - jimi hendrix, 'strangers in
the night' - frank sinatra.

what music would you have played at your funeral?
r 'adagio for strings' - samuel barber, 'gayaneh ballet (invention)'
- khachaturian, 'enigma (variation ix nimrod)' - elgar, 'symphony # 6
finale' - tchaikovsky, 'symphony #5 part 3 adagiett' - mahler,
'requiem' - mozart and some hendrix, bowie, nick drake, sahb and joy
division too - maybe even a couple of cure songs? - what a bill!!!
s atmosphere - russ abbott.
p warszawa - from 'low'.
o none (everybody would be too sad).
j strauss' four last songs followed by something happy.

what are the three most important events in the history of music?
r for me - the first time i heard 'help' by the beatles. the first time i
heard 'axis bold as love', the first time i was sahb live.
s michael jackson being killed. delores o'riorden being twatted for being
a miserable cow and the bloke who sings for elastica's sex change.
p the birth of mozart. african's being taken to america as slaves. the
invention of electricity.
o nothing is important about music (but definitely not the invention of the
drum).
j invention of the drum. invention of the guitar. invention of the bass
guitar.

where were the photos taken for the 1995 official cure calendar?
p i can't remember - oh yes i do - at jane's house.

in cure news 4 you said the best line you've ever written was
"there's nothing left but faith" do you still agree with this?
r no - i think it's "please stop loving me i am none of these things".

looking back which era of the cure do you prefer musically?
r the next one...
s it's like trying to choose between christmas or your birthday.

is there one piece of criticism that sticks in your mind?
r no - i disregard all criticism!
s yes. "you are not very good at hoovering simon" by peg gallup, 1960.
p nothing that loses me any sleep.
o keep the nose up.
j stop playing so loud.

what was the best advice you've ever received?
r my piano teacher suggested i should try another instrument...
s "try plugging the hoover in first simon".
p learn to play!
o ..... go on, buy it.
j play loudly.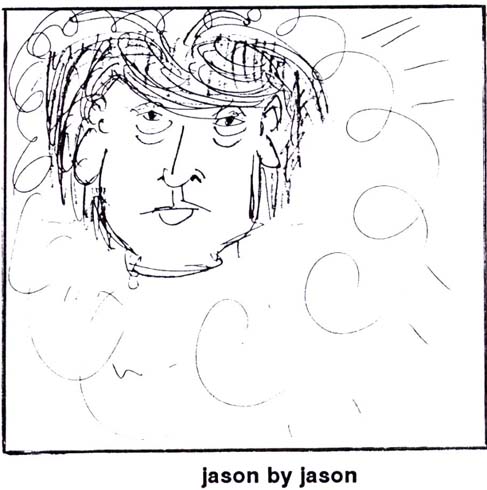 what's your greatest fear?
r big spiders and getting old.
s getting pissed and waking up dressed in a schoolboy outfit in neverland
mansion while michael jackson looks on popping raisins in his mouth.
p dying and finding out is was only one life of many, and having to do it
all again.
o death.
j sharks.

what characteristics do you think you've inherited from your
parents?
r from my dad - a desire to know. from my mum - resolution. from both -
an enjoyment of life.
s hoovering.
p none that i'd admit to - probably lots!
o humour.
j fondness for drink. chubby knees.

does your conscience stop you from doing a lot of things?
r yes! (but not too many...)
s yes. but not as much as it used to.
p yes!
o yes.
j no.

what is the saddest thing you've ever seen?
r mans endless insatiable desire for war.
s eden lying in a crap hospital bed with tubes coming out of him.
p someone completely broken, crying in despair. or people who are in total
fear and confusion such as in war news footage.
o my hero ayrton senna killed.
j two children burnt to death on tv.

do you consider yourself to be too sensitive?
r sometimes.
s no, but too defensive.
p please, don't ask me that ...
o yes.
j yes.

do you wish too many impossible things?
r always.
s yes, i suppose i do. but there's nothing wrong with that ... right?
p no, there's always a chance ...
o no. they come true.
j yes.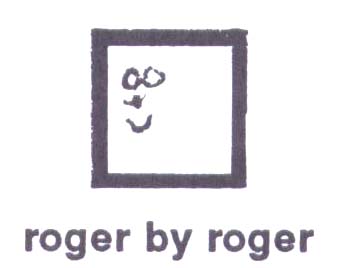 is there any one thing (not person!) you absolutely couldn't live
without?
r sleep.
s no (i think i might have lied because i can't be bothered to think).
p i can't think of it, so, no.
o a piano.
j my eyes.

have you every experienced absolute happiness?
r yes - but not often, and never for long.
s i don't really know.
p yes - i had it, briefly.
o yes, fleetingly.
j i think so.

where is the most beautiful place you've ever seen?
r it's still the lake district.
s i really can't answer things like this. these are the type of things
that lol tolhurst would have answered in some shit type way.
p it was in my head, whilst i was experiencing absolute happiness.
o rome.
j england in the summer.

have you got every material thing you need? if not, what's missing?
r i'd love a big garden full of fruit trees and flowers.
s no! a tv, a washing machine, a toaster, a key, a tumble dryer, heating,
a cupboard, a video, a record player, a bookshelf, some books. and a
bread bin.
p i've probably easily got all i need, all i want is a different matter ...
o a ferrari.
j a larger bed (if you saw it you'd know what i mean).

are you health conscious? do you eat health food and exercise?
r i play tennis and football - infrequently and badly - so, ummmm...no!
s yes and no. i don't eat health food but i cycle a fair bit, the silk cut
factory is quite a way from here.
p i try to eat 'properly'.
o no.
j sometimes.

what's the first thing you do when you wake up?
r wonder where i am.
s after much deliberation i have been informed by different people that a:
i scratch my bollocks, or b: i have a piss. i was going to say that i do
sit up's but apparently i'm a slob.
p try to decipher my dreams.
o go back to sleep.
j try and get up.

what is your ideal night out?
r one that ends in bed, not tears.
s meditation and them on to the opening of a new play in the west end and
then a cheese and wine supper with a few close friends ... is it fuck.
the same as always. the pub!
p when everyone else goes out and i stay in (but when we get to american
i'm taking jason out!)
o staying in.
j with someone i love.

what are you like when you're drunk?
r unpredictable and very unsteady.
s a dickhead.
o stupid.
j happy.

did you have a street (or studio!) party for ve day?
r no (although i think we had sausage and beans for our studio 'tea'...).
s yes! it went like a bomb!
p ve? virtual experience? vj? something to do with mtv? (no we didn't).
j no.

do you think england has lost it's identity?
r i think its character is changing for the worse - we have needed a new
government for years.
s this is one for the nme.
p no, there will always be something essentially english however the
country changes.
j no, it's just changing.

have you read any goods books lately?
r 'arcanum 17' by andrĒ breton,'the drug user' - various and 'the solid
mandala' by patrick white.
s 'silver wedding' - maeve binchey ... honest ... no really ...well ...
p i have a huge pile of unfinished/unread books beside my bed.
o no.
j pd james, sam sheppard - selected plays.

what football team do you support?
p qpr (he told me to put this ...)
s arsenal
o west ham.
j none, but i like to watch it sometimes.

did you go to qpr last season?
r no, but I am definitely going next!

what did you think of george graham's departure and were you
devastated at arsenal's defeat in the european cup final?
s poor old george was destined to go ... and talking of destiny, the defeat
was the same. this season will be the same. 5 o'clock saturday. "everton 0
arsenal 0.

did you see the eric cantona incident? what did you think of it?
r although i loathe mufc (who doesn't?!!!) and think eric is un peu 'cod',
my sympathies were with him entirely.
s i fucking hate manchester united but saying that good luck to him, it
made compulsive viewing. i loved seeing the little shit get kicked in
the head (and i'm sure most people did).
p so long ago ... his kick was too low.
j no. it was a well executed drop kick.


do you play the national lottery?
r sometimes at the studio - i tried 1,2,3,4,5,6!
s sometimes.
p yes! occasionally - and i haven't won a penny.
j yes.

did you see judge dredd?
r yes. i was very disappointed (not surprisingly!).
s yes. but the cinema i saw it in was awful so it wasn't a good
environment to judge it in but i'd say, better than 'batman' but not as
good as 'mighty morph'n power rangers'.
p no.
o only clips which i thought were crap.
j yes. marginally better than 'batman' which was terrible.

did you find the tolhurst court case mentally draining and
stressful? will it leave a long term effect on you?
r the preparation involved was tiring and time-consuming, but i actually
enjoyed the court proceedings themselves - seeing the smug slug squirm made up for a lot!

do you resent the amount of time you had to spend preparing for
and at the court case?
r yes - when i think of how many hundreds of hours i had to spend with
dusty old documents and lawyers, it still makes me very angry.

were you aware that cure fan helen bolton of birmingham took
promoter harvey goldsmith to court claiming costs and compensation
for a poor view at a cure show at the nec? she had purchased top
price second row tickets but was unable to see much of the show
as the view from the seats was obscured by a bank of speakers.
she lost the case. do you think this is fair?
r i have heard both sides of this tale, and as i've never heard anyone else
complain about 'sightlines' (speaker placement is very carefully thought
about), i'm not really sure what to think...

do you have any new hobbies?
r walking.
s yes, vagrancy.
p i've just built a remote controlled boat and a car, and roger's just
bought a hot air balloon, and last year i started fly-fishing.
o tennis.
j birdwatching. watching films.

do you know any good jokes?
r unfortunately not!
s yes. but it's too long to tell here and i dreamt it anyway, but the
punchline was "you're talking shit"!
p sorry no, except ones which are so long i couldn't write them down.
o no (loads of bad ones)
j only one and it's too disgusting to write down!

what will you do after answering these questions?
r go and play the konstanz festival!
s go and get a fosters ice (last one) and smoke a cigarette (last one) and
go to bed (last one).
p sleep.
o have a cup of tea.
j practise the drums.