October 1996 - Cure News #17

Curenews 17
October 1996

hello,

Welcome to curenews, the publication of the cure's only offical international information service. my intention was to make curenews a quarterly publication, but the last 12 months have flown by without me noticing, and every time i've been ready to complete this issue more news has come along, so i decided to wait until the european concerts were finalised, and with help from chris, we have put together as much information as possible. unfortunately the orginal questions given to the band last may are now out of date, so i have decided to publish only those which are relevant.

so what's been happening....?

late last year on 15 december the cure were personally chosen by mtv europe's vj ray cokes to appear on his final 'most wanted' show. chris and i were invited to join 'club bed' as part of the very small studio audience. they played 'mint car' and 'friday i'm in love' with ray cokes guesting on some very dodgy rhythm guitar! robert was interviewed by ray and jason and perry went to bed together!!

the cure kicked off 1996 by flying to south america for two concerts in brazil on the 21 and 26 january. they seized the opporunity to take plenty of video footage on the trip, including a hysterical insight into their flight, which included 'supergrass' who were also on the same bill as the cure. the footage was highly amusing, particularly the bit where perry and daryl were trying to get the pilot and crew drunk!!! once they had arrived, the reception they received was amazing with several fans taking up residence outside their hotel and greeting them with total hysteria every time they ventured outside! a review of one show is included later in the issue.

during march chris white and i were invited by the band to st. catherine's court (actress jane seymore's magnificent house near bath in the south of england) where the band built a temporary studio to record the album. we were treated to a playback of the album, talked about the information service, looked at lots of pictures, watched hours of unseen south american video footage and had a guided to of the early stages of the cure web site, courtesy of roger. we a wonderful time despite the fact that we arrived the day after the video production crew had partied the night away with the band and everyone was nursing incredibily bad hangovers!

the said crew eventually recovered and, on 21 march, we were invited to bow film studios, east london, to take part in the video shot for "the 13th". we had great fun, the band had invited lots of friends to appear in the 'studio audience" sequence. an mtv crew were in attendance too. the promo was directed by sophie muller of production company 'oil factory'. the finished result was, in my opinion, brilliant. two versions were made althought only one was widely shown on television. the only great pity was that there were so many "off camera/out-take' happenenings which were so funny it's a shame they couldn't all have been included!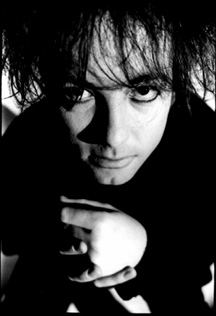 during april and may the band were engaged in some frantic pr activity, including some european television shows, and british appearences on 'later with jools holland' which was filmed on 23 april (broadcast 11 may), where they performed 'club america', 'this is a lie' (with a string quartet), gone! (with real brass!) and a brilliant version of 'mint car'.

robert was also interviewed by jools and confessed to being a regular viewer of 'qvc' the home shopping channel. then followed two separate appearances on 'chris evans' 'tfi friday'; 26 april performing 'friday i'm in love' and 'the 13th' / 31 may performing 'mint car', before rushing through the london traffic for the concert at earls court later that evening. they also made two appearences on top of the pops for 'the 13th'.

on 7 may the long awaited album 'wild mood swings' was launched at a secret concert from a small night club, the adrenalin village in chelsea, london. the audience was personally invited by the band and fiction / polydor and the event was broadcast live on mtv. the information service managed to secure 30 pairs of tickets at the last moment for members and these were sent out at random, so i'm sorry if you were'nt lucky enough to be chosen. we were treated to a live version of the new album followed by an encore of greatest hits, a review of the show is included later.

the night before the band also perfromed a secret show at l'opera bastille in paris, france, but due to technical problems the band opted for a shorter set. later that week the cure jetted off to new york for more pr, radio session and an appearance on 'saturday night live'.

the cure were due to start the 'swing tour' on 21 may in aberdeen, scotland. unfortunately due to technical problems with lighting for the tour the first dates were rescheduled, then upon returning from new york robert was taken ill, resulting in the initial part of the tour being postponed until december this year. subsequently the tour started in london on 31 may and june 1 (simon's birthday) at earls court. both concerts were very different but equally enjoyable.

on 6 june we were invited back to bow film studios for the 'mint car' shoot, directed by richard heslop of oil factory, this time we got to wear full costume! again, great fun was had by all, particularly in the 60's party scene, which was so much fun we wanted to carry on after the shoot had finished. a memorable experience sepecially when robert crawled underneath a glass table and got beer poured all over him to get that late night drunken party effect!!!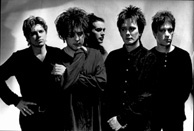 the cure's offical web site was launched on 6 july and is presented by robert goodale, who is also executive producer of the offical sites of 'rolling stones' and 'david bowie'. the site's 'house page' at www.thecure.com is graphically based on 'st catherine's court' and contains several different rooms which can be accessed, with each room providing a different theme. in the near future it is hoped that you will be able to access curenews on line too. the band are also keen to visit the site and chat with their fans so keep visiting on a regular basis and let me know if you 'make contact'!!

Cure News 17 questions and answers
r - robert
o - roger
s - simon
p - perry
j - jason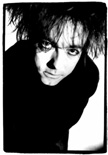 how do you feel now that the album is complete? has recording it been an enjoyable or frustration experience?
r relieved / happy / sad / proud / empty. as ever, a mixture of enjoyment and frustration, and pain and insensibility and mania and...
o a mixture of both, although the music has made it all worthwhile. also being together for so long means we are much closer.

what is your favorite track from the new album
r 'want' or 'bare' or 'treasure' or 'jupiter crash' or 'this is a lie' or 'trap'...umm! i really like'jupiter crash'. i think it's a really good song.
o 'bare' classic cure, a cure classic, 'jupiter crash'. i think that's lyrically one of the best songs robert's ever written, the words just work brilliantly.

how did you go about choosing steve lyon to produce the album?
r based on his engineering credits with depeche mode - he is credited as 'co-producer' because i'm generous!

do you have any memorable experiences from south america?
r the beach and the shows and the clack crowes!
o i met my hero ayrton senna's sister viviane which was a very emotional thing for me and i will never forget it...

did you meet up with ronnie biggs!!? (like supergrass did)
r yeah right...not.

were any of the concerts filmed?
r rio was shown live on mtv and will subsequently be re-broadcast in and edited form.

did you enjoy being on the final episode of mtv's 'most wanted'?
r hugely!
o yes - ray cokes is a really nice guy and it was fun and i got bjork's autograph.

jason, did you know at the time the cure were the band taking the advert for a new drummer in the press?
j well, there was an advert in a paper called melody maker, and the ad said "very famous band needs drummer,
no metalheads" so i answered that. i'd filled it in as i was sending it back, i looked on the envelope and it said
charlotte house, fiction. so i sort of thought there's only one very famous band. i wasn't quiet sure, but then
they told me obviously after i'd passed the first hurdle.

how did you demo the songs for 'wild mood swings'?
s the process of when we write and record ahs been the same as ever really. we all go away and come up with
or put ideas down on a porta-studio, and then we all get together and sort of sit around and play each others ideas.
p robert, when he's accumulated some songs he's happy with, you'll get a call from him: "i've written some songs,
we should all meet up, have you done any yourself"? and you sort of say, yeah, a few! then we all play each other's ideas!

how's the biography coming along?
r it will definitley be finished this year!

would you consider a small concert for fan club members?
r it could happen.

why did you decide to cancel the first uk dates of the 'swing tour'?
r i was ill, i was suffering an infection to my ears, eyes and throat, but we will be back later in the year to play the concerts we cancelled.

is the cure a 'men only' band or would you ever consider letting a woman in?
r from (limited) experience i know that having a female in the band changes 'the dynamic' (for want of a better word)
- musically it would be fine, but i don't think i could bear the showing off...

are you worried that young people consider the cure as old and tired?
r i don't know anyone that does: i don't feel i; so i'm not worried!

you said years ago that your greatest fear was being old. at what age do you think you will be old?
r 101.

do you ever feel angry or disappointed that the cure are often omitted from television and radio documentaries that refect the eighties?
r we don't buy the right people drinks.

where do the backward noises on 'babble' and 'pornography' come from?
r television.

what do you think of curenews?
r i find it interesting (particularly what the others write!)
o excellent (janie's watching me do this....!)

have you ever abused your position of being a member of the cure?
r probably? ummm... i've thought about this for a few minutes now and i don't think i can answer it.
o yes, frequently.

have you ever dreampt of a fan?
r yes.
o last summer when it was really hot..

is Mary musical - does she ever influence you musically?
r yes she's musical - and i ask her what she thinks - but influence is not what i look for.

are oasis the greatest band in the world?
r surely not just the world, but all worlds, how did we ever live without them?
o no, possibly the shite-ish.

what are your favorite single of 1995?
r alright - supergrass
o army of me - bjork

what was the musical hype of 1995?
r britpop (of course).

if you could send one person to hell and canonise another, who would that be? why?
o i don't belive in either place.

do you get jealous easily?
r never
o at the drop of a hat!

how do you react to confrontation, when was the last time this happened?
r unfortunately i can never walk away, this happens all the time.
o bably

what do you think of french nucear tests? do you think the citizens of france could have done more to influence their government on this issue?
r what, like we the citizens of the uk do more to influence our government to not condemn them? we boycotted
french goods and then stopped when they were finished: that's the way of the world, unfortunately.
o oui.

what do you wish for the future?
r peace love and happiness and the rise of a global matriarchy.
o damon hill as world champion.

is there something you've always wanted to do, but still haven't?
r gone into space. had a vision of god, played for qpr!
o no.

what period of your life have you enjoyed the most so far?
r the last year (and when i was 13.)
o not the last 12 hours (awful hangover!@*!)

do you have any pets at home? if so, what are their names?
r no, but when / if i ever get a big beautiful garden, i'll fill it with rabbits.
o i had to give my cat 'lollipop' away when i moved back to london.

do you have a house maid?
r i have a team of personal slaves who sleep at the foot of my bed..umm..no. it's not a big enough house for three..

do you speak any foreign languages. how well?
r french - comme ci comme ca! - and babble.
o ja, si, oui and ne pas bien.

finally, what is you personal message to your fans...
r i hope you enjoy the concerts - it could be the last time! (well i have to say it, don't i!!)

the cure - swing tour '96
(please note, all dates are subject to change: please check local press and venues before travelling)

May
fri /31 - earls court-london-england

June
sat/1 - earls court-london-england
tue/4 - the point-dublin-ireland
sat/8 - provinssirock festival-semajoki-finland
tue/13 - hulsfred festival-hultsfred-sweden

July
tue/2 - the centrum-worcester-ma-usa
thu/4 - molson centre-montreal-quebec-canada
mon/8 - continental arena-east rutherford-nj-usa
tue/9 - nassau coliseum-uniondale-ny-usa
wed/10 - the spectrum-philadelphia-pa-usa
fri/12 - eden musicfestival-mosport park-clarke-ontario-canada
sat/13 - palace of auburn hills-auburn hills-mi-usa
sun/14 - riverfront coliseum-cininnati-oh-usa
tue/16 - gund arena-cleveland-oh-usa
wed/17 - civic arena-pittsburg-pa-usa
sat/20 - rosemont horizon-il-usa
mon/22 - bradley convention centre-milwaukee-il-usa
tue/23 - taget centre-minneapolis-usa
thu/25 - riverport ampitheatre-maryland heights-mo-usa
sat/27 - mcnichols arena-denver-co-usa
tue/30 - hult centre-engene-or-usa
wed/31 - arlene schitzer concert hall-portland-or-usa

August
thu/1- queen elizabeth threatre-vancouver-canada
sat/3 - george ampitheatre-george-wa-usa
mon/5 - san jose arena-san jose-ca-usa
tue/6 - cal expo ampitheatre-sacramento-ca-usa
thu/8 - delta centre-salt lake city-ut-usa
fri/9 - thomas & mack centre-las vegas-nv-usa
sat/10 - great western forum-inglewood-ca-usa
sun/11- great western forum-inglewood-ca-usa
sat/17 - irvine meadows-irvine-ca-usa
sun/18 - america west arena-phenix-az-usa
mon/19 - tingley coliseum-albuquerque-nm-usa
wed/21 - reunion arena-dallas-tx-usa
thu/22 - frank irwin centre-austin-tx-usa
fri/23 - the summit-houston-tx-usa
sun/25 - lakefront arena-new orleans-usa
thu/29 - usf sundome-tampa-fl-usa
fri/30 - miami arena-miami-fl-usa
sat/31 - orlando arena-orlando-fl-usa

September
thu/5 - stephen c.o connell centre-gainesviolle-fl-usa
fri/6 - coca cola ampitheatre lakewood-atlanta-ga-usa
sat/7 - starwood ampitheatre-antioch-tn-usa
mon/ 9 - varsity arena-toronto-canada
wed/11 - knockerbocker arena-albany-ny-usa
thu/12 - great woods centre-mansfield-ny-usa
sat/14 - patriot centre-fairfax-va-usa
sun/15 - meadows music threatre-hartford-ct-usa
mon/16 - radio city music hall-ny-usa
tue/17 - radio city music hall-ny-usa

October
sat/12 - ahoy-rotterdam-holland
mon/14 - le zenith-orleans-france
tue/15 - bercy-paris-france
thu/17 - hallenstadion-zurich-switzerland
fri/18 - palaverde-treviso-italy
sat/19 - palaeur-rome-italy
mon/21 - palasport-florence-italy
tue/22 - palasport-porli-italy
wed/23 - forum-milan-italy
fri/25 - palastampa-turin-italy
sat/26 - halle toni garnier-lyon-france
sun/27 - arena-geneva-switzerland
mon/28 - le dome-marseille-france
wed/30 - palacio deportes-barcelona-spain
thu/31 - velodromo-valencia-spain

November
fri/1 - plaza de toros-zaragoza-spain
sun/3 - palais des sports-toulouse-france
tue/5 - salle omnisport-rennes-france
wed/6 - tbc
fri/8 - galaxie amneville-france
sat/9 - flanders expo-gent-belgium
sun/10 - zenith-lille-france
tue/12 - musichalle-hannover-germany
wed/13 - deutschlandhalle-berlin-germany
fri/15 - spodekhalle-katowice-poland
sat/16 - staddhalle-vienna-austria
sun/17 - sporthalle-prague-czech republic
tue/19 - hm schleverhalle-stuttgart-germany
wed/20 - messehalle-leipzig-germany
thu/21 - zenith-munich-germany
sat/23 - sportshalle-hamburg-germany
sun/24 - ostseehalle-kiel-germany
mon/25 - grugahalle-essen-germany
tue/26 - augustscharttnerhalle-hannau-germany
thu/28 - forum-copenhagen-denmark
sat/30 - issadion-stockholm-sweden

December
wed/4 - arena-newcastle-england
fri/6 - secc-glasgow-scotland
sat/7 - e&cc-aberdeen-scotland
mon/9 - arena-cardiff-wales
tue/10 - arena-wembley-london-england
fri/13 - arena-sheffield-england
sat/14 - nynex-manchester-england
mon/16 - nec birmingham-england

cure - experience

the adrenalin venue, chelsea, london 7 may 1996 - wild mood swings launch party
tuesday 30 april, 9.30 pm. the telephone rings! i run up the stairs to pick it up. "hello, it's perry from the cure". i could hardly believe it, the man i admire the most was talking to me! perry and i had a very long conversation. i was going through a sad period of my life and suddenly, everything was so different. he invited me to the 'wild mood swings' party on the following tuesday. i thought it was a dream, but then i received an invitation to attend the show. i had never felt that happy before, i was going to meet my hero...perry bamonte!

the party started at 7:30 pm. the band presented the new album to the media for about an hour; 45 minutes of brand new songs, and 15 minutes of classics such as 'boys don't cry' and 'inbetween days'. it was a fantastic performance. apart from a technical problem on perry's keyboard and a few blacks in his memory on 'strange attraction', the concert was a particularly good fist public performance.

however, a vast majority of the audience remained stiff and immobile, as if they were in shock, standing at the back of the venue. robert tried in vain to make people come foward, closer to the stage...unbelievable! i felt like i was the only one dancing in the front row! towards the end of the show, i was warmly welcomed by perry, who invited me to spend the night backstage with him and the rest of the band. to my surprise, i also met the cranes and boris williams (with his girlfriend, caroline crawley, from shellyan orphan) who i found fantastic, i will never foreget...

very special thanks to perry and everyone in the band for being so nice to me.

anne forest.


the worcester centrum, massachusetts, usa, july 2 1996
i almost missed the opening night of the cure's north american tour. the show was to start at 7:30 pm, however, the cure came on stage at 8:00 pm lucky for me. because of car trouble, i arrived about 2 minutes prior to showtime. the fact that i almost missed the concert made it that much better. the cure opened with 'want'. i had previously seen the disintegration & kiss me tours, but i'd never been so close! i was about 10 rows from the stage, first section on the right. the lights and sound were incredible! it's hard to pick highlights, the audience were definitely long time cure fans

judging by the great reaction to the encores of 'm', '10.15', 'play for today', 'killing an arab' and 'boys don't cry'. the band played for two and a half hours. back drops were great as always, one was of a disfigured pat buchanan during 'lullaby'. local press reports were however negative for the show. i cannot stress enough how wrong they were!

the last thing robert said before he left the stage was "you were fucking excellent!" in order, as best i could remember, the following songs were played, want, club america, a night like this, push, this is a lie, lullaby, mint car, strange attraction, just like heaven, treasure, jupiter crash, round & round & round, in between days, fascination street, return, trap, the walk, prayers for rain, edge of the deep green sea, bare, disintegration, friday i'm in love, close to me, lets go to bed, boys don't cry, play for today, killing an arab, dressing up, a forest.

todd stephenson


sao paulo, brazil 21 january, 1996 and rio de janeiro (hollywood rock festival) 26 january 1996
I've just returned from sao paulo and rio de janeiro where the cure played two concerts. (my first ever cure gig's!), in the hotel in sao paulo i managed to talk to them, personally. it was wonderful. i took some photos, had some drinks with roger and witnessed the press conference the cure gave to the brazilian press. at the concert robert spoke a lot of portugese, reading sentences written on his left hand. on the guitar amps they had written the words 'chirac-die' whilst roger had written in portugese 'senna forever', he also wore a senna t-shirt (his hero!)

simon wore a strange dress? and it was very very hot! during the encore robert wore a brazilian football shirt and filmed the audience with a camera during 'close to me', on january 23 we weNt to the hotel in rio, where they premiered six new songs to the brazilian press:- 'want', 'jupiter crash', 'mint car', 'club america', 'this is a lie' and a song called 'two chord cool' which later became 'the 13th'.

marcos - porto alegre