September 1989 - Cure News #8

Cure News Eight
September 1989
hello,
thank you for all your letters. i hope you all had a great summer.
the highlight of the summer for me was, without a doubt, "the prayer tour". i managed to make it to the lison show as well as the 3 nights at wembley. i still can't believe how brilliant the shows were;in particular the last night at wembley: possibly the best 3 1/2 hours of my life!! i'm sure if you were there you agree with me. at the moment the band are half-way through the american tour.
love janie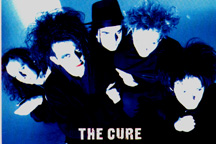 questions and answers curenews 7(8?)
(all answers by robert)
is "the prayer tour" really going to be your last ever tour?
yes, but that doesn't mean we will never play another concert!
is it true that you're contractually required by polygram to release one more album, which you've already recorded?
we're not "contractually required" to do anything - if, however, we make another record, polygram have the first option to release it.
if this really is the end of the cure, what do you plan to do with the rest of your life?
i don't know. i don't plan.
what is the real reason for you sacking lol? have you spoken to him since?
he lost touch with the rest of us; mentally, spiritually and socially. no, i haven't spoke to him (i hadn't spoke to him for several years anyway - that was part of the problem).
who has replaced lol as a scapegoat?
no-one. we don't need one anymore.
you claim to have done some really awful things to lol in the past, what was the worst?
left him unconscious drunk naked in a hotel lift!
was there a bad atmosphere in the studio whilst recording "disintegration"?
no, it was brilliant.
were you surprised with the chart success of 'lullaby" in europe and "fascination street" in america?
yes!!!
do you personally produce / approve 12" remixes of your singles?
yes, of course.
do you wish you could revert to playing smaller venues, rather than the large stadiums of the past few years?
no, although i think the size of stadia in america is verging on the absurd.
where the photos for the official 1989 calendar taken?
in devon, in or around boris's home.
what was your best/worst gig on the european stretch of the "prayer tour", and why?
the best was the last night at wembley because of the atmosphere and playing so many old songs. it was nostalgic. the worst was reims in france because everyone was sick.
what did you think of dinosaur jr's cover version of "just like heaven"?
it's brilliant.
do you ever feel that everything you've ever done is completely irrelevant and meaningless?
often! but it's not only me.
what is the most:
a) amazing
b) beautiful
c) sickening / horrifying
thing you've ever experienced?
a) hallucinations
b) hallucinations
c) flying
what do you do when you don't want to be where you are, but you can't leave?
this doesn't happen often. if it does i close my eyes and think of the sea.
if you woke up one day and suddenly realised you had lost your ability to write songs, what would you do? (write a song about it!!!???)
ha ha! i would never realise suddenly. i only write when i think of something, so if i never thought of anything, i wouldn't write...i would read?
what is the worst psychological torture you can imagine suffering?
constantly waking up and then waking up...always in a dream, or would this be any different?
relative to the population at large, how do you rate your:
a) intelligence
b) physical attractiveness
c) personality
a) in the top half
b) in the bottom half
c) in the top half (?) (this answer drops me into the bottom half!)
if you could chose one album by another artist to do a cover version of, what would it be?
"five leaves left" by nick drake.

what are your favorite 5 albums and singles of all time?
albums
1) closer - joy division
2) five leaves left - nick drake
3) treasure - the cocteau twins
4) astral weeks - van morrison
5) next - alex harvey
singles
1) life on mars - david bowie
2) purple haze - jimi hendrix
3) running up that hill - kate bush
4) out of touch - hall and oates
5) don't get me wrong - pretenders
... but these would all change by tomorrow...
what bothers you in the world?
poverty and ignorance and greed.
are you ozone friendly?
usually.
are you really afraid of spiders?
only huge poisonous ones!!!
were you drunk whilst performing "lullaby" on top of the pops?
yes!!!
what did you do on your 30th birthday?
went to a christening, got hideously, gloriously drunk, and ran round crawley with no shoes on all night, remembering...
how many people really know you?...or even come close?
few...
would you be prepared to spend a night alone in a remote house that is supposedly haunted?
yes.
how does it feel to be in jason donovan's favorite band?
better than it feels to be jason donovan i imagine!!!
inspirations - "faith"
the holy hour: written whilst sitting listening to mass in the catholic friary church in crawley on sunday night, trying to make since of the communal response and faces.
primary: toying (?) with the idea that it may be better to die very young, innocent and dreaming...or even to murder as a gift...
other voices: this one's a bit difficult...umm... blotting out the world through the eating of forbidden fruit? deafened by lust?
all cats are grey: just a nightmare of being lost / trapped in caves - echoes of the grave and of prison cells and again of growing old.
the funeral party: about the death of my grandparents, and ultimately, i suppose, of the deathof my parents, and then me...
doubt: expressing the anger and frustration at the pointlessness of everything (at the time?), trying to fight the waves of absurdity.
the drowning man: mourning fuchsia, a symbol, a girl, a character in "titus groan" by mervyn peake: mourning the death of innocence, the death of blind love...
faith: self explanatory, as optimistic as i could get, it does, or should, offer a note of HOPE.
this is one of my favorite 3 cure albums. it was written at a time of ever deepening depression, and was intended to explore the whole notion of "faith": but it ended up as a testament of near complete disbelief, and led me on and down - enter "pornography"....