08/04/1981 - House Party - Wellington, New Zealand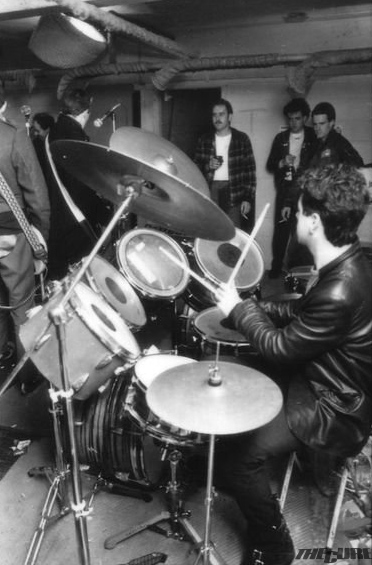 Lol Tolhurst (drums) of The Cure jams with Richard Watts of The Neoteric Tribesmen.
Party at Dave Maclennan's house with The Cure before late night jam session at Clyde Quay School. Wellington, New Zealand
On August 4, 1981, fans of English band The Cure held a house party in Mount Victoria for the touring band members. Late in the night the party moved on to the basement practice room of Wellington band The Neoteric Tribesmen with the all-in jam session between tourists and locals that followed entering into Wellington underground folk lore.
Thrilling The Arabs

Picture this: a grimy basement room at Clyde Quay school, Mt Victoria. The early hours of Tuesday the 4th of August. Intense, distorted, risky sounds are being jammed, creating an atmosphere for twenty to thirty hardcore fans to freak-out in.
Murky strains of "The Forest" pierce the air. The Cure are playing their best NZ gig. Flashback to the previous Sunday. The Cure at Palmerston North: an endless flat expanse of quarter acre sections and nuclear families locked into tour paranoia - the Boks passed through the day before. Two thousand odd (very) catch The Cure at a huge new basketball stadium. It is perfect. The sound is clear, the venue aligning nicely with the impressive lighting and general nature of the band's music. Unfortunately, the audience seem to comprise largely of bozo's called Bobo taking Miss Suburban Wasteland Creamcheese out for an alternative to heavy petting at the Sunday night kung-fu double feature. These customers want good ol' fashioned entertainment The Angels who played the week before; what they get is a brave selection of the more recent slower material. The encore is a value-for-money demand more than a frenzied show of approval. The band show where they're at by doing an unexpected second encore for those who havn't scurried out prematurely, so they effectively give their real fans the best part of the show; a lovely "Boys Don't Cry" and a long, psychedelic jam.


The boys are unhappy with the show - they've had no sleep since arriving in NZ three days earlier. A post-concert do at crummy nite-spot El Clubbo is more like a funeral party than a party out of bounds. The Cure car runs out of petrol somewhere on the way to Wellington at approximately 2.30am. Wellington fans put on a house party for the group on Monday night. It's a polite slightly reverent (how would you feel if The Cure visited your flat?) affair, fans sitting floor-wise chatting and asking questions.

The Cure; the approachable British boys with a little more makeup than yer average Wellington trendy, but far less pretentious. The band enjoy this unusual (for them) occasion.


At 1am everyone jumps in the nearest transport and screams to the Neoteric Tribesmen's rehearsal basement where an amazing jam session takes place. It's not an elite musicianly display of chops; nor is it quite a drunken dirge. It's rather a type of communion twixt fans/ bands/ BAND; a show of respect. That a number one group could do this made one believe that something HAD changed since the 70s show of stagnant rock star myths and constant sell-outs.
The Neoterics play some originals that sound like blasts from the past. Robert Smith and Simon Gallup progressively grab instruments and join in, until there it is, The Cure running through a version of A Forest, which bares little relation to its technologically advanced public version. Domestic Blitz get the chance to play with The Cure on an original, then its off with the stragglers to the group's hotel room, where the lucky ones get to listen to tapes of the new to-be-released single.

Gary Steel, In Touch magazine, September, 1981