Tour Program - 1986 "The Beach Tour"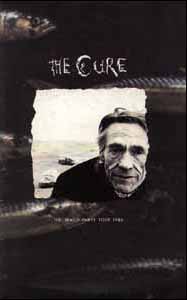 Cure People

Robert Smith - voice & guitar
Laurence Tolhurst - keyboard
Porl Thompson - guitar & keyboard
Simon Gallup - bass
Boris Williams - drums
-
Chris Parry - record management
tour manager - Malcolm Ross
personal - Brian Grant
Roger Measham - sound
Angus MacPhail - lights
Perry Bamonte - backline
Keith Mc Combie - backline
Bruno Brunning - backline
Bryan Olsen - monitors
Williams (Pitso) Pirie - production manager
-
Chris Adamson - lights (Zenith Lighting)
Bob Goldstein - sound (MSI audio)
Upstaging - trucking
Florida Coaches - coaches
Roadstar - merchandising
Andy - Cure club
J.L.N - publicity
-
Public relations - Jody miller - Burt Miller
Responsible agent - Kim Akhtar. J.L.M. Public
Relations inc, 215 Park Avenue South, N. 1905
New York, New York 10003 USA
Tel 212 673 2626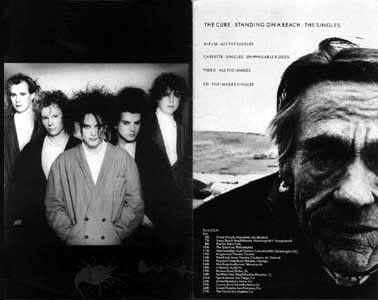 the Cure - Standing On A Beach - The Singles

Album - All the Singles

Cassette - Singles - Unavailable B. Sides

Video - All The Images

CD - The Images Singles

CURE U.S.A.
July
6th Great Woods, Mansfield, MA (Boston)
7th Jones Beach Amphitheatre, Wantaugh N.Y. (Long Island)
8th Pier 54, New York
10th The Spectrum, Philadelphia
11th Merriweather, Post Pavilion, Columbia MD. (Washington DC)
13th Kingswood Theatre, Toronto
14th Pine Knob Music Theatre, Clarkston, MI. (Detroit)
15th Poplar Creek Music Theatre, Chicago
16th Northrup Auditorium, Minneapolis
18th Coliseum, Austin TX
19th Bronco Bowl, Dallas, TX
20th Southern Star Amphitheatre, Houston, TX
23rd Sports Arena, (moved to the Open Air Theatre ), San Diego
24th Irvine Meadows, Irvine, CA
25th Country Bowl, Santa Barbara, CA
26th Greek Theatre, San Francisco, CA
27th The Forum, Los Angeles, CA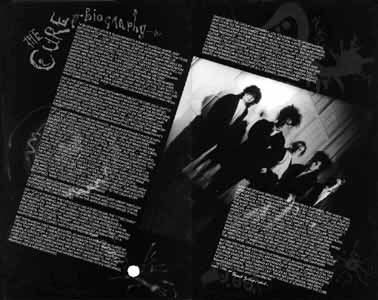 The Cure Biography

"A blood red lipstick slash beneath a black tangled mane. Just because he's crying doesn't mean he's sad. Assume nothing. That's the Cure all over - sort of mocking, sort of meaning it, kind of clowning, kind of caring. They know that what many profess to hold sacred, what more claim to stand for, is as much a fabrication as the fibs they love to tell. They know a lie can be as illuminating, as dastardly, as diverting as a confession. They do not know a nightmare from a nuptial. They understand that seriousness and dimensional, black and white world of pop where pre-rehearsed gestures pass unchallenged as honesty and a long face always signals a broken heart. The Cure will have none of this. They say it is simple: it is not that simple. The Cure laugh and cry a lot and they are seldom what they seem. Their questions have no answers because questions seldom do. Their fun escapes into rather than away from what surrounds them..."

This is the sort of thing that gets written about The Cure. Silly, isn't it? Oh, they are unique all right, for many reasons - none more so than when their history is happening. On a night like the recent one at the Albert Hall in London, when notions like past, present and the future are rendered redundant in the majesty of the moment and "Boys Don't Cry" cavorts with "Close To Me". This is not nostalgia, this is catharsis; that is why a hike down the Cure's collective memory lane means as much as tomorrow's breakfast, because they are feeding off it the whole time, fermenting it into an epic flamboyancy.

They came originally from Crawley, an unfashionable place south of the big smoke. Inspired by punk and a glut of penguin modern classics, schoolmates Robert Smith, Lol Tolhurst and Michael Dempsey started messing around. This was 1976, but when the first single came out two years later on Small Wonder/Fiction Records, it proved, prophetically to be timeless. "Killing an Arab" - what a furore! the plot came from Camus' "The Outsider", but the Cure found, for the first but hardly the last time, that accidental collisions with the prevalent climate can lead to all manner of misassumptions. This was the Britain of rock against racism, of fashionable, racially harmonic fervour, and "Arab" was deemed inflamatory. It wasn't of course. It was brilliant. The follow up "Boys Don't Cry" was a bitter/sweet slice of pop melancholy. It confused rather than compounded the public image of the Cure as radical intellectual upstarts while "Jumping Someone Else's Train", later in 1979, did a successful demolition job on any cementing theory that this group were now aspiring pop stars. Their debut LP, "Three Imaginary Boys", further upset the apple cart by featuring a Jimi Hendrix cover version and a sleeve showing three household objects as opposed to the obligatory pin-up pics. Were these boys fooling or what?

" A Forest" was something else again - a heady sleep-sprint through a dreamscape with Smith's developing whine and cascading guitar distancing the band further from the anticipated pop single. It was, of course, the Cure's first hit.

On "Top of the Pops" they stuck out like a sore thumb. The "17 Seconds" LP and its offspring album "Faith" pursued this course into introversion, the band splintering and regrouping round a troubled axis. Dempsey had already gone to the Associates to be replaced by Simon Gallup. Matthieu Hartley (sic) stepped in for a while on keyboards. The singles, "Primary" and "Charlotte Sometimes", served to establish the Cure as a popular existentialist alternative to a mainstream preoccupied with a new teenybop era.

But the band in 1982 were blighted, as much exasperated as elated by the assumptions of their role in the scheme of things. Unconsciously then, they set upon a course of self-destruction. The "Pornography" album, a serious, sarcastic kamikaze mission to the very heart of darkness was uncompromising, brutal and masochistic. The Cure were going underground in a big, big way. The sombre "Hanging Garden" single signalled an end where many clung to the wreckage, praying for a new beginning.

Gallup quit the group in disarray, Lol Tolhurst gave up drumming and took to the keyboards, and the Cure took a rest. Smith worked out with Siouxsie and the Banshees as he had done in 1979, a reunion that culminated in their patchily riveting "Hyaena" LP, the hit single "Dear Prudence", and a strange psychedelic spin-off called "The Glove", concocted between Smith and Steve Severin. an LP was released ("Blue Sunshine") to mass critical confusion but that was nothing compared to the waves of nauseous shock that greeted the Cure's next single "Let's Go To Bed", a deliberately throwaway disco number, somehow so insane, it just had to be poignant. No one could decide whether Smith had completely lost his marbles or regained his sanity in this flippancy; least of all, it seemed, Smith himself.

With the doomy reputation well and truly ruptured, "The Walk" was weirder still. A freakish nursery rhyme, it became the Cure's first top 20 hit in Britain. This was rapidly followed by "The Lovecats", the perfect soundtrack to the surreal videos Tim Pope was now producing for the band, which wasn't really a band anymore at all. Consequently, "The Top" LP was almost a Smith solo effort. It was funny, sad and furious, jocular and disturbing and, with its "Caterpillar" single, highly successful. But the LP ended on the lines "Please come back/All of you". Smith and Tolhurst were pining to fully explore their blossoming opportunities within a fruitful band framework. While the "Concert" live LP captured a makeshift line-up (the cassette included "Curiosity", a collection of rare ancient recordings), Simon Gallup returned, Boris Williams joined on drums, and Porl Thompson stayed from the renegade bunch. The "Head on the Door" LP, with the hits "In Between Days" and "Close To Me", confirmed that the Cure were, once again, functioning on all their fantasies.

In 1986 the Cure are nothing but themselves again, nobody's property but their own. They can go anywhere, do anything, and it is still the Cure. Hence the release of "Standing on the Beach", a compilation of all their singles and "Staring at the Sea" - the videos plus additional footage. They are timeless packages as timeful, an experience now. In addition, "Boys Don't Cry", their second single, has been remastered and re-released with new vocals. It sounds like the Cure - yesterday, today and tomorrow.

May 1986
Steve Sutherland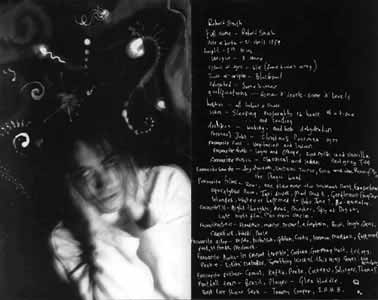 Robert Smith---

Full name: Robert Smith
Date of birth: 21 April 1959
Height: 5ft 10ins
Weight: 11 stone
Colour of eyes: blue (sometimes grey)
Town of origin: Blackpool
Educated: sometimes
Qualifications: Some "O" levels, some "A" levels
Hobbies: All below and more
Likes: Sleeping, preferably 16 hours at a time...and reading
Dislikes: Waking, Mad Bob, dehydration.
Previous jobs: Christmas postman 1977
Favourite food: Vegetarian and Indian
Favourite drink: lager and orange, cold milk and vanilla earl grey tea.
Favourite music: classical and Indian
Favourite bands: Joy Division, Cocteau Twins, Echo and the Bunnymen, The Magic Band
Favourite films: 2001, One Flew Over The Cuckoo's Nest, Eraserhead, Apocalypse Now, Taxi Driver, Mad Max II, Gentlemen Prefer Blondes, Whatever Happened to Baby Jane?, Re-Animator
Favourite tv: Night thoughts, news, Minder, Sky at Night, late night film, Man from Uncle
Favourite actress: Steadman, Monroe, Divine!, A. Hepburn, Bow, Leigh, Davis, Crawford, Kinski, Poole
Favorite actor: De Niro, Nicholson, Gibson, Curtis, Lemmon, Matthau, Eastwood, Ford, H. Fonda, McDowell
Favourite books: "Les Enfants Terribles" Cocteau, "Gormenghast Trilogy" Peake, "Lolita" Nabokov, "Something Wicked This Way Comes" Ray Bradbury
Favourite author: Camus, Kafka, Peake, Cocteau, Salinger, Thomas
Favourite team: Brazil, player: Glen Hoodle
Best Live Show seen: Tommy Cooper, S.A.H.B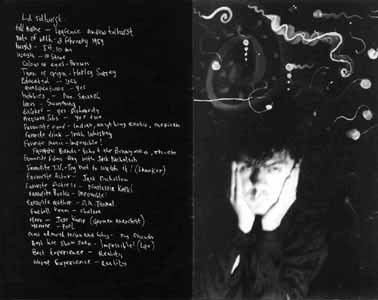 Lol Tolhurst---

Full name: Laurence Andrew Tolhurst
Date of birth: 3 February 1959
Height: 5ft 10ins
Weight: 10 stone
Colour of eyes: brown
Town of origin: Horley, Surrey
Educated: yes
Qualifications: yes
Hobbies: no. squash
Likes: yes, swimming
Dislikes: yes, dishonesty
Previous jobs: yes, two
Favourite food: Japanese, anything exotic, Mexican
Favourite drink: Irish whiskey
Favourite music: impossible!
Favourite bands: Echo and the Bunnymen, etc. etc.
Favourite films: any with Jack Nicholson
Favourite tv: try not to watch it! (snooker)
Favorite actor: Jack Nicholson
Favourite actress: Natassia Kinski
Favourite books: impossible!
Favourite author: D.M. Thomas
Favourite team: Chelsea
Hero: Jade Kneipe (German Anachist)
Heroine: Porl
Most admired person and why: my friends
Best Live Show seen: impossible! (life)
Best experience: reality
Worst experience: reality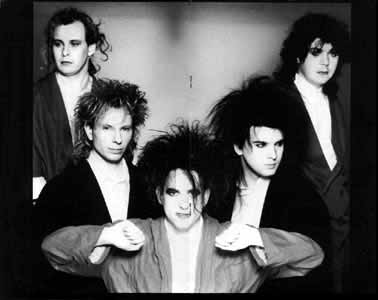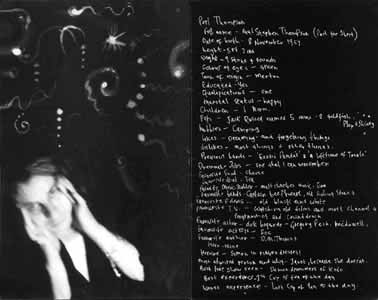 Porl Thompson---

Full name: Paul Stephen Thompson (Porl for short)
Date of birth: 8 November 1957
Height: 5ft 7ins
Weight: 9 stone 4 pounds
Colour of eyes: green
Town of origin: Merton
Educated: yes
Qualifications: one
Marital status: happy
Children: 1 norm
Pets: Jack Russel named 5 mins, 2 goldfish Plop + Shiney
Hobbies: camping
Likes: dreaming and forgetting things
Dislikes: most things + other things
Previous bands: Exotic Pandas & A Lifetime of Trials
Previous jobs: one (sic) that I can remember
Favourite food: cheese
Favourite drink: tea
Favourite music: Mahler, most chamber music, Eno
Favourite bands: Captain Beefheart, old Rolling Stones
Favourite films: old black & whites
Favourite tv: watching old films and most Channel 4 programmes and Countdown
Favorite actor: Dirk Bogarde, Gregory Peck, McDowell
Favourite actress: Doc
Favourite author: D.M. Thomas
Hero: none
Heroine: Simon in rubber dresses!
Most admired person and why: Janet, because she doesn't
Best Live Show seen: Demon drummers of Kodo
Best experience: 1st cup of tea of the day
Worst experience: last cup of tea of the day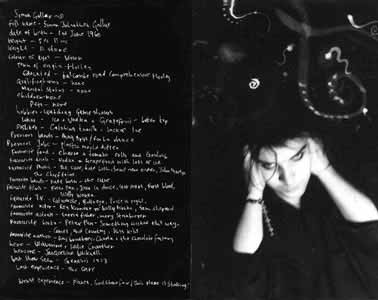 Simon Gallup---

Full name: Simon Johnathon Gallup
Date of birth: 1 June 1960
Height: 5ft 11ins
Weight: 11 stone
Colour of eyes: brown
Town of origin: Horley
Educated: Balcombe Road Comprehensive Horley
Qualifications: none
Marital status: none
Children: none
Pets: none
Hobbies: watching game shows
Likes: ice + vodka + grapefruit, butter top
Dislikes: catching trains, lack of ice
Previous bands: Mag Spys/Fools Dance
Previous jobs: plastics mould dipper
Favourite food: cheese and tomato rolls and goulash
Favourite drink: vodka and grapefruit with lots of ice
Favourite music: The Cure, Kate Bush, some New Order, John Martyn, The Chieftains
Favourite bands: Kate Bush, The Cure
Favourite films: Peter Pan, Irma la Douce, Star Wars, First Blood, Willy Wonka
Favourite tv: Catweazle, Bullseye, Price is right
Favorite actor: Roy Kinnear in Willy Wonka, Sam Shepard
Favourite actress: Carrie Fisher, Mary Steinburger
Favourite books: Peter Pan, Something Wicked This Way Comes, And Country, Kiss Kiss
Favourite author: Ray Bradbury, Charlie and the Chocolate Factory
Hero: Wolverine, Leslie Crowther
Heroine: Jacqueline Bucknell
Best Live Show seen: Genesis in 1973
Best experience: The Cure
Worst experience: planes, godstone fair/this plane is shaking!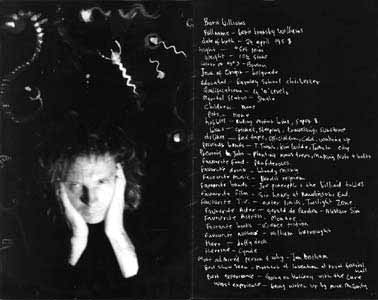 Boris Williams---

Full name: Boris Bransby Williams
Date of birth: 24 April 1958
Height: 5ft 10ins
Weight: 10 1/2 stone
Colour of eyes: brown
Town of origin: Belgrade
Educated: Earnley School Chichester
Qualifications: 4"O" levels
Marital status: single
Children: none
Pets: none
Hobbies: riding motor bikes, super 8
Likes: cricket, sleeping, traveling, sunshine
Dislikes: red tape, officialdom, cold, waking up
Previous bands: T.Twins, Kim Wilde, Tomato City
Previous jobs: planting Xmas trees, making nuts + bolts
Favourite food: profiteroles
Favourite drink: bloody Mary
Favourite music: Verdi's requiem
Favourite bands: Joe Pineapple + the Billiard Tables
Favourite films: Sir Henry at Rawlinsons End
Favourite tv: outer limits, Twilight Zone
Favorite actor: Gerald de Pardieu (sic), Alistair Sim
Favourite actress: Monroe
Favourite books: science fiction
Favourite author: William Burroughs
Hero: Daffy Duck
Heroine: Cynde
Most admired person and why: Ian Botham
Best Live Show seen: Mothers of Invention at Royal Festival Hall
Best experience: going on holiday with the Cure
Worst experience: being woken up by Mick McGinty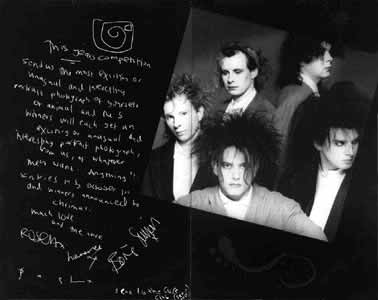 This year's competition

Send us the most exciting or unusual and interesting portrait photograph of yourself or animal and the 5 winners will each get an exciting or unusual and interesting portrait photograph, from us, or whatever they want. Anything !!!

Entries in by October 1st and winners announced by Christmas.

Much love
and the Cure

Send to the Cure club (see over)