December 1985 - Numeros (France)* (Translation below)
"The Golden Age"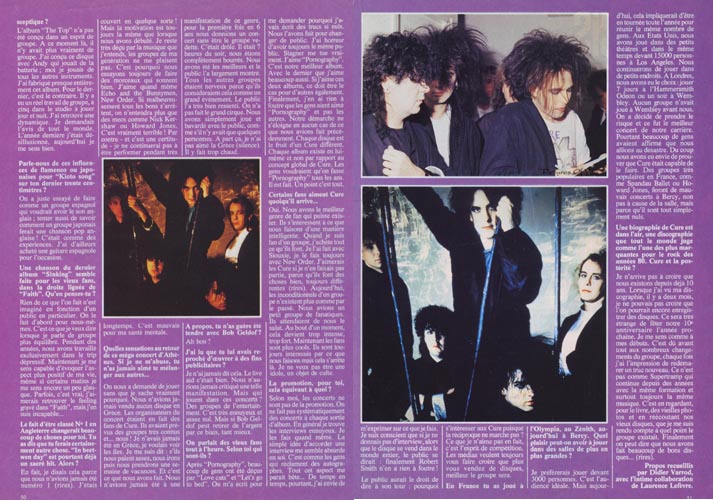 "THE CURE" "The Golden Age"
Robert Smith slept until we arrived for the meeting. Barbarian, official biographer of the group, attended with us. She told us about her book which will be soon released. Robert talked about The Cure's regain as an inevitable event for the group's history.
He spoke about a bright present without speculating about a future he considers always uncertain.
-Everybody say about you: "Robert Smith had renewed his smile; the tortured image of The Cure has ended". Isn't it all too caricatured?
It is a bit exaggerated but all that's being said about The Cure may seem caricatured. It's very easy for the media and the journalists to gossip about us. I simply suppose The Cure's much equilibrated.
It's true that we used to be almost exclusively dark before. Today we want to show another aspect of our life: a lighter side, maybe offer more content. This doesn't mean we spend the whole time laughing. We are just normal.
-You said you had the desire of being part of The Cure again. In the year '83, at the time of "Let's go to Bed" and "The Walk", you said the opposite. Is it the return of Simon Gallup, or the feeling towards an album you're completely proud of?
There are many reasons. In '83, I played with Siouxsie and The Banshees and I got fed up of it. I didn't want to be just the singer of a group. I really felt I had to do something else. At a certain point, I had these renewed wishes to sing. Cure is just a name, a label. We haven't played with this formation for three years. I wanted Simon to return but never even dare to ask him. I didn't have the courage of the previous year. Now it's definitely the best Cure ever.
-Speaking about "The Top" album, are you always so skeptic?
"The Top" album wasn't conceived with a group spirit. At that moment there was no group actually. I made that record with Andy Anderson who played drums; I played the rest of the instruments. I built up that record almost entirely by myself. At the end, the opposite happened. There was a real group work, the five of us day and night playing in the studio. I found a dynamic: asking for everybody's opinion. Last year I was kind of disappointed, now I feel fine.
-Tell us about the flamenco and Japanese influence for "Kyoto song".
In a rehearsal we imitate a Spanish group that would like to be British; we were also tempted to know how a Japanese group would play a British pop song! It was like an experiment. I chose a Spanish guitar for the occasion.
-A song from the previous album, "Sinking", seems to be done for the old fans just like "Faith". What do you think about this?
None of what we do is thought for a particular audience. We do things primarily for ourselves. That's what I mean when I talk about the natural balance of the group.
Through the years we worked exclusively along the depressive road. Right now, I feel more capable to evoke the positive aspects of my life, even if some mornings I still feel a bit blue. At some point, it's true that I'd love to recreate the feeling recorded in "Faith", but I'm not able to…
-The fact of being Nº1 in England would change a lot for you. You said you'd do something else if that ever happens. "In Between Days" is a consecrated hit, so?
In fact, I said that because we've never been number 1 (laughs). I was covered that way! But the motivation is always the same as the day of our debut.
I am very disappointed about the music I hear; the groups of my generation don't please me. It's because we rehearse constantly that we sound good. I like Echo and the Bunnymen, New Order. Unfortunately the good ones quit. I don't understand why men like Nick Kershaw or Howard Jones did. It's really terrible! However –it is a certainty- I wouldn't continue performing for a very long time. It's bad for my mental health.
-Which sensations do you recall from the Athena's mega concert? If I may say, I believe you don't like mixing up with other bands…
I didn't really know why we were asked to play. We had never sold even one record in Greece. The concert organizers must have been Cure fans. There were well known groups and… us! I had never been in Greece before I wanted to visit the isle. I said to myself: we will be well paid and we'll take a week of vacations. And that is what we are going to do. We had never been in a manifestation of such characteristics, for the first time in six years we gave a concert with a group formation different than the initial. It was funny. It was at 7 pm, we were completely drunk. We did our best and there was a great amount of public. All the other groups were nervous because they consider it a great event. The public felt good. We didn't do a circus. We just played and interact with them, as if there were no such amount of people. Besides that, I didn't like Greece (silence). The weather's too hot.
-Speaking about other bands, you didn't get to care too much about Bob Geldof, did you?
Sorry?
-I read you blame him of performing only for publicity.
I never said that. It was good. We would never criticize such manifestation. But who plays in those kinds of concerts? Entertaining groups. It's very boring and rather lousy. But if Bob Geldof can deny money and retire to do his own thing much better.
-We've been talking about old fans all the time. Are them all there are?
After "Pornography", a lot of people were disappointed by "Lovecats" and "Let's go to Bed". They wrote asking me why I produced such lousy stuff. We did it to change the public. I hate to always see the same public. The stand still really kills me. I love "Pornography". It's our best album. Together with the last one I like very much too. I like both albums the same as I do with the others. Yet, I don't understand people that like "Pornography" and not the rest. Our work doesn't follow the previous one. Every record is the result of a different Cure. Every album exists by itself and doesn't brief a global Cure concept. People would like us to make "Pornography" every year. It's already created. It's a period altogether.
-Certain fans like The Cure no matter what…
Yes. We've got the best kind of fans ever. They care about what we do in a very intelligent way. When I'm fan of a group I buy everything they do. I did so with Siouxsie and always did it with New Order too. I would love The Cure if I wasn't part of it, because they do things correctly, always diverse (laughs). Nowadays, there are no group's devotees as in the past. We used to have a small group of fans. They always expected our salutations. At a certain point it became too intense, too strong. At the moment, fans are cooler. They're always interested on what we do but they're more at ease. I don't want to be an idol, a cult object.
-What do you consider as promotion?
For me, concerts are not part of promotion. We don't consistently do concerts every time we launch an album. In general, I found interviews boring. I give them anyways. The simple idea of giving an interview seems itself absurd to me. Just like the people who ask for autographs. All that aspect seems foolish to me… On the other hand, from time to time, I like talking about what I do. I'm conscious that if I don't give any interviews then, although the record is sold all over the world, the public will say: finally Robert Smith doesn't care about anything! The public will have the right to say: why care about the Cure if there's no feedback? If there's something I do not like is having a competitive spirit. The media always want to make you think that the more records you sell, the better the group is.
-In France, you played at the Olympia, at Zenith, today at Bercy. Do you enjoy playing in bigger and bigger places?
I'd rather play in front of 3,000 people. It's the ideal audience. But today, it would imply touring the whole year to regain this amount of people. At the United States we played in small theatres and at the same time in front of 15,000 people at Los Angeles. We will continue to play in small places. At London, we had to make a choice: play for 7 hours at Hammersmith Odeon or an evening at Wembley. Some group that was supposed to play before us in Wembley didn't show up. We decided to take the risk and it end up being the best concert of our career. Nevertheless, a lot of people said we were going towards our ruin. First of all, we wanted to prove Cure could do it. The groups that are very popular in France such as Spandau Ballet or Howard Jones did bad concerts at Bercy, not because of the place, but because they're just bad.
-There's a Cure biography released, a discography judge by everyone as one of the most influent of the 80's rock. Cure for good?
I don't believe we are going to exist after 10 years. When I saw our discography, two months ago, I didn't believe we could keep on making records. It will be very strange to celebrate our 10th anniversary next year. I feel like in my debut. The group suffered many changes; each of them gave me the impression of being doing renewed stuff. It's not like Supertramp that continued with the same formation through the years and mostly the same music. I reviewed, because of the book, old pictures and heard our old albums again and realized for how long the group already exists. Finally, I'm able to say we did plenty of good records… (Laughs)
Thanks so much SABRINA for TRANSLATING!!!